Who needs tchotchkes? Eiffel tower snow globes are passe, and with open borders, passport ink is growing harder to come by.
For an unforgettable souvenir, some adventurous travelers are bringing home an indelible reminder of their vacation. For them, getting inked on vacation is a new way to commemorate a trip abroad.

Actress Scarlett Johansson may be the most visible, but is just one of the latest travelers to get a tattoo while abroad. Johansson added a "Lucky You" horseshoe by Paris artist Fuzi Uvtpk to her body art last fall. Elsewhere in Paris, former ad man "Sailor Roman" welcomes visitors to his apartment where he adorns "sailors, wanderlust seekers and adventure junkies" with his old-school single color art.
What compels people to go under the needle while far from the comforts of home?
"When on vacation you are more free—free of spirit and free of the time," reasons Rocky Rakovic, editor of Inked magazine. "Because you can't order tattoos on Amazon.com, if you want a piece by a particular tattoo artist you have to be in the presence of the tattooist so some people even plan their travel around tattoo appointments abroad." Rakovic says certain people "collect tattoos." They "pick up tattoos here and there—it sure beats buying a keychain or snow globe."
When web designer Jazmine Atienza, a Filipino-American living in Brooklyn, traveled to the Philippines in 2011, she said, "I was already into tattoos ... I had designed Filipino tattoos in my head."
She learned about a traditional tattoo artist living in the mountains, Whang-Od, a "95-year-old woman who's been on Discovery Channel,"and embarked on a rainy season 12-hour drive from Manila and a harrowing hike into the mountains to reach the artist. "It was the middle of a typhoon, hiking Indiana Jones kind of ravines," she said.
Using the traditional "tapping method" of charcoal soot and a sharp stick, Od emblazoned her arm with a small Filipino motif as Atienza "stood in a doorway with chickens and pigs running around outside."
"For me it ended up being very much about the journey," Atienza said. "It was more than going and being a consumer. It's not just about the mark as much as it is about the experience. It goes beyond being a novelty experience to being a really meaningful one."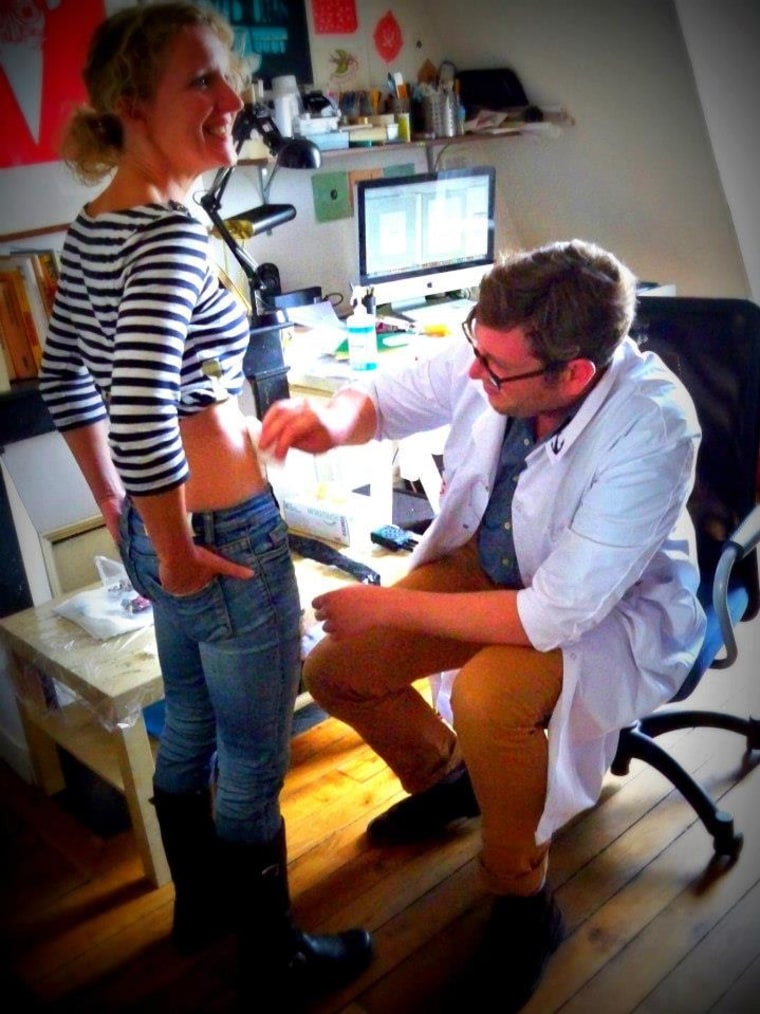 Atienza's experience may be a little extreme for some travelers' preference, but "customs vary between tattoo shops and cultures," Rakovic said. "The masters in Japan may require a written introduction, a Maori artist may not tell you what the design will be. Explain ... that you have never been tattooed outside your time zone and they will let you know the process."
Before choosing a tattoo artist overseas, a wise traveler will do some research.
Sailor Roman —who gave himself his first tattoo in a dirty parlor on the island of Koh Chang using a traditional Thai bamboo method — says visiting international tattoo conventions for referrals is a good starting point, as is visiting the shop beforehand to evaluate its hygiene, and inspecting for essential safety measures like new needles.
Rakovic adds some timing tips. "Keep in mind that if you get a tattoo your first night in the tropics that you won't be able to go out into the sun or take a dip in the ocean," he said. "And if you get the tattoo on the back-end of your excursion, book an aisle seat and remember to buy aftercare lotion bottles small enough that the TSA (Transportation Security Administration) allows them in your carry-on."

And though a tattoo could be a spur of the moment decision on a vacation, Rakovic reminds travelers to stop and think: "They must really be certain that they are prepared to live with the tattoo forever. Many artists won't cover over someone else's work."