Like many visitors awed by the beauty of Arches National Park in Utah, Megan Harrod couldn't resist posing for a photo with the famous sandstone landscape in the background. But she wasn't going for the usual tourist snapshot.
Harrod was seeking what's becoming a trendy experience for female travelers: a topless photo in a scenic location, shot from the back and widely shared on social media.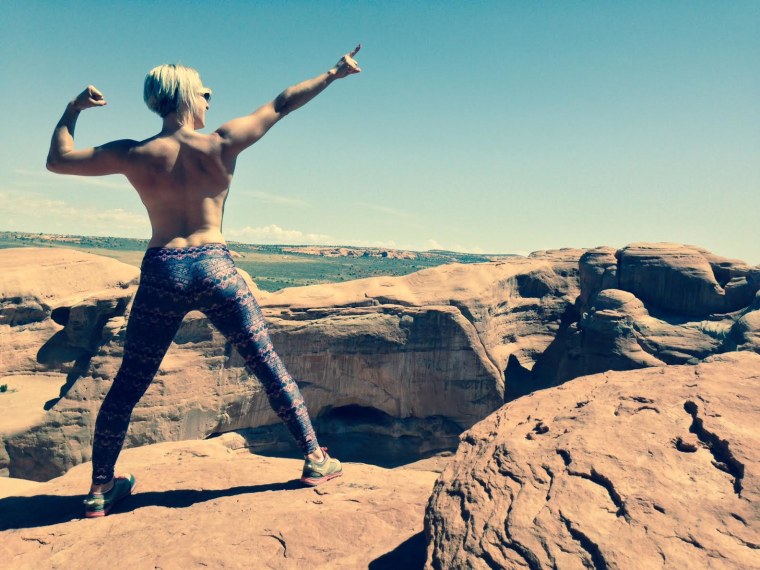 "Liberating. That's what it's all about," Harrod, who lives in suburban Salt Lake City, told TODAY.com, noting she has posed for similar photos in Maui and the Czech Republic.
The pictures were inspired by The Topless Tour, a popular Instagram page that features travelers unclothed from the waist up in beautiful places. Motto: "Feel the freedom, share your beauty to the world."
After Harrod, 31, stumbled on the page, she was impressed by the array of people "of all shapes, sizes and generations baring it for the camera in a tasteful and completely non-sexual way," she said.
The Topless Tour Instagram page was started by two British women — Lydia Buckler, 21, and Olivia Edginton, 20 — and their Norwegian friend Ingvild Marstein Olsen, 20.
The three met in 2012 when they moved to London to study at the Trinity Laban Conservatoire of Music & Dance, Edginton told TODAY. After an impromptu moment of going topless on a trip and snapping a photo, they decided to "continue to capture our moments of freedom" and encourage others to do the same, she added.
"What is so wonderful is that underneath lays the powerful message of taking pride in our differences and embracing the love for the body," Edginton said.
"You feel so free, limitless, and (it) allows each person to discover an honest connection with the world we live in and the people we share it with."
The trio is hoping to collect photo submissions from all over the world for their Instagram page, which has more than 260 posts and over 36,000 followers. The only requirement is that the pictures be shot from the back so that they remain G-rated, and that users include the #TheToplessTour hashtag when posting on social media. Men are encouraged to pose and share their pictures as well.
While Edginton said that so far she is not aware of any participants who have gotten into trouble, travelers should know that being caught nude in public, especially in countries with strict codes of behavior and dress, could result in fines or jail time.
Some famous destinations are cracking down on travelers who want to bare more than their souls on the road. In March, Peru's Ministry of Culture denounced "any disrespectful act committed by visitors" in Machu Picchu and vowed to increase monitoring after photos of naked tourists at the UNESCO World Heritage Site began showing up online.
That same month, police detained several tourists — including Americans, Canadians and Australians — who were allegedly posing nude for photos at Machu Picchu, according to The Andean Air Mail & Peruvian Times.
Back in Utah, Harrod said she chose a private spot away from the crowds for her photo, while a friend watched for potential onlookers. She posted the picture on her Instagram page and tweeted it to her followers.

"When it comes down to it, it's a bare back. It's not a big deal, really," she said.