Memorial Day marks the beginning of the summer travel season in the U.S., and thanks to low gasoline prices, the largest number of people in more than a decade are planning big road trips.
According to data from AAA, more than 38 million people will travel this Memorial Day weekend. The total, which is about 700,000 higher than last year, is the highest since 2005 and second-highest on record for the holiday weekend period, which the travel group defines as Thursday, May 26 to Monday, May 30.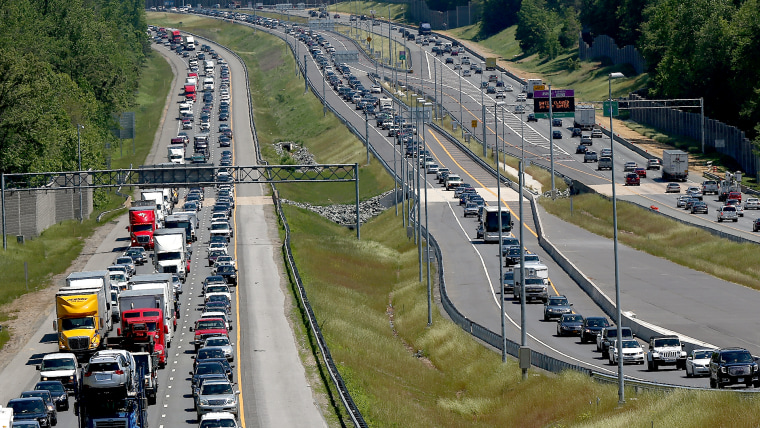 Lower fuel prices — the lowest in 11 years — are among the key elements behind this year's growth in travel. A gallon of regular gasoline costs about $2.29 on average compared with $2.74 a year ago, AAA said. The group estimated that U.S. drivers have saved more than $15 billion on gasoline so far this year compared with the same period last year. A stronger labor market and rising personal income are also encouraging people to travel, AAA said.
RELATED: Watch these thirsty lions lick a tent as camper films from inside
"The great American road trip is officially back thanks to low gas prices, and millions of people from coast to coast are ready to kick off summer with a Memorial Day getaway," said Marshall Doney, AAA president and chief executive.
Car travel traditionally characterizes Memorial Day, and this year about 89 percent of travelers, almost 34 million people, plan to drive to their holiday destinations — a 2.1 percent increase over last year according to AAA. Air travel is expected to increase by 1.6 percent while travel on cruises, trains and buses, will fall by 2.3 percent, to about 1.6 million travelers, AAA said.
RELATED: What are the best landmarks in the US — and the world?
The travel-planning and booking site TripAdvisor also released the results of a survey about travelers' plans for Memorial Day weekend. Among respondents, 35 percent said they planned to travel this weekend, and 26 percent said they traveled for the holiday weekend last year.
Based on TripAdvisor's information, Friday is still the most popular departure day for the holiday weekend, with 32 percent saying they will get going on May 27. However, more people also plan to get away earlier, which could alleviate congestion somewhat by spreading out the traffic. The percentage of people planning to hit the road earlier than the Wednesday before Memorial Day jumped to 14 percent from 8 percent a year ago, TripAdvisor said.
RELATED: Harry Potter's childhood home is open for visitors! Here's what to know
TripAdvisor also announced the results of its Summer Vacation Value Report, which includes the most popular destinations and the average cost of a weeklong trip to each:
RELATED: Matt Lauer and Al Roker head to White Sands and Carlsbad Caverns National Parks
AAA also named its top destinations for the holiday weekend, based on information from AAA.com and AAA travel agency sales:
Orlando
Myrtle Beach
Washington, D.C.
New York
Miami
San Francisco
Boston
Honolulu
Los Angeles
South Padre Island