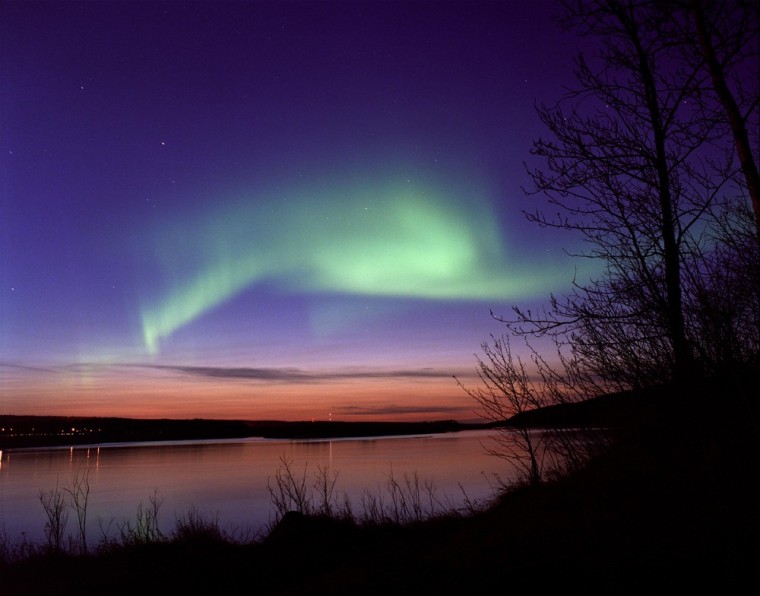 While local Christmas lights brighten dark nights around the country, travelers seeking a more exciting display may want to set their sights a bit higher this winter.
As in 60 to 120 miles higher where, if you're far enough north, you stand a good chance of seeing some of the best northern lights displays in years.
"This winter is a good time to see them and next winter should be pretty good, as well," said Ian Mann, Canada Research Chair in Space Physics at the University of Alberta, Edmonton. "The whole period for the next few years will probably be the best time in nearly 10 years."

The reason, as Mann notes, is that an 11-year cycle of sunspot activity is now peaking, which enhances the solar wind that blows over Earth's magnetic field. When particles in the wind collide with the upper atmosphere, they create the rippling curtains of green, blue, yellow and red known as the aurora borealis.
In fact, the aurora is always present, day and night, but even after dark, spotting it isn't guaranteed. The best places feature no light pollution, few obstructions and a preponderance of clear, cloudless skies. Generally speaking, activity peaks around the spring and fall equinoxes, although lodge and tour operators say the shows have been pretty impressive recently.
"You stand there and see these long arcs and they ripple and dance and kind of explode over the whole sky," Mann told NBC News. "Then they disappear and you metaphorically pinch yourself and say, 'did I really just see that?'"
Here are five places where the answer is likely to be "yes":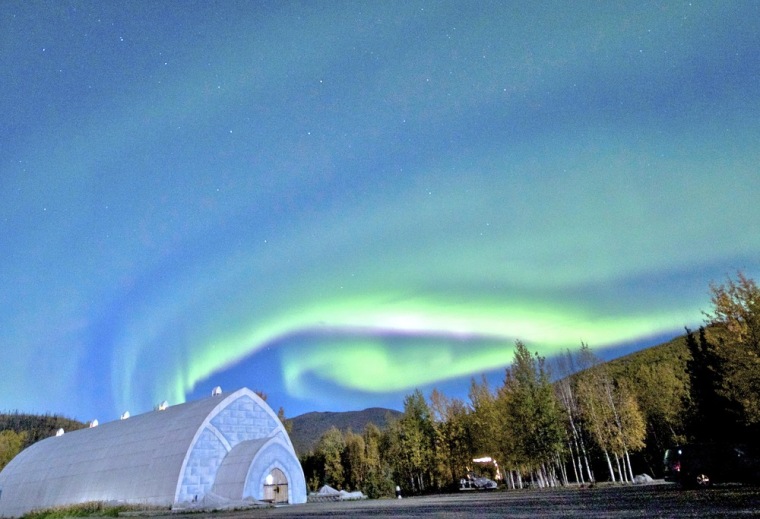 North to Alaska
Located 60 miles northeast of Fairbanks, Chena Hot Springs Resort is best known for its geothermal pools and hot tubs, dog sled rides and on-site Ice Museum, where you can admire elaborate ice carvings and sip cocktails in glasses made of ice. For aurora hunters, the resort's Aurora Odyssey package includes all of the above, along with three nights' lodging, most meals and guided aurora-viewing tours. Rates start at $1,720 based on double occupancy.

O Canada
In the Northwest Territories, perhaps that should be "Wow Canada" as the territory is known for its flat terrain, cloudless skies and fortuitous location right under the "halo" that creates the aurora. Set on an island in Great Slave Lake, Trout Rock Lodge takes advantage of that combination to offer three-night packages that include lodging, meals, ice fishing and aurora viewing, starting at C$1,295 per person. According to owner Ragnar Wesstrom, guests who stay three nights have a 98 percent chance of seeing the lights.

Night-sky science
The polar bears that make Churchill, Manitoba famous have moved on for the season, but nature still dominates this small community on the shores of Hudson Bay in Canada. For aurora hunters, the Churchill Northern Studies Centre offers a Winter Skies package that includes local cultural tours, recreational activities and astronomy seminars taught by Roger "Starman" Woloshyn. Five-night packages are offered Feb. 5–12 and Feb. 28–March 5; cost is C$1,045 per person.

Lights over Iceland
With its wild landscapes and dark winter skies, Iceland provides a distinctly different destination for viewing the Northern Lights. Icelandair offers a variety of itineraries that combine nighttime aurora-viewing with daytime tours to geysers, glaciers and historic sites. Packages including round-trip airfare from several U.S. cities are $787–$1,587.

Sailing under northern skies
While most cruise lines head south for the winter, Norway's Hurtigruten stays true to its roots with near-daily northern lights sailings along the country's western and northern coasts. Passengers can choose from six-day cruises between Bergen and Tromso or double their odds of seeing the aurora on 12-day round-trips between Bergen and Kirkenes, which sits more than 200 miles north of the Arctic Circle. The former start at $1,043 per person; the latter at $1,903, with select sailings available at 30 percent off.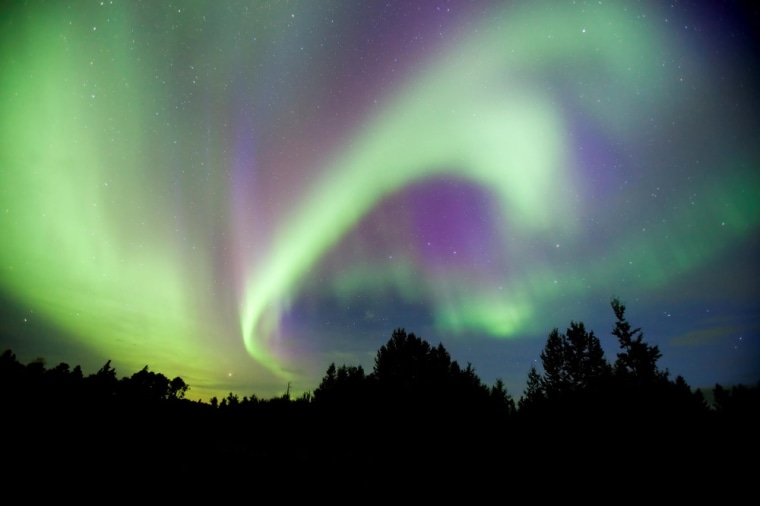 Rob Lovitt is a longtime travel writer who still believes the journey is as important as the destination. Follow him on Twitter.