Thanksgiving is a time for food, football and family — and for many, it can also mean high anxiety in the kitchen. Whether it's brining the turkey or baking pumpkin pie, creating the perfect feast involves careful planning and execution, something seasoned chefs practically do in their sleep.
So what better place to get cooking advice than at a recent gathering of top culinary talent? Last week, more than 45 chefs convened at the Waterfront, located in Manhattan's Hudson Yards area, for a tasting event hosted by New York magazine.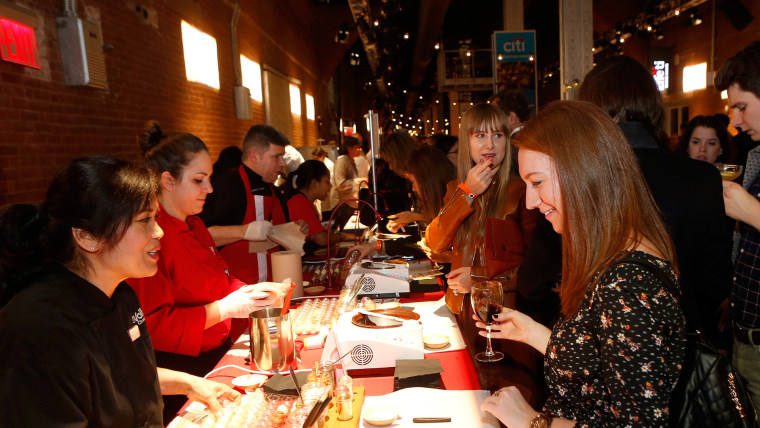 Chefs occupied nearly 50 food and drink stations at the venue, serving up samples of everything from comfort foods like meatballs and ramen to the more exotic, like goat dumplings and a popular Wagyu tataki with truffled ponzu.
TODAY caught up with several chefs to share their five best tips for holiday cooking.
Get the timing right.
"If you just think about what takes the longest to cook, get that started, and know things will hold their heat," said chef Ed McFarland, of Ed's Lobster Bar (and occasional barbecue specialist). A turkey, for example, can come out of the oven four hours before you need it, he said. "The stuffing is going to stay hot, covered, and you could always pull the stuff out, leave it sitting in a warm area, and then heat it back up right before you're ready to serve it."
RELATED: Chef Curtis Stone shares recipes for three types of Thanksgiving pies
Gillian Duffy, culinary editor of New York magazine who has been planning Thanksgiving covers for the past 10 years or so, advises people start prepping two or three days in advance. "Work out what you can do ahead of time — and quite a lot of it you can do ahead of time," she said. "So that on the day, it's not really too difficult."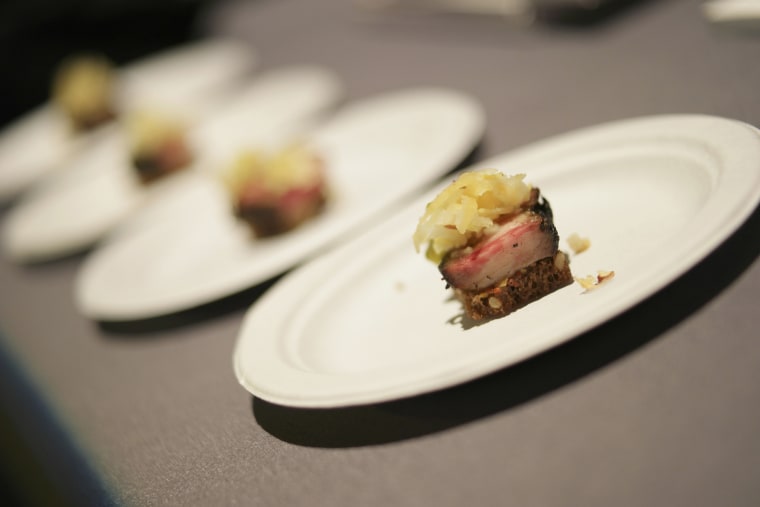 Keep it simple, but adding small twists can boost flavor.
Almost all chefs we talked to stressed simplicity when it comes to Thanksgiving. "Do what you're comfortable with," said chef Justin Smillie of Upland restaurant in Manhattan. "Don't take chances on the big meals." He'll often add lighter dishes — like a shaved Brussels sprout salad, or a squash side dish — to balance out traditional, heavier foods.
RELATED: 9 amazing brussels sprouts recipes to try as a Thanksgiving side
Miro Uskokovic, pastry chef at Gramercy Tavern and Untitled at the Whitney Museum of American Art, shared how a couple of minor recipe tweaks can deliver big flavor. For traditional pecan pie, he likes to add chunks of dark chocolate, which can help cut through the sweetness, along with a drizzle of bourbon on top. "I had it first time when I was in Indiana," said Uskokovic, who grew up in Serbia but moved to the U.S. when he was 17. "They called it a 'Derby pie,' from the Kentucky Derby."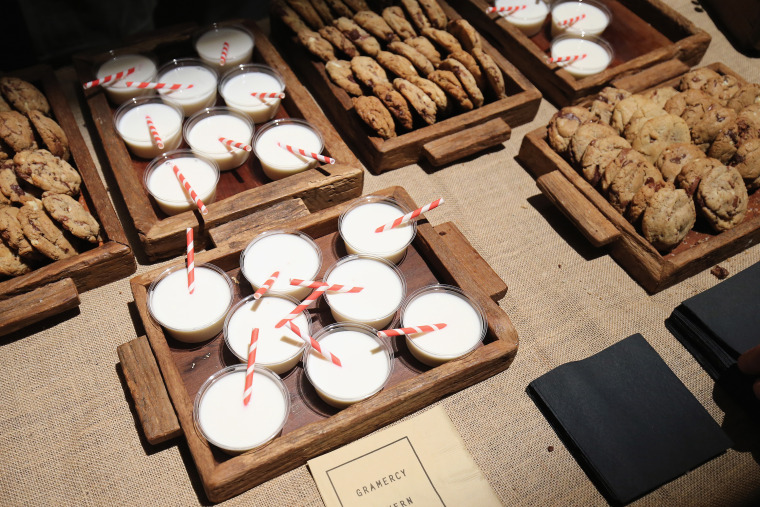 At the event, Uskokovic and his team oversaw a tempting display of chocolate chip cookies paired with little cups of milk. But these weren't your ordinary milk and cookies — the team infused locally sourced milk with Tahitian vanilla. Gluten-free flour — something Uskokovic said came about quite by accident — also gave the cookies an unusual texture, with a nice crust on the outside protecting a fudge-like interior.
RELATED: Giada's spiced apple walnut cake is a delightful alternative to Thanksgiving pie
Uskokovic said another simple change they made to a typical cookie recipe is browning the butter. "It caramelizes the milk solids so it brings a little bit more nutty, hazelnut aroma which translates to the cookie, so it kind of accents the chocolate a little bit more."
Buy seasonal produce whenever possible.
Juni chef Shaun Hergatt, who grew up in Australia, showed how seasonality can offer new and compelling food combinations. "Because of the opposite seasons, we always have red currants with turkey," he said. "You can pickle them, you can dry them, you can freeze them, you can liquid nitrogen them, you can do whatever you want, but it all tastes delicious with turkey."
Uskokovic suggests adding seasonal elements in unexpected places. "Everybody always goes for pumpkins, but I think butternut squash is just wonderful and delicious," he said. He also suggests using cranberries, which are in season, in the form of jam, sorbet or even cocktails, which can help cut into the heavy and sweet dishes traditional on the holiday.
Try these tempting Thanksgiving leftover ideas.
"We do a leftover turkey sandwich which incorporates almost everything," said McFarland. He suggests getting some thick, crusty bread and toasting it. "Take your gravy, first spread that on the inside of the bread, then you put gruyere cheese or Swiss cheese." Next, you can add cranberry sauce or make a cranberry butter, add the turkey, and maybe a little more gravy. "Put it together, and if you press it and cook it like a grilled cheese, it's unbelievable."
RELATED: Get Joy Bauer-approved Thanksgiving side dishes, and her secret dessert recipes!
Smillie, who joked that he always tries to get out of cooking Thanksgiving dinner at home, offered this simple leftovers solution: "My favorite thing to do is take hash, smush it up, fry it, and put an egg on it," he said.
In a similar approach, Hergatt likes to chop everything up and put it in scrambled eggs. "You're going to have turkey, Brussels sprouts, sweet potato — and then you scramble it all up, and then you scatter chestnuts on top, and it's delicious," he said. "Good protein as well."
If you're looking for the next food trend, try this.
Move over, kale. Duffy thinks cauliflower's big moment has arrived, with a number of chefs incorporating the vegetable into dishes. "I think now people are doing delicious cauliflower salads that have a Sicilian feel to them with currants and capers and things like that," she said. "Cauliflower, I would say, is the vegetable this season."
Looking beyond Thanksgiving, McFarland sees ramen in his future — and possibly marrying his lobster specialty with the popular noodles. "I see a huge ramen trend and a huge soba trend in the city in general, and I'm a big fan of Ramen Lab," he told us. "I've been talking with the guys over at Sun Noodle about lobster ramen and stuff."
Write to Robin Kawakami and find her on Twitter and Instagram.