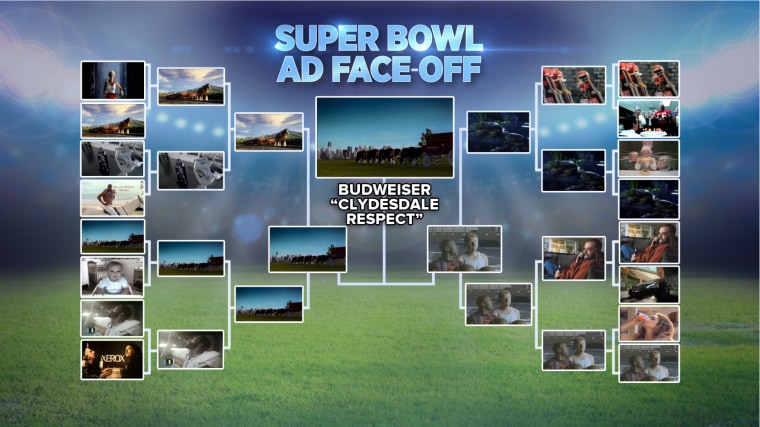 After a week of throwdowns between Larry Bird and Cindy Crawford, mini Darth Vader and the Old Spice guy, TODAY fans made it loud and clear in a landslide final round. Budweiser's "Clydesdale Respect" is their favorite Super Bowl ad of all time.
If you're late to the big game: We picked 16 of our all-time favorite Super Bowl ads, and asked viewers each day this week to vote on their favorite commercial. 

If you haven't seen it yet, or even if you have, watch Bud's touching 9/11 tribute from 2002:
Did your favorite win? Check out the other contenders: 
Apple, "1984"
Budweiser, "Clydesdale Team"
Budweiser, "Bud Bowl" 
Reebok, "Terry Tate, Office Linebacker" 
VW, "The Force" 
Old Spice, "The Man Your Man Could Smell Like" 
Wendy's, "Where's the Beef?" 
Budweiser, "Budweiser Frogs"
E-Trade, "Baby"
Budweiser, "Wassup!" 

Chrysler, "Imported from Detroit" 
Coca-Cola, "Mean Joe Greene" 
Xerox, "Monks" 
Pepsi, "Gotta Have It" 
McDonald's, "The Showdown"