The final day of TODAY's Hot Ticket giveaway found Dylan Dreyer in West Haven, Connecticut, to surprise a third winner of a Bahamas getaway — but not the last.
After paying a visit Friday to a very deserving winner, Aida Cordero, a bus driver who hasn't taken a vacation in five years, TODAY surprised another worthy winner: Dylan!
"You, Dylan, have been a trooper, braving the elements across the country, from the Arctic outbreaks in Chicago to repeated storms in New England," Matt Lauer told her. "In fact, you've been on the road 15 of the last 23 days."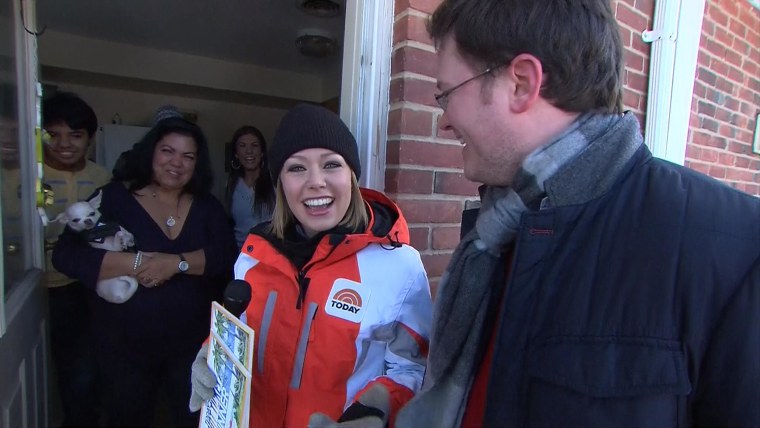 TODAY viewers overwhelming urged the broadcast to send Dylan on a much-deserved beach vacation and were pleased when they learned she will be rewarded for all her live weather reports from the most frigid parts of the nation.
A clearly surprised Dylan couldn't believe the news.
"I want to cry," she said, waving her hand to her face as she held back happy tears.
Delivering the fourth and final surprise ticket was Dylan's husband, ready to be her plus one on the three-night Bahamas trip, and offering a little weather humor at the same time.
"I'm trading bombogenesis for Bombay and tonic," he said.
The other Hot Tickets went a family in Buffalo, New York, and a Boston woman who planned to take her three sisters. More than 7,000 winter-weary people entered the contest.