Want to brighten your day by clinking glasses with Hoda Kotb and Kathie Lee Gifford or dancing along with Al Roker?
You can now do that any time, anywhere thanks to a partnership between TODAY and Giphy on the new augmented reality iPhone app "Giphy World." The app launches on Tuesday with the release of Apple's iOS 11 mobile operating system.
The app allows you to decorate your physical surroundings using digital elements like GIFs and stickers, including GIFs of the TODAY anchors.
When you update your iPhone or iPad to the new iOS 11 available on Tuesday, just look for "Giphy World" in the app store.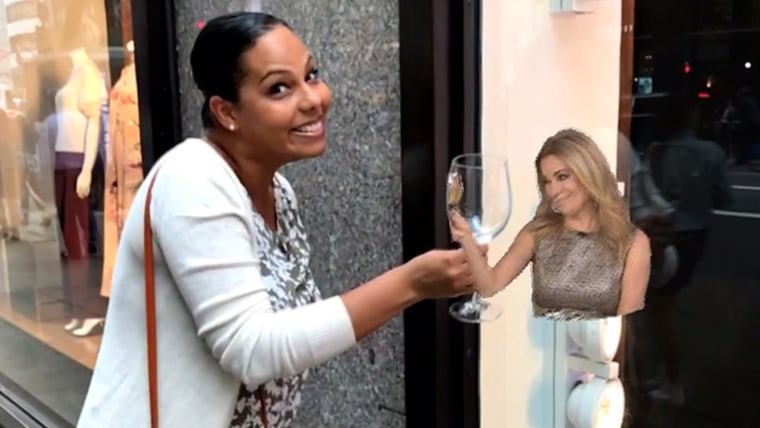 You can take a virtual selfie sharing cheers with a wineglass-toting Hoda and Kathie Lee, share a smile with Matt Lauer and more. The app includes those GIFs of those plus Al Roker, Savannah Guthrie, Carson Daly, Megyn Kelly and TODAY's puppy, Charlie.
Kathie Lee and Hoda got a demonstration from TODAY producer Donna Farizan on Tuesday, who showed fans outside Rockefeller Center how they could take a selfie with the TODAY duo right there on the streets of Manhattan.
Hoda then used the app on an iPad, showing the GIFs of TODAY anchors decorating the actual TODAY control room.
You can add multiple GIFs to your surroundings and even record a video of your creation to post online. Make sure to check it out and share your creations with friends!
Follow TODAY.com writer Scott Stump on Twitter.