"Cookies" have a bad rep on the web — they're those little pieces of personal information sites collect from visitors. But now, thanks to the Girl Scouts of the U.S.A., there's a happy way to get cookies on the internet: just order them!
That's right: Thanks to a "Digital Cookie" expansion of the Girl Scouts' website, cookie monsters can now get their fill by clicking and ordering favorites directly from the girls. Each scout will have her own cookie website, which customers will have to be invited to by the scout herself (there's no personal information on the page). A mobile app will also allow customers order direct and use a credit card.
"Girls across the country now can use modern tools to expand the size and scope of their cookie business, and learn vital entrepreneurial lessons in online marketing, application use and e-commerce," digital cookie director Sarah Angel-Johnson told The New York Times.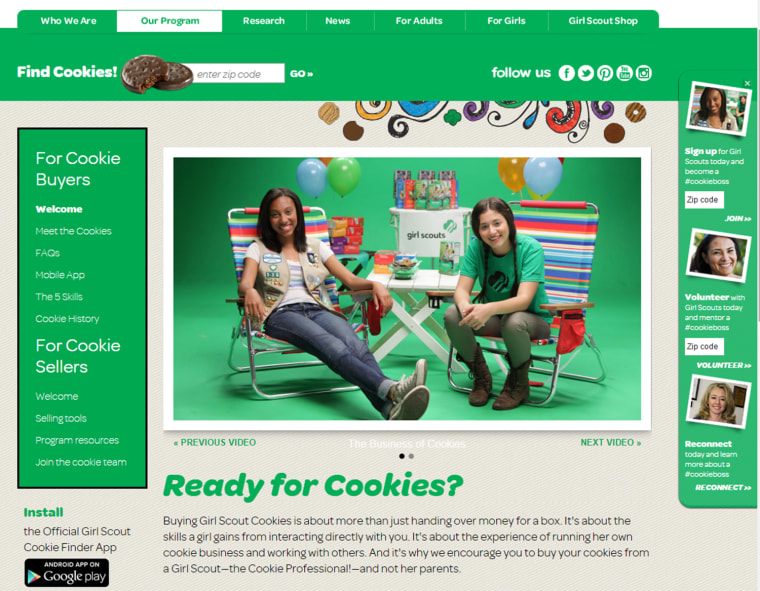 The Girl Scouts have traditionally said "crumbs" to online efforts; for example, when Alana "Honey Boo Boo" Thompson tried soliciting orders on her Facebook page in 2013, her local troop told her not to, saying that selling online didn't really teach girls anything. But the organization seems to have changed its tune.
Clearly, this is a huge boon for customers who aren't always home when the girls come knocking — or don't have an "in" with a kid or a kid's parents. But for those who prefer the traditional method, that's still very much in vogue.
"I love going around my neighborhood, my parents' jobs and my grandfather's job," 13-year-old Bria Vainqueur, who sold 1,350 boxes last year, told the Times. "I've been selling cookies since I joined scouting when I was 6, including setting up a booth at our local Stop & Shop."
Thanks to the online component, she's now aiming for 2000. 
The digital expansion starts this month in select parts of the country, and will begin to go national starting in January.