Summer is here, meaning longer days — ideally punctuated by time spent relaxing on the beach and kicking back at barbecues. But for some of us, it also means a whole lot of sweating.
Yes, with all of the fun that accompanies these warmer months, so, too, comes the uncomfortable and unsightly problem of perspiration. In fact, a study by market research firm ORC International found that 33 percent of Americans sweat through their clothes at least once per week and nearly a quarter say they sweat through their clothes at least once per day.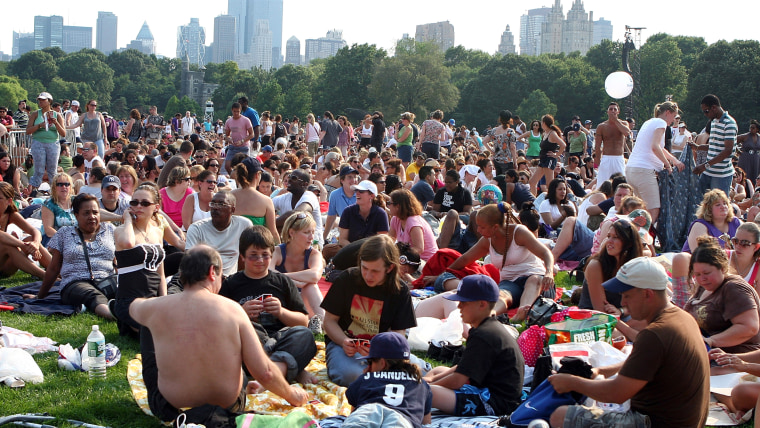 But which city has the worst sweating problem of all? The marketers of Honeywell Fans have teamed up with environmental health scientist Ted Myatt for a second year to identify America's sweatiest cities.
RELATED: Don't sweat it! 17 tricks to not look sweaty this summer
"Using updated criteria as well as data obtained from the U.S. Census Bureau and the National Oceanic and Atmospheric Association, we looked at a range of environmental factors to pinpoint 'hot spots' across the country," said Myatt in a statement. "The study factored in the average summer temperatures of each city and proximity to large bodies of water. Fitness and recreational sports facilities, as well as sports teams per capita were also considered for the rankings, knowing that more frequent exercise and crowded sporting events lead to a city's overall sweatiness."
This year two cities in North Carolina took the top spots with Charlotte coming in at No. 1 and Raleigh at No. 2. Charlotte came in at 25 for average summer temperature, top 10 for fitness facilities, and No. 1 for sports teams. Raleigh ranked in the top 20 for average summer temperature, and No. 4 for fitness facilities. Both places lack an ocean breeze.
RELATED: Best deodorant for women: Natural brands to try now
St. Louis, Missouri, came in at No. 3, while Austin, Texas, and Richmond, Virginia, rounded out the top five. Unsurprisingly it was almost entirely Southern states that made the list — with outlier Minneapolis taking the No. 7 spot.
Top 10 sweatiest U.S. cities
1. Charlotte, North Carolina
2. Raleigh, North Carolina
3. St. Louis, Missouri
4. Austin, Texas
5. Richmond, Virginia
6. Miami, Florida
7. Minneapolis, Minnesota
8. Orlando, Florida
9. Tampa, Florida
10. Kansas City, Missouri