Do you feel like your work never stops and you're logging countless hours each week? Well, you're not alone. According to the Organization for Economic Cooperation and Development Factbook, Americans work an average of 34.4 hours a week — the longest of any other country in the world — and receive the fewest vacation days. But, it doesn't have to be that way.
Career website Glassdoor spent the past year gathering employee feedback and created a list of the 29 best jobs for work-life balance based on a 5-point scale, with 1 being very dissatisfied and 5 meaning very satisfied. Whether it's the option to work remotely, set a flexible schedule, unplug over the weekend or take advantage of a generous vacation policy, these plum jobs are spread across a number of industries, and can be found at a wide variety of companies hiring.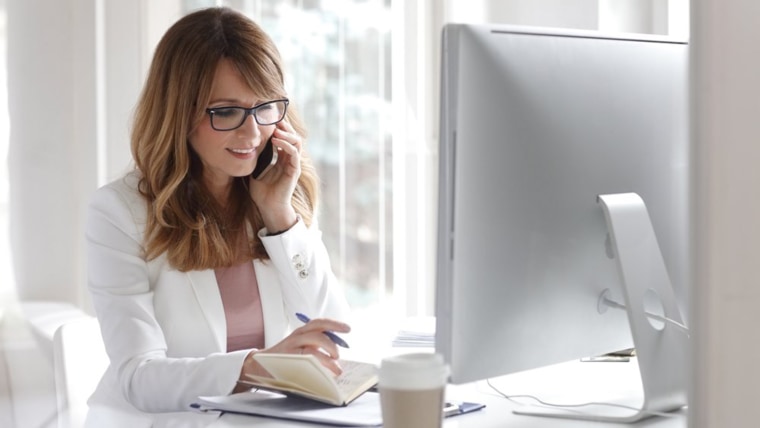 So what are the top jobs that won't leave you working 24/7? A career as corporate recruiter topped the list with a work-life balance rating of 4.1, median salary of $65,000 and 1,269 job openings.
"Rather than some professions that are centered around interoffice teamwork, recruiting is all about making connections with the outside world: the candidates who will hopefully turn into qualified new employees," Allison Berry, Glassdoor community expert, told TODAY. "Because of this, recruiters often work a flex schedule to cater to candidates and their schedules."
RELATED: As millennials eye better work-life balance, is the US ready for a 6-hour workday?
Coming in at No. 2 is a UX designer with the same rating of 4.1, a median salary of $95,000 and 1,139 job openings. Data scientist, strategy manager and UI designer round out the top five with ratings of 4. And these are just some of the many technology jobs that made the list.
"Tech employees typically have more flexibility when it comes to their hours, either working from home, setting their own hours, or coming into the office later than 10 a.m.," noted Berry. "The high demand for these jobs gives candidates more leverage in negotiating how they'd like to set their schedule."
RELATED: Gravity Payments' $70K minimum salary: CEO Dan Price shares result over a year later
The average work-life balance rating on Glassdoor is currently 3.2, which has held steady over the past four years, but has been in decline over the long term. In 2009, the average work-life balance rating was 3.5.
In terms of jobs where work-life balance may need some improvement, being a reporter topped the list with a work-life balance rating of 3 and surprisingly a mental health therapist came in with a 2.7 rating.
Curious which other jobs have good work-life balance options? Check out the full list below:
1. Corporate Recruiter
Work-Life Balance Rating: 4.1
Median Salary: $65,000
Number of Job Openings: 1,269
2. UX Designer
Work-Life Balance Rating: 4.1
Median Salary: $95,000
Number of Job Openings: 1,139
3. Data Scientist
Work-Life Balance Rating: 4
Median Salary: $112,000
Number of Job Openings: 2,106
4. Strategy Manager
Work-Life Balance Rating: 4
Median Salary: $110,487
Number of Job Openings: 595
5. UI Designer
Work-Life Balance Rating: 4
Median Salary: $84,500
Number of Job Openings: 615
6. Recruiting Coordinator
Work-Life Balance Rating: 4
Median Salary: $48,000
Number of Job Openings: 604
7. Technical Account Manager
Work-Life Balance Rating: 4
Median Salary: $75,000
Number of Job Openings: 1,035
8. Mobile Developer
Work-Life Balance Rating: 4
Median Salary: $101,318
Number of Job Openings: 2,074
9. Devops Engineer
Work-Life Balance Rating: 4
Median Salary: $110,000
Number of Job Openings: 1,536
10. Research Engineer
Work-Life Balance Rating: 3.9
Median Salary: $103,029
Number of Job Openings: 483
11. Marketing Analyst
Work-Life Balance Rating: 3.9
Median Salary: $65,000
Number of Job Openings: 3,033
12. Scrum Master
Work-Life Balance Rating: 3.9
Median Salary: $89,428
Number of Job Openings: 686
13. Substitute Teacher
Work-Life Balance Rating: 3.9
Median Salary: $25,178
Number of Job Openings: 420
14. Library Assistant
Work-Life Balance Rating: 3.9
Median Salary: $28,929
Number of Job Openings: 356
15. Social Media Manager
Work-Life Balance Rating: 3.8
Median Salary: $54,908
Number of Job Openings: 1,060
16. PHP Developer
Work-Life Balance Rating: 3.8
Median Salary: $79,923
Number of Job Openings: 1,622
17. Web Designer
Work-Life Balance Rating: 3.8
Median Salary: $61,198
Number of Job Openings: 485
18. Content Manager
Work-Life Balance Rating: 3.8
Median Salary: $73,909
Number of Job Openings: 544
19. Technical Editor
Work-Life Balance Rating: 3.8
Median Salary: $61,486
Number of Job Openings: 1,529
20. Data Analyst
Work-Life Balance Rating: 3.8
Median Salary: $65,694
Number of Job Openings: 1,994
21. Project Analyst
Work-Life Balance Rating: 3.8
Median Salary: $60,000
Number of Job Openings: 315
22. Marketing Coordinator
Work-Life Balance Rating: 3.8
Median Salary: 48,000
Number of Job Openings: 11,702
23. Recruiting Manager
Work-Life Balance Rating: 3.8
Median Salary: $72,000
Number of Job Openings: 318
24. Client Manager
Work-Life Balance Rating: 3.7
Median Salary: $67,462
Number of Job Openings: 496
25. Computer Programmer
Work-Life Balance Rating: 3.7
Median Salary: $75,076
Number of Job Openings: 288
26. Research Analyst
Work-Life Balance Rating: 3.7
Median Salary: $59,003
Number of Job Openings: 353
27. Research Technician
Work-Life Balance Rating: 3.7
Median Salary: $37,320
Number of Job Openings: 398
28. Creative Manager
Work-Life Balance Rating: 3.7
Median Salary: $106,825
Number of Job Openings: 591
29. Lab Assistant
Work-Life Balance Rating: 3.7
Median Salary: $28,000
Number of Job Openings: 1,127