Thanksgiving is a wonderful time of year, kicking off the holiday season with lots of turkey and quality time with family. It's also one of the worst times to travel.
In fact, AAA announced Tuesday that 48.7 million Americans will travel 50 miles or more from home for the holiday this year, making it the busiest Thanksgiving period since 2007. While you won't be able to avoid the millions of Americans on the road or in the skies, there are some ways to make the trip a little less stressful.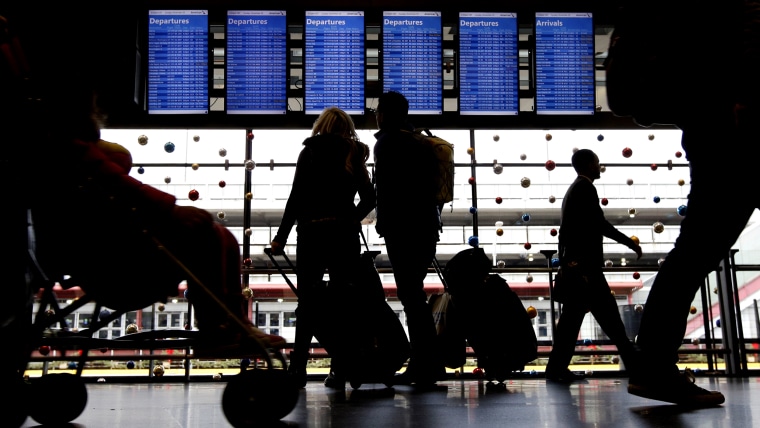 How? A few travel experts gave TODAY their top hacks to stay healthy and save both money and time. Here are their top 13 tips.
1. Bundle up.
"Be sure to book any combination of your flight, hotel and car rental reservation together," Expedia travel expert Sarah Gavin told us. "This simple task can save travelers up to $600! That's money that can be saved for a future trip, or a little something extra for a family member this holiday season."
2. Fly on Thanksgiving and Black Friday.
Flying around Thanksgiving will inevitably lead to delays due to high congestion. However, there's a silver lining for those who can't get out of work earlier. Flying on the holiday itself means the least chance of delays according to RewardExpert's Thanksgiving 2016 Holiday Air Travel Forecast, so catching an early morning flight can still get holiday stragglers home in time for the big feast. Also, Black Friday is an ideal day to fly home while others are out scooping up hot deals at the mall.
3. Avoid Tuesday.
While flying midweek typically means better fares for travelers, it's the opposite when it comes to Thanksgiving. According to Roman Shteyn, RewardExpert CEO and co-founder, Tuesday is the worst day to fly before Thanksgiving. It's also the worst day of the week to fly home after Thanksgiving. Weekend travelers should fly back on Saturday to avoid Sunday delays.
RELATED: Here are the best and worst airports in the US
4. Wash your hands frequently.
The last thing you want is to be sick over the holidays, and with more contact with strangers, the more likely are your chances of falling ill. "Stomach illnesses like the norovirus and the rotavirus are in peak season around the holidays," said Dr. Purvi Parikh, allergist, immunologist and member of Allergy & Asthma Network. "There are no vaccinations to protect us from those, so remember to wash your hands frequently and carry hand sanitizer with you, especially if you are using mass transportation to get to your holiday meal."
5. Fly to Hawaii, but avoid San Francisco.
There's more to Hawaii than its pristine beaches and stunning sunsets. It's also the best spot for hassle-free travel over Thanksgiving. Hawaiian Airlines reports 95 percent of its flights are on time, and Honolulu International Airport has nearly 92 percent of on-time flights. Atlanta is second best in terms of best record for timely holiday flights and is an efficient hub if you need to connect.
Meanwhile, Bay Area travelers should be warned: San Francisco International Airport has the worst on-time record for Thanksgiving travel with only three-quarters of its flights reporting on time.
6. Head to Mexico for some holiday rest and relaxation.
For travelers looking to skip the traditional Thanksgiving gatherings this year and save money while doing so, Expedia analysts found Mexico is a hot spot for deals. Travelers booking a package to Cancun, Isla Mujeres, Riviera Maya, Playa del Carmen, Tulum and Los Cabos can save more than 25 percent. Average ticket prices for travelers making their way from New York (JFK) or Los Angeles (LAX) to Cancun (CUN) for Thanksgiving cost on average 20 percent less this year versus last year.
RELATED: Traveling with your pet? 7 essential tips to know before you go
7. Choose your security line carefully.
"Keep an eye out for how other travelers ahead of you have packed and if they're traveling with small children," said Gavin. "You'll have a much better chance of getting through security swiftly if you stay close to those travelers who appear to have not packed their entire closet."
When in a rush, ask the nearest Transportation Security Administration agent which line is moving the fastest, revealed Gavin. "They always stay in touch with each other, and, if you're nice, you can get the best tips on where to go."
One line expert, Robert Samuel the founder of Same Ole Line Dudes, revealed to TODAY another queue strategy: choosing the line to your left. Why? "Most people are right-handed and tend to go to the right," he said.
8. Call your airline if your flight is canceled, don't wait on line
Getting stuck at the gate is the last thing travelers want when flying home for the holidays. "If your flight is canceled or delayed, don't bother getting in line for a ticket agent to get rebooked," said Shteyn. "Just hop on the phone and call your airline; chances are you'll spend less time waiting to get your new itinerary. This can make a big difference particularly if the next available flight to your destination is leaving soon!"
RELATED: The mystery of the Bermuda Triangle may have finally been solved
9. Check your credit card advantages.
Always know what benefits you have access to by checking in your wallet for relief. "Many credit cards offer lounge access, trip cancellation and delay insurance so that you can travel confidently," noted Shteyn. "Or even concierge services that can handle dealing with ticket agents for you and help manage your travel itinerary." You may be delayed, but you won't be stressed.
10. Fly Delta.
If you're trying to decide which airline to take home or on vacation, the RewardExpert Thanksgiving 2016 Holiday Air Travel Forecast suggests Delta. Why? The airline leads the pack among major carriers with almost 89 percent of its flights arriving and departing in a timely fashion. It came in second only to Hawaiian Airlines and was followed by Alaska Airlines, Virgin America and United Airlines rounding out the top five.
RELATED: Here are the best restaurants in the US (bargains included!)
11. Ship your presents.
Losing your luggage is the worst, and losing your loved one's gifts can ruin a holiday. "Send presents and other things ahead through USPS, or UPS ground shipping," suggested Robert Birge, CMO of Lola, an on-demand, personal travel service. "There are services such as Luggage Forward for things like skis and other hard to manage baggage.If you're going to check and worry about your luggage, you can try baggage trackers like the Tile app and LugLoc."
12. Never sit directly behind the bulkhead if you have luggage to store.
If you have the option to choose where you're sitting, you'll want to avoid a seat directly behind the bulkhead if you have luggage to store. "Be at least one row back because those storage areas are the most crowded," Daniel Solomon, co-founder and director of Minute Suites, the Traveler's Retreat, told TODAY. "Bulkhead passengers must store everything in the storage area including briefcases, large purses, etc. Many people who are assigned or choose these 'closest to front' seats are not aware of this trade-off."
13. Start booking December travel.
"You should absolutely consider when to book if you are looking to save money this year for holiday travel," said Gavin. "Looking at data from last year's holiday season, we found customers hoping to take travel during the December holidays, should book air travel 7-13 days in advance of departure. This could lead to meaningful savings." Expedia.com hotel data also showed that top destinations for Christmas travel this year include Las Vegas; New York; Cancun, Mexico; Orlando and Punta Cana, Dominican Republic. "Playa del Carmen (in Mexico) is also a great destination for savings on hotels during this time where average daily rates are down nearly 15 percent from the same time period last year," she noted.