Whether your family will make its way over rivers and through woods or race across town to catch a plane, traveling during the Thanksgiving holiday can be hectic and stressful.
That will certainly be the case this year, as a record 28.5 million holiday travelers are expected to fly on U.S. airlines, an increase of 3 percent over Thanksgiving 2016, according to airline trade group Airlines for America.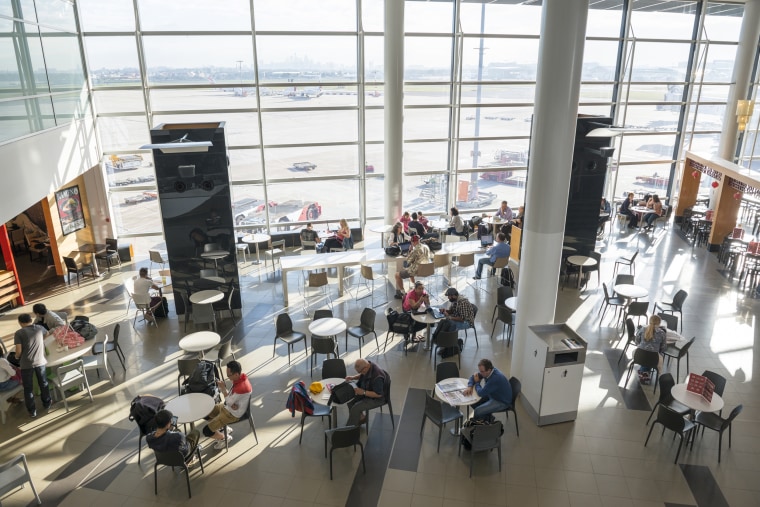 A4A pegs the increase to a strong economy and low airfares. But while airlines are adding seats to accommodate the spike in demand, crowded airports, full airplanes and bad weather can easily turn the holiday weekend into a travel turkey.
The data teams at Google Flights and Reward Expert confirm that the busiest days to fly over this holiday will be (no surprise) Friday, Nov. 17 and Wednesday, Nov. 22 – before the official holiday – and Sunday, Nov. 26, when everyone tries to make their way home.
Google Flights expects airports in 10 cities – New York City, Boston, Chicago, Orlando, Fort Lauderdale, Miami, San Francisco, Los Angeles, Las Vegas and Honolulu – to be the busiest this holiday, while Reward Expert crunched Department of Transportation data from the past five years to predict which airports might give Thanksgiving travelers the most problems this year.
While the Honolulu, Atlanta, Charlotte Douglas, Southwest Florida and Salt Lake City airports had the best on-time performance during Thanksgiving over the past five years, if you're traveling through Sacramento, Houston Hobby, Oakland, Newark Liberty or San Francisco airports this year, the statistics says you're likely to encounter delays.
Here are some tips that might make traveling during this holiday a bit smoother.
1. Breeze through airport security.
Some airport websites now have tools that report wait times at their security checkpoints, but assume lines will be longer than usual. Your best defense? Get a good night's rest and head for the airport extra early.
And keep in mind: If you haven't yet signed up for TSA PreCheck or Global Entry, you may still have access to some form of expedited lanes screening if you are 75 or older, 12 years or younger, in the military or a disability or medical condition.
2. Pack for success.
Thanksgiving is more about family (and eating) than showing off the latest fashions, so lighten up what you bring and try traveling with just a carry-on.
Flying with food? Turkey (cooked or frozen) is permitted in carry-on and checked bags but check with your airline if brining a live turkey. Cakes, pies, bread, fruits and vegetables are also permitted in carry-ons, but gravy (a liquid) is not. TSA's "Can I bring..?" tool can offer advice on other items you may want to bring along.
3. Bring an emergency kit.
Flares aren't necessary (or allowed) in your carry-on bag, but a kit with some emergency supplies in case of a delay is advised.
Bring snacks (good options include fresh or dried fruit, nuts, energy bars and sandwiches), a refillable water bottle, charged gadgets and rechargers, books and magazines, toys for your kids and a print-out of the reservation information and phone numbers for your airline, car rental company, hotel and the friends or family members who have volunteered to pick you up.
Stash some "mad money." If a delay gets especially infuriating you can use that cash buy you and your traveling companions a massage, a fancy cocktail, chocolate or some other frivolous, stress-busting treat.
4. Delight in the delays.
Most people would rather get to their holiday destinations as soon as possible. But those who end up spending extra time waiting for their flights will find many airports offering holiday entertainment and many airport restaurants serving special Thanksgiving-themed dishes and full meals. And in dozens of airports there will be teams of therapy dogs and their trainers on duty to help calm jittery nerves.