With all the buzz about Wal-Mart's new "Made in the USA" campaign, we were intrigued. Is this just a marketing ploy, or is Wal-Mart now carrying more American-made products to help revive domestic manufacturing and create more jobs, as it claims? 
We also wondered how locally sourced products compare in price and quality to the imports.

We sent a researcher into a local Walmart to scope out the goods. She bought and tested several items made in the U.S. against the closest imported match she could find. Here is what we learned.
Prices
The items sampled included socks, towels, skillets, light bulbs and kitchen mats. The total cost of the American-made merchandise hit $57.50 compared with $55.46 for the imports, a difference of $2.04. The socks, skillet and light bulbs produced in America were cheaper than the imported versions.
Marketing In-Store and Online
The marketing for Wal-mart's "Made in the USA" inventory was confusing. Walmart.com features a special section for goods produced in America. Of the 402 items listed, however, only 196 are sold in stores, with the remainder available online. From this vantage point the campaign seemed like a marketing scheme, as much of the highlighted merchandise includes products like common household cleaners, toiletries, crayons and other goods that Wal-Mart has probably been selling all along. We noted some "Made in the USA" toys and home goods that we thought worth comparing, but further research revealed that many of these items were sold only at select locations, none of which were in driving distance of our researcher's home.
Once arriving at the nearest Wal-Mart Supercenter, we found an array of products made in the USA. The retailer has mounted displays of some of these items on end caps, where they stand out. But there is no signage calling to attention to their sourcing, nor did we see "Made in the USA" signs affixed to the relevant items in the aisles, on shelves or atop racks.
Moreover, "Made in the USA" labeling was not always shopper-friendly. We had to carefully inspect the tags on some merchandise to determine the country of origin. For example, the packaging for a skillet contained a small symbol with "USA" printed across the front, so we picked it up thinking it was made here. Wrong. The fine print said engineered in the U.S., while deeper digging uncovered a smaller tag saying "Made in China." Does the skillet count for Wal-Mart's "Made in the USA" campaign? Well, no. As Gregory Karp points out in the Chicago Tribune, products may display USA-associated imagery without actually being manufactured in the United States. The Federal Trade Commission upholds strict "Made in the USA" laws, but there are ways to fool shoppers. Consumers keen to buy American should read labels carefully.  
The Products
Although we're happy to get on board the USA-made train, we also pay homage to value pricing and quality performance. At the end of the day we found no clear-cut association among country of origin, price and quality.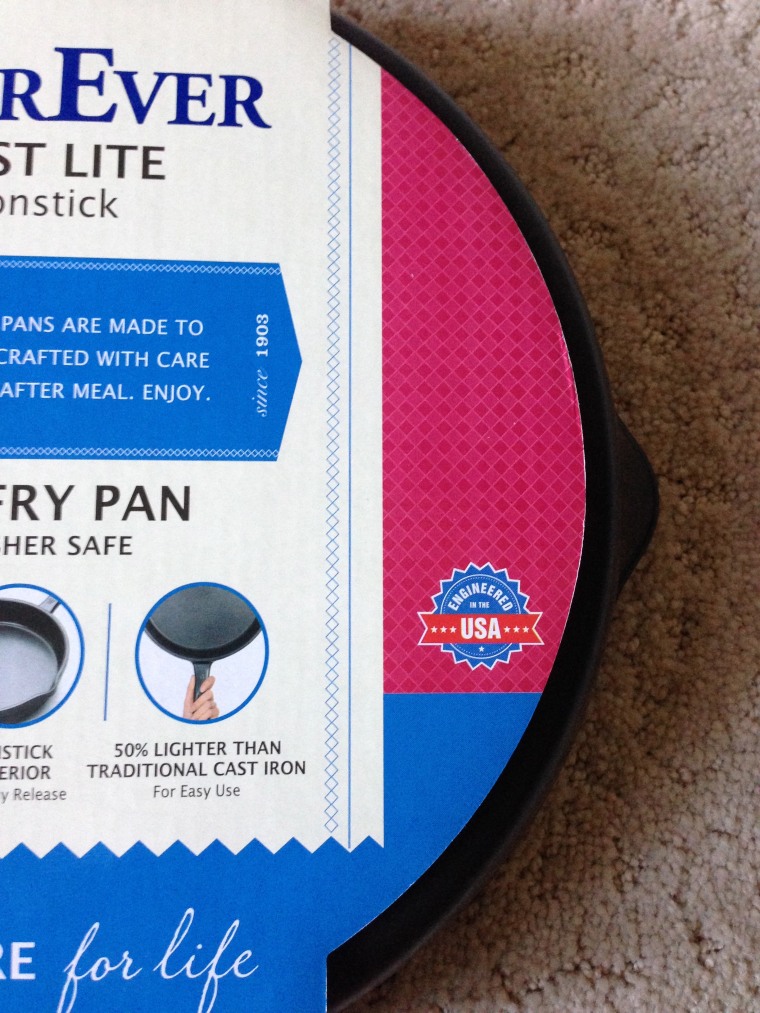 Skillets: We tested the American-made Lodge cast iron skillet ($15.92) against the China-made (but USA-engineered) WearEver Cast Lite skillet ($24.97). The result was a draw. We seasoned both as directed and cooked fried eggs in each at the same temperature for the same length of time. There was a considerable amount of sticking with the Lodge skillet, perhaps due to the highly pitted surface. The WearEver skillet required little seasoning and the eggs didn't stick to its smooth surface. Our tasters declared the eggs better cooked in the WearEver skillet than in the Lodge. One downside of the WearEver is that the handle got very hot, very fast (the Lodge handle stayed much cooler), plus, it seemed less durable. The Lodge weighs more, however, and could be harder for some users to maneuver. It garners five-star reviews at the Wal-Mart site from more than four out of five purchasers, many of whom praise its durability and build quality even as several grumble about sticking food. We did not find reviews for the WearEver skillet.
Socks: In our comparison of the USA-made No Nonsense ($4.97/six pairs) and the China-made Danskin Now ($6.97/six pairs), we initially found the No Nonsense to be thicker, softer and seemingly more durable. After wearing each for a few days, though, we developed a preference for the Danskin Now socks. With neither brand could we slide into our shoes, but Danskin Now seemed to fit more snugly and it beat the competition in terms of staying up and staying put. The imported socks didn't stretch as much with wear, seemed more breathable, and overall proved to be more comfortable.
Towels: At first glance we preferred the (American) Made Here bath towel ($14.97), an impression that carried through to the end. This exemplar is bigger, thicker and more absorbent than the Better Homes and Gardens bath towel ($5.88), which comes from India. The American product is very soft; it washed and dried well; and it generally seemed more durable and of higher quality than its Indian counterpart. Reviews posted at Wal-Mart rave about the Made Here towel and award it a solid five stars for the same qualities we identified. One reviewer says she is replacing all the towels in her home with this brand and others report ordering more after an initial tryout. Reviews of the Better Homes and Gardens bath towels often complain that they shed lots of lint, although that was not our experience. For less than $6, this isn't a bad towel — it just doesn't compare.  
Light bulbs: Light bulbs are hard to evaluate one against another in the short run because they should last a very long time. That said, we quickly noticed that the USA-made Sylvania 60-watt bulb ($1.68) wasn't as bright as the China-made Great Value 60-watt equivalent (43 actual wattage), which sells for $3.68. We can't predict longevity, but we decided that brighter light wins out despite the substantially higher price.   
Kitchen mats: There was no competition here. The China-made Mainstays Chef Mat ($13.96) clearly bested the U.S.-made Better Homes and Garden Chef Mat ($19.96). It's soft, bounces back into shape regardless how long you stand on it and feels more comfortable for long periods. The Better Homes and Garden mat is somewhat hard and we noticed that the grooves created from our feet didn't go away, even overnight. For longer cooking spells, the comfort level just didn't hold up. It did stay in place better than the Mainstays mat, however, and lay flatter against the floor, making it less of a tripping hazard. But overall we preferred the imported Mainstays Chef Mat.
More from Cheapism:
Battle of the giants: Amazon vs. Wal-Mart
Ultra cheap cell phone plans comparison

Wal-Mart vs. Target vs. Kmart showdown

Defensive shopping tactics and strategies