The Super Bowl is just as much about the commercials as it is the game, and Super Bowl 50 was no exception.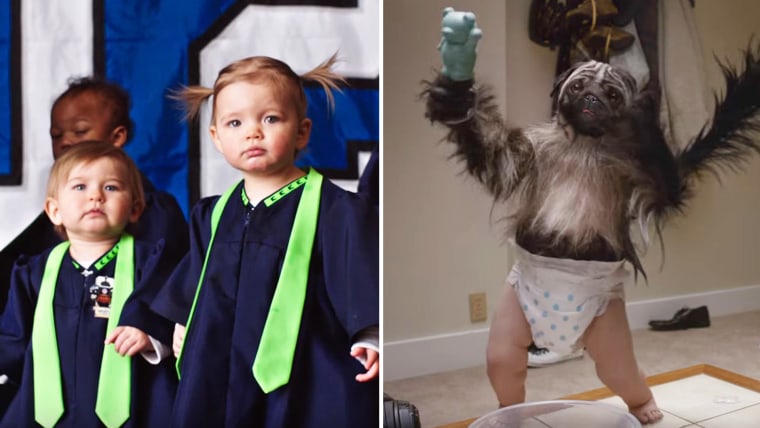 From Heinz' wiener dogs to Ryan Reynolds' Hyundai ad to Puppymonkeybaby, this year's ads were upbeat and, at times, hysterical.
Here are 10 of the most talked-about ads of the night. Vote for which one you like in our poll (and watch all the ads below)!
1. Audi – David Bowie "Starman"
The narrative about an astronaut finding inspiration is sweet, but the real reason this ad resonated is because of its use of "Starman," performed by David Bowie, who passed away last month.
RELATED: 'The struggle is real, but so is God': See Iman's poignant David Bowie tribute
2. Mountain Dew – Puppymonkeybaby
Love it or hate it, this part puppy-part monkey-part baby creature helped sell an energy drink and, in the process, became of the most memorable ads of the big game.
3. Doritos – Ultrasound
In a hospital delivery room, one dad got a little carried away with his Doritos stunt, leading to a birth that likely happened a bit earlier than expected.
4. Budweiser – The Bud Light Party
Amy Schumer and Seth Rogen (and, hey, Paul Rudd, everybody!) teamed up for an ad about America's shared love of beer.
5. Hyundai – Ryan Reynolds
A town full of Ryan Reynolds-es-es distracts its motorists. Hilarity ensues.
RELATED: Watch a sexy Ryan Reynolds distract drivers in new Super Bowl commercial
6. "Independence Day" - Trailer
It's the Super Bowl! Just kidding, it's a movie trailer. (In case you were worried aliens were flying over the stadium after the national anthem.)
RELATED: T-Mobile Super Bowl commercial premieres: See Drake's new 'Hotline Bling'
7. T-Mobile – Steve Harvey
Harvey played off his Miss Universe gaffe while stumping for the cell-phone company.
RELATED: Steve Harvey and Miss Colombia open up about pageant mistake on TODAY
9. Honda - Sheep
There was nothing sheepish about the way these critters approached the Queen classic, "Somebody to Love," while promoting the Honda Ridgeline.
10. NFL - Super Bowl Babies
The National Football League took its "Football is Family" slogan literally, showcasing the children who were born nine months after their parents, um, celebrated their teams' Super Bowl wins.
RELATED: Toyota's Super Bowl 50 commercial will rock your world
Follow TODAY.com writer Chris Serico on Twitter.