If you're a student at a public high school that blocks pro-gay websites but allows access to anti-gay websites, the American Civil Liberties Union wants to know.
Don't Filter Me, a projected launched by the ACLU's LGBT Project and Yale Law School LGBT Litigation Clinic, is reaching out to public school students, ages 13 and older, in an effort to "combat illegal censorship of pro-LGBT information on public school computer systems."
Blocking all LGBT content from public school Internet violates both the First Amendment and the Equal Access Act, which requires equal access to school resources for all extracurricular clubs.
"There is no legitimate reason why any public school should be using an anti-LGBT filter," Joshua Block, staff attorney at the ACLU LGBT, said in a statement. "This is not a case where overbroad filters are accidentally filtering out LGBT websites. These filters are designed to discriminate and are programmed specifically to target LGBT-related content that would not otherwise be blocked as sexually explicit or inappropriate."
The LGBT Project became aware that public schools were filtering pro-gay content a few years ago, when a high school student in Tennessee contacted the advocates, LGBT Project's Chris Hampton said in a recent interview.
Speaking with Dan Savage, who runs the Savage Love advice column and podcast and is the founder of the It Gets Better Project for gay teens, Hampton said the student was searching for information about LGBT scholarships on a school computer, and found those sites were blocked.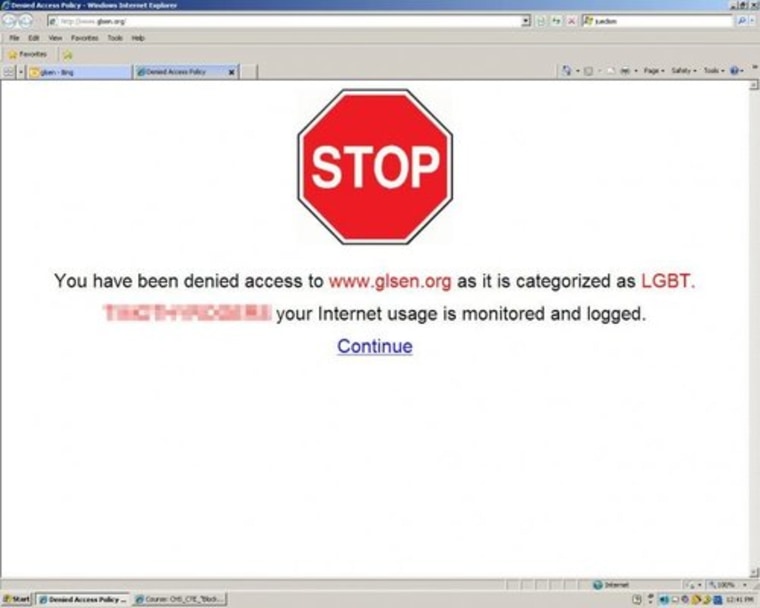 The student was, however, able to access "pray away the gay" websites for organizations that contend homosexuality can be "cured" or "overcome" through Christian worship.
"We sued his school and a couple of other schools in Tennessee, and these schools settled," Hampton told Savage. "We sort of suspected at that point that this was a more widespread problem, but we weren't sure how we would handle the flood of information from schools from all over the country."
The need for resources was solved when students from the Yale Law School LGBT Litigation Clinic contacted the LGBT Project, asking if the group needed any help. "Working with those Yale student volunteers, we put out a YouTube video and online form, just kind of encouraging people and it's starting to pick up."
On Monday, the ACLU announced that it sent letters to schools in Michigan, Texas, Pennsylvania and Virginia, "demanding they stop viewpoint-based censorship of web content geared toward the lesbian, gay, bisexual and transgender (LGBT) communities. Another school in New Jersey has voluntarily removed its anti-LGBT filter after receiving student complaints and an open records request from the ACLU. "
Last month, the ACLU, the ACLU of Michigan and the ACLU of Kansas and Eastern Missouri sent demand letters to schools in Rochester, Michigan and Kansas City, Missouri. "The North Kansas City School District immediately unblocked the websites identified by the ACLU, and the Rochester Community School District has undertaken a review of its filtering procedures," according to the statement.
The ACLU provides an online form with a list of websites, including pro-LGBT organizations such as the It Gets Better Project and the Trevor Project, as well as "pray away the gay" organizations.
Participants are asked to try to visit each of the websites from a school computer, and fill out the survey if any of the sites are blocked, and take screen captures when possible. Participants are asked to provide contact information for follow-up, but the ACLU says it will not share that information without the participant's permission. 
 via Don't Filter Me
Related: 
Helen A.S. Popkin is always going blah blah blah about the Internet. Follow her on  Twitter or Friend her on Facebook, won't you?