Airline travel can be adventurous, luxurious and filled with excitement. But for many of us, it's tiresome, uncomfortable and packed to the gills with people.
Although the commercial airline industry has doubled in terms of revenue over the past decade, according to the International Air Transport Association (IATA), companies are still seeking new ways to lower costs in order to increase profit margins. With this goal in mind, some unique ideas are cropping up on how airplane seats can best be arranged to maximize space.
And if you think plane travel can't get much worse than it is now, behold these downright scary patents filed by designers hoping to pack more people onto your next flight. A patent for Airbus published earlier this month shows alternating rows of seats placed on an elevated deck — a feature the designers claim "still provides a high level of comfort for the passengers," with seats having the ability to recline approximately 130 degrees to 180 degrees.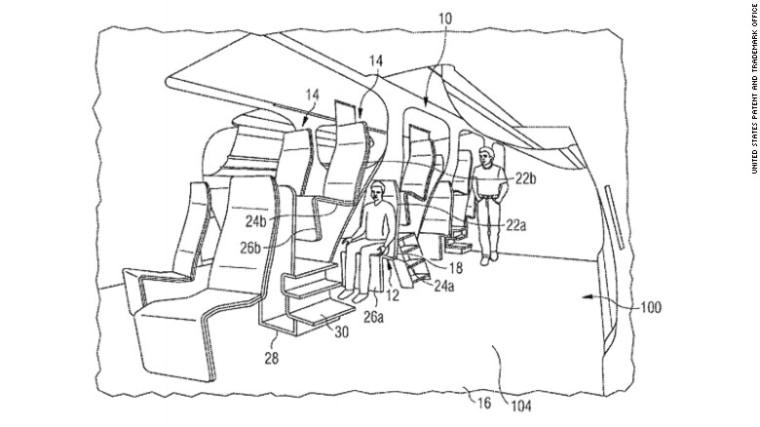 Perhaps a more frightening patent from Airbus, published last year, is a "saddle seat" design, where travelers would essentially squat during the flight on a bicycle-like seat. Even the designers stay that it's only tolerable for passengers if "the flight lasts only one or a few hours." Yet another Airbus proposal features what looks like a totally different shaped aircraft — suggesting something out of "The Jetsons."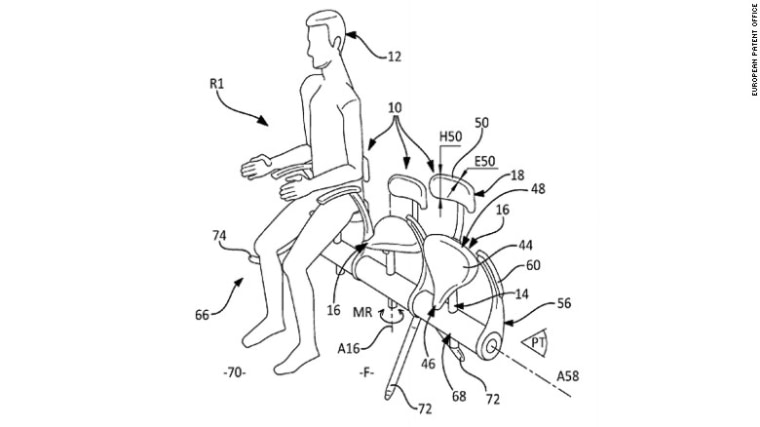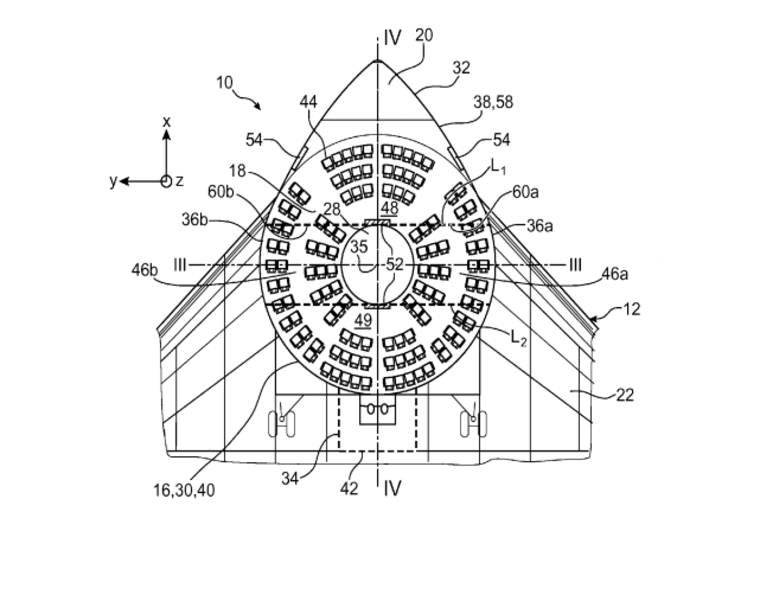 And it's not only Airbus. Zodiac Seats France's patent for an Economy Class Cabin Hexagon emerged over the summer, showcasing a puzzle of forward- and backward-facing seats — tossing any remaining shred of a passenger's privacy out the window.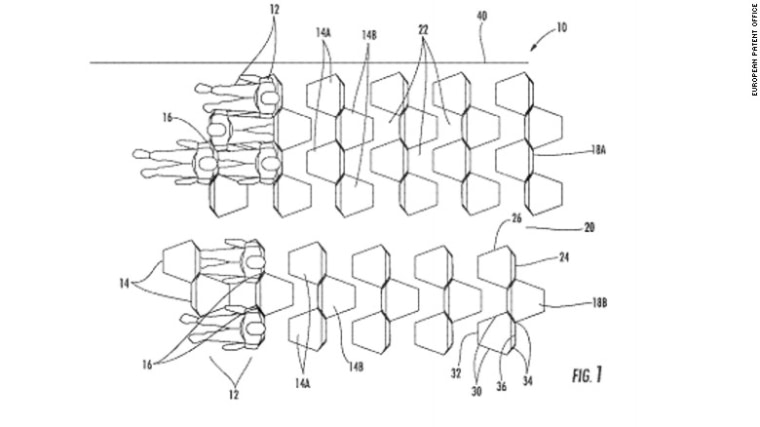 While it seems unlikely that any airline would implement such crazy designs, Ryanair's CEO Michael O'Leary publicly proposed standing seats a few years ago for fares of $6 to $13. Nothing has come of it yet, and experts say these plans will never see the light of day.
RELATED: Tired of paying airline baggage fees? Try this travel trick
"The only thing that may save us from these schemes is that all aircraft types must pass emergency evacuation tests before they're certified for flight," George Hobica, Airfarewatchdog founder and president, told TODAY.com. "And from the looks of things, these designs would cram too many people into existing aircraft types to allow all passengers to be safely evacuated in the allotted time, which I believe is within 90 seconds with half of the exit doors inoperable.
"Airlines would have to install more exit doors to comply," he said. "The only upside would be even lower airfares; the downside is obvious: more discomfort."
In fact, airlines are struggling with this balance of providing lower fares while increasing customer satisfaction when it comes to experience and offerings. In the age of paying for checked bags, onboard food and preferred seat choice, customers are longing for personal attention and luxurious amenities.
RELATED: Bigger is better: Airlines expanding overhead bins in response to common complaint
James Boyd, vice president of public relations ​for Singapore Airlines, told TODAY that the travel market is continuing to mature. "There's an emerging market for main cabin travelers who may not be interested in upgrading a business-class fare, but want the perks and amenities of a premium cabin at a really great value," he said. "That's why we're going in the opposite direction of budget airlines and are actually introducing premium economy to the U.S. early next year where the seats are wider, recline more and are only 40 to 50 percent more than a standard coach fare."
Some of the patents align with this idea of increasing passenger satisfaction through some rather innovative designs. Airbus filed a sensory helmet patent, which would theoretically give passengers the feeling they're on a more relaxing flight, while earlier this year, Boeing suggested an "upright sleep support system" that allows travelers to simply lean forward into a supported cushion with an eye, nose and mouth hole.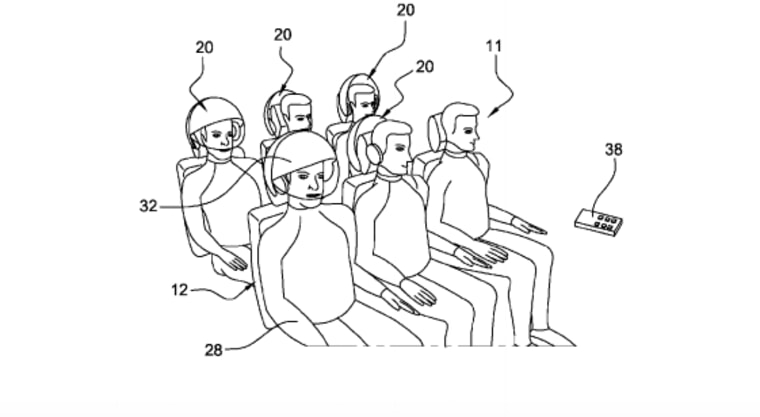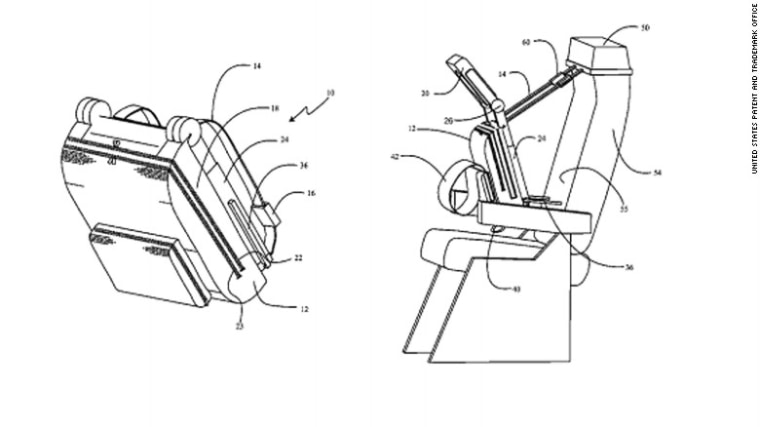 But again, it seems these designs will never come to fruition. "We file many patents every year that protect our intellectual property, but that doesn't necessarily mean we end up pursuing them," Doug Alder, part of Boeing's media relations and North America sales communications team, told TODAY.
"Boeing is looking to improve the cabin experience with features that allow our customers to set themselves apart," he said. "Airlines want the 'wow' factor in new airplanes, and Boeing has been testing and implementing a variety of new cabin innovations that dazzle passengers while giving them a more comfortable flying experience."