The future often often seems so far off and fantastical. Yet with technological advances, we're already seeing the arrival of self-driving vehicles (and flying cars!), 3-D organ printing and even "Back to the Future II"-like hoverboards. Not to mention things we take for granted, like the ubiquitous iPhone, introduced eight years ago, that has upended the mobile-phone industry — and now comes equipped with "3D touch" in its latest models just released yesterday.
So what does the future hold for travel? In just 15 years, getting around as we know it might just be completely different. How different are we talking? Think holograms, space travel and underwater hotels — at least according to the predictions gathered from a recent survey.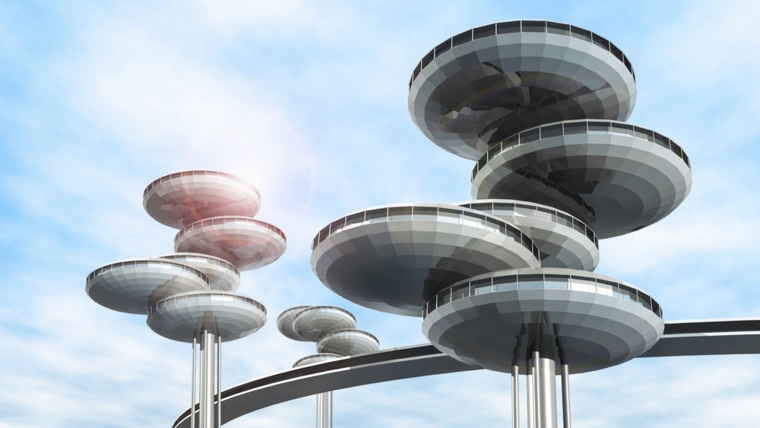 Marriott Rewards Credit Card from Chase asked more than a thousand Americans, ages 18 to 67, who stay in a hotel at least five nights a year, what they think the future of travel holds.
RELATED: 10 travel essentials to always pack in your carry-on for when plans go awry
At a glance, here's what they predict will happen — with the help of a little technology and some time.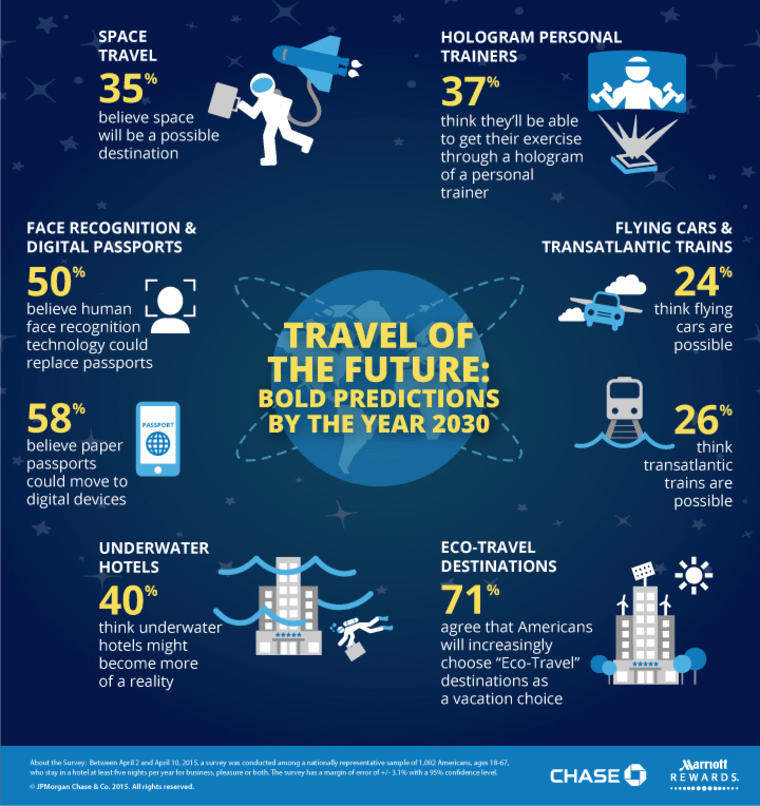 Travel Predictions for the Year 2030
Travel will no longer be an excuse for skipping the gym. Hologram personal trainers will be there to guide you every day of the week no matter where you are in the world, at least according to 37 percent of those surveyed.
Who needs to carry a passport anymore? Digital passports and facial recognition will replace the need to carry around that document you're always forgetting at home. Fifty-eight percent of those surveyed believe passports will become part of digital devices, and half of the group believe the word "passport" could become obsolete with the help of digital facial recognition.
Beaches are nice, but what about going deeper — courtesy of Jules Verne? You might be able to spend your entire vacation under the sea, according to 40 percent of people who think underwater hotels could exist in the near future. (And yes, underwater hotels already exist, but could the future allow us to go even deeper?)
How about a trip to another planet? With companies like SpaceX and Virgin Galactic already out there, this idea doesn't seem so far-fetched — and 35 percent of the survey's participants agree. On this trend, men seem to be more optimistic than women, as 40 percent of them think it could become a reality while only 29 percent of women believe in the possibility.
Eco will be chic. Eco-travel destinations will soon be the new hot spots of the world. Seventy-one percent of those surveyed agree this will be the wave of the future when it comes to travel destinations.
Bye bye concierge desk! Hello, virtual 24/7 concierge desk — at least that's what 61 percent of those surveyed believe the future holds. This prediction isn't surprising, considering that a Japanese hotel has already started to use robots for check-ins.
You'll never have to worry about losing your wallet with the help of digital payments. Another trend that's already happening: Smart watches and other forms of mobile payment will become the norm, based on the predictions of 58 percent of those surveyed.
RELATED: Baubax travel jacket with 15 built-in features raises over $3M in funding
Guide books will become a thing of the past. People are already trading in their "Lonely Planet" guides for sites like TripAdvisor. Forty-seven percent think mobile travel guides will inform their journeys in the future.
What room you get may no longer be a surprise. With the help of mobile booking tools you'll be able to select your specific room for your stay, according to the predictions of 57 percent of those surveyed.
Forget about a standard hotel experience. Fifty-one percent of those surveyed believe that 2030 will be a world where zip line-connected tree-house hotel rooms and bungalows standing over the ocean will become the norm.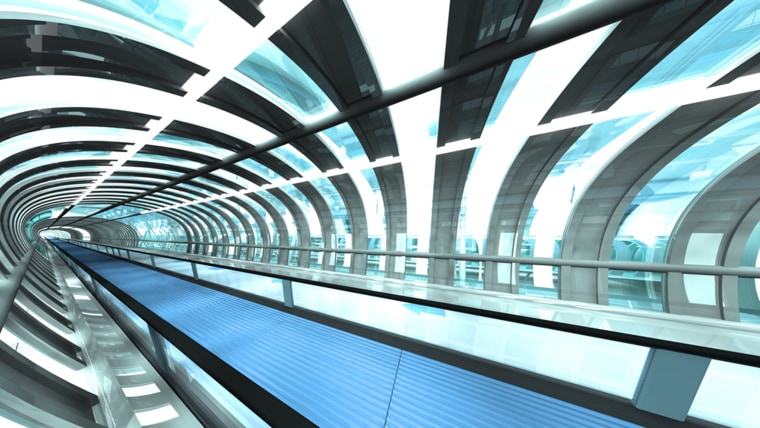 Planes and ships won't be your only option for traveling over water. Twenty-four percent think flying cars could be a reality (and yes, we are close!). Also, trains might be traveling much longer distances, as 26 percent believe in a future with transatlantic trains.
2030 still seems far away, so we might just have to continue to dream big when it comes to wanderlust. Until then, you'll just have to keep setting a reminder on your Apple Watch so you don't leave that passport behind.
RELATED: Secrets of travel agents: Experts share insider tips for your next vacation