"Gangnam Style," that infectiously quirky rap video by South Korean sensation Psy, has shattered yet another record: It has become the first YouTube video to get one billion views.
Not only that, but Psy will retain bragging rights for some time to come. It'll be quite a while before another video has a shot at earning the same distinction, says Billboard's William Gruger, citing projections provided by Next Big Sound.
Justin Bieber's "Baby," the second most popular video on YouTube, isn't expected to earn one billion views until late 2014. This is quite noteworthy considering that it took "Gangnam Style" only about five months to hit Friday's milestone. (Amusingly enough, Bieber's manager, Scooter Braun, has at one point tweeted a link to Psy's video, exclaiming "HOW DID I NOT SIGN THIS GUY!?!??!")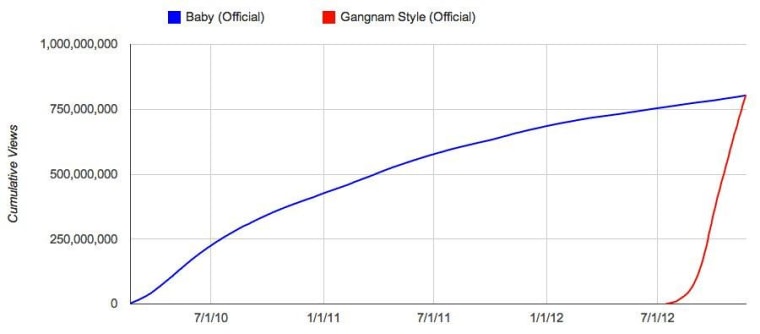 Psy, whose real name is Park Jae-Sang, has seen some significant success well beyond the one billion view milestone, as YouTube trends manager Kevin Allocca explains in a post on the official YouTube blog. "Gangnam Style" has been viewed in "close to 75 countries, making it one of the most global music sensations ever." Fan tributes to the video are being viewed 20 million times every single day, Psy's own remix of the song has 200 million views, the song may have generated over $8.1 million in advertising deals, and it has been downloaded more than 2.9 million times.
Considering that the phrase "Gangnam Style" was seeing more than five million searches on YouTube in early October and finished the year as YouTube's top rising search, odds are that Psy's success will continue for a while longer.
I suppose that means it's time to finally learn those dance moves, huh?
Related stories:
Want more tech news or interesting links? You'll get plenty of both if you keep up with Rosa Golijan, the writer of this post, by following her on Twitter, subscribing to her Facebook posts, or circling her on Google+.