/ Source: TODAY Contributor
The Publix grocery store chain is taking to social media to try to prevent a widely circulated phony coupon promising shoppers $100 off a purchase of $120 or more from gaining any more traction.
"We immediately posted to our Facebook page and Twitter over the weekend to inform our stores and customers that the coupons were a scam," Maria Brous, a Publix spokeswoman, told TODAY.com. "Our legal department has been investigating the fraudulent coupon."
After researching Grocery-Savings.com, the domain name featured on the coupon, Alan Crowetz, NBC affiliate WPTV's Internet security expert, said the creators of the coupon had taken steps to hide their identity and location, but were apparently involved in running coupon and gaming point scams aimed at harvesting personal information that can be sold to marketers.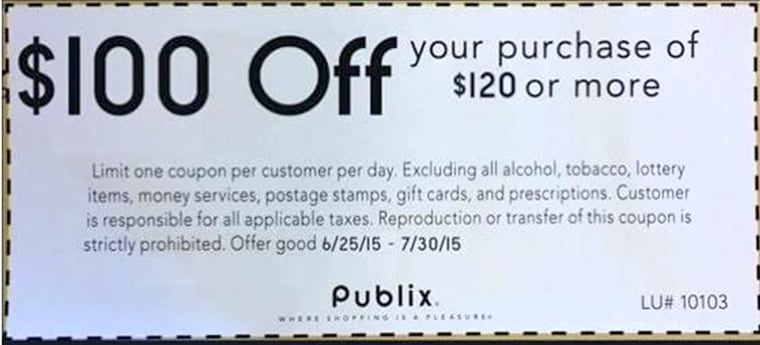 Some Publix shoppers commented on the Facebook post thanking the Southern grocery chain for the warning, while others said they found out the hard way that the offer was fake. Some even claimed the coupon worked for them.
Scott Kadet, who reports on "smoking hot deals" for The South Florida Savings Guy website, told TODAY.com that skeptical consumers should be able to sniff out frauds of this sort.
"People should do their due diligence before making a purchase," he said.m. "Look online, utilize Google. These resources are there to help us."
Publix has taken action to block Facebook users from being able to share the coupon.
"As a company, it's our job to keep our customers informed and if something seems too good to be true, it probably is," Brous said.