A new year means new technologies. Having come off a recent nerd high at the annual Consumer Electronics Show (CES) in Las Vegas, I just saw a lot of those developments, and, as always, I am in awe at the rate of acceleration. I witnessed things that even the Jetsons would envy. I'm excited to showcase some of the new and improved technologies for 2013. One of the things that impressed me most is that even though the gadgets seem so over-the-top, they are being used in real life: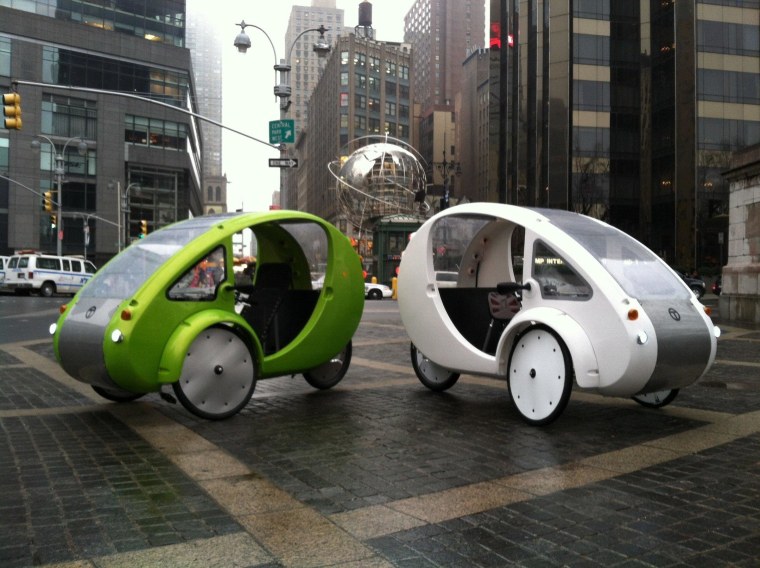 ELF Electric Hybrid Bike
Hobbits and elves are totally in right now, even when it comes to new rides. The ELF Electric Hybrid bike is powered by the pedaler and the sun or with an electric motor boost, whenever you want it. Legally, this electric hybrid bike can go anywhere a regular bike goes (although, riders take note that in some places, like New York City, there are weird rules when it comes to electric bikes on the street).
This is actually a Kickstarter-funded project, and more than 60 units have been sold — 50 through Kickstarter and about a dozen outside of the campaign. Expect to see them hit the streets soon after delivery, which will be March through May. For now, ELF will be available online, but creators envision one day selling the units in dealerships nationwide.
Want some specs? ELF can go for 1,800 miles using the energy equivalence of what would be one gallon of gasoline. Max speed is 20 mph. The bike gets charged by 80-watt rooftop solar panels or via lithium ion battery, which takes about two hours to charge. ELF can go for about 30 miles on a full battery. No special license is required to ride it and it weighs 112 pounds and carries 350 pounds of cargo. The bike's height is on level with passengers in cars for visibility, in addition to LED lighting for headlights, brakes and turn signals.
Plus, let's just be honest: you will look cool.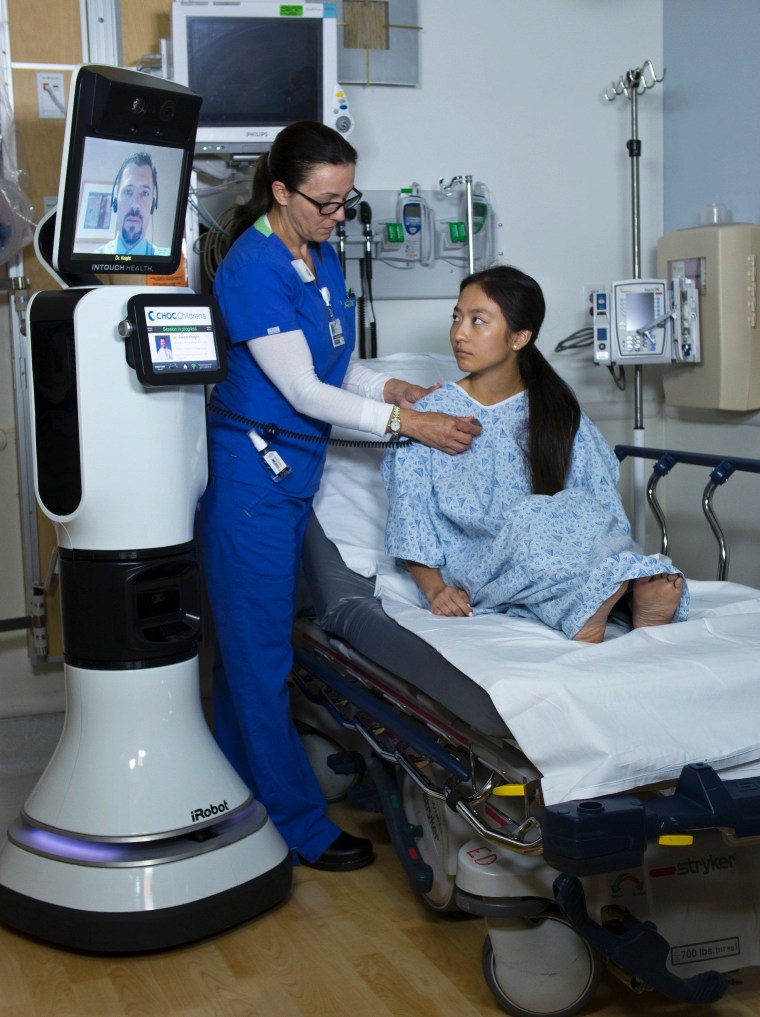 iRobot – RP-Vita - Remote Presence Robot
RP-VITA is an FDA-cleared robot developed by iRobot and InTouch Health for hospital use. The robot autonomously navigates its environment, while offering the latest in telepresence.
Say, for example, you have a patient who needs an expert opinion and a specialist is not available. A doctor can tap in remotely via her iPad and see as up close to the patient as she wants using two different lenses. Even though she may be hundreds of miles away, that doctor is able to make a fast diagnosis.
And get this: RP-VITA can zip down the halls without bumping into people or anything else, find the patient it's looking for and return to its charging dock when done. Critical care doctors, surgeons and pharmacists can use this for team care and can visit multiple patients at once. More than 700 robots like these are being used in hospitals around the world, and the new RP-VITA is the most advanced.
Christie VeinViewer Flex
If you're someone who has veins that pose a challenge for drawing blood, you know how traumatizing the experience can be — especially for kids. The Christie VeinViewer Flex takes the trauma out of it. This 1.6-pound vein viewer uses DLP projection technology to help medical professionals find veins.
Thousands of vein viewers are currently used in more than 50 countries. The result: hospitals are reporting that they're finding the vein on the first try, and nursing staffs are reporting higher comfort levels for patients. Plus, the lithium ion battery makes the device easy to recharge.
More specs? You can take photos and fine-tune detail, all with the touch of a button. It also comes with an optional mount allowing for hands-free viewing.
X Patch (high-tech wearable patch) and X Guard (high-tech mouthguard)
The game of football has evolved so dramatically in the past 10 years that player safety has become a main concern. Now, technology has finally caught up. X2 Biosystems is a Seattle-based company that focuses on preventing head injuries through technology. It does this by monitoring the impact of hits in real-time through built-in sensors placed in both a mouthguard (X Guard) and a skin patch (X Patch).
The sensors, in conjunction with Microsoft technologies, measure the impact of a hit and send a report in real-time to a coach or clinicians on the sidelines.
If a hit registers too high, the powers that be know it immediately and have all the evidence necessary to pull a player. Data doesn't lie. The X Guard is currently being tested and is in use in full games and practices at the University of Michigan, University of Washington and Stanford. Could this be progress for both college and NFL?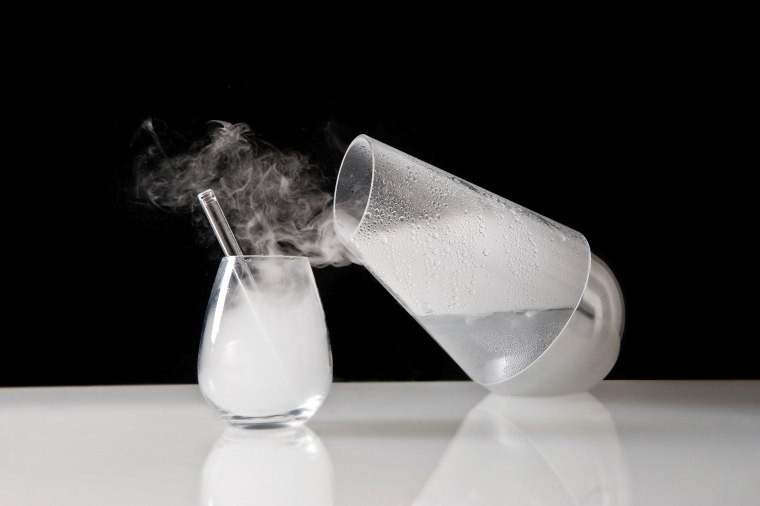 Le Whaf
So you've graduated from beer pong, left keg stands behind and your new expensive table isn't exactly flip-cup friendly. It's time for a new drinking challenge: vaporizing your drink with the tilt of a glass.
It's possible with Le Whaf. Created by a French designer and Harvard professor, Le Whaf allows you to convert liquid to gas — and then drink the flavorful cloud with a special straw. We've come a long way since party favors in Oriental Trading. Due out this year, Le Whaf will cost $165.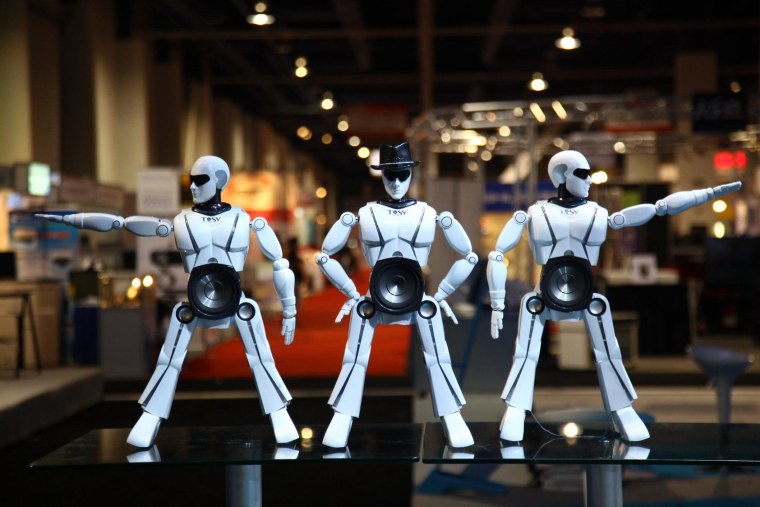 Tosy Dancing Robots
I've showcased a lot of top-level products here, so now it's time for some pure fun. Tosy has created DiscoRobo, which dances to any music you play. I could get a lot of amusement out of this for the $45 price tag, when it hits shelves this year.
But its robot sibling, mRobo, is the real showstopper. This dancing bot, which sells for $200, can be custom-choreographed to your liking — I'm currently trying to teach mine the Ray Lewis dance — and it can be hooked up to your smartphone or MP3 player of choice. The best part? It's not only a dancing robot, it's also a speaker. So it's literally feeling the music.
Katie Linendoll is an Emmy Award-winning technology expert contributing to ESPN, ESPN.com and ESPN The Magazine. She hosts a tech show on Spike TV and can be seen as a tech expert on TODAY. She has a degree in information technology new media from the Rochester Institute of Technology.