As garage sale season fast approaches, driven bargain hunters may notice a considerable drop in garage sales and the range of offerings. The reason seems to be the boom of local buy/sell/trade groups.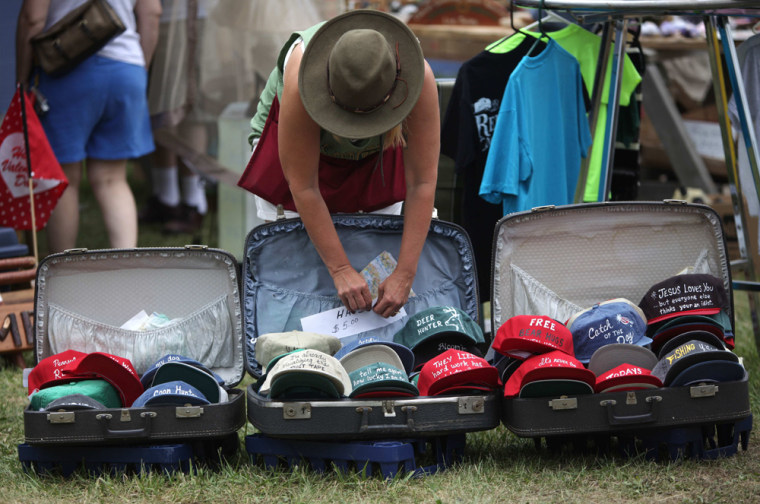 This new type of vendor, facilitated by social media, is now the go-to source for clothing, shoes, electronics, home décor, moving boxes, children's gear, furniture, vehicles and more in many communities. Not to be confused with eBay or Craigslist, these groups use Facebook as a platform and generally are localized to a specific area.
"When Facebook came around, it was a way for users to connect with long-lost friends," explains Jobie Krantz, administrator for Local to Powell: Buy/Sell/Trade/Giveaway, in Powell, Ohio. "Now the trend appears to be turning toward subgroups within Facebook's parameters" she tells Cheapism.com, "and these subgroups all have a theme or common interest joining them together." For buy/sell/trade groups, Krantz continues, the glue is being green, thinking local and proudly saving money.
Facebook has made it easy to unload unwanted stuff. Snap a picture — a smartphone will do — and upload it directly to the group's Facebook page with details and price. Group members can post questions about an item, arrange a purchase (cash or PayPal only, please) or trade, and submit an ISO (group lingo for "in search of"). Some groups have become so popular that they no longer accept new members.
Advantages of Buy/Sell/Trade Groups
A host of benefits attach to buy/sell/trade groups. Price is No. 1. Statistic Brain Research Center reports that the average garage sale item goes for roughly 85 cents. As a member of several buy/sell/trade groups for several months now, I've yet to see anything move for less than $1 (unless it's a giveaway).
The blogosphere is full of gripes about the pennies received from traditional resale outlets when bringing in gently used items. Given that these merchants need to make a profit, the buy-low/sell-high business model shouldn't be surprising. But buy/sell/trade groups cut out the middleman, notes Allison Coho, administrator for the Busy Moms' Resale: Local to Dublin, OH groups, and enables direct dealings between buyers and sellers. The result: a higher return for the seller and arguably a better price for the buyer.
The large buying audience situated nearby or willing to travel to your location is another perk. Arranging a transaction in a nearby public place is easy, and if you know the person at the other end of the deal, arranging to meet at your home is always an option.
Members also benefit from the community that arises out of some buy/sell/trade groups. "These online groups with 'real people' are very trendy at the moment," Krantz says. "They take away the mysteriousness of Craigslist." Friendships grow from repetitive transactions and sharing of information that is local to the community. "Our users really rally behind one another online," Krantz asserts.
Buy/sell/trade groups also are moving into the mainstream because they provide more avenues to find needed items from the comfort of home. Coho tells of one woman who was searching for a purple swivel desk chair for her daughter; another woman answered her ISO post and a deal was struck. Krantz herself is now the owner of a young Shih Tzu-Maltese mix, whose previous masters had too much on their plate to care for the pet. She paid nothing and saved the animal from the shelter.
Disadvantages of Buy/Sell/Trade Groups
There are some downsides to this form of commerce. Each group generally sets its own rules that are pinned to the top of the (Facebook) group page. Members are expected to abide by the terms or risk being kicked out. Common rules include forbidding the sale of certain items, such as designer handbags, breast pumps, baby formula, medicine or supplements, and gift cards.
"I did ban selling name-brand purses because other groups had problems with people selling knockoff designer bags," Coho explains. "I was informed that I could be held liable for providing a venue for these people, so I just decided to eliminate them from being posted."
The two groups Coho manages also require pictures of each item. "We've had a few people try to resell items on other group pages that were purchased from our group or even on our own group page," she notes. "They post that they have too many clothes to sell, so it's difficult to take pictures of them, and say people can meet them and look through their bins. This way they can resell items for more money." An accompanying picture prevents such scams because the original seller will see their item listed at a higher price and report the new seller.
Safety issues occasionally surface. This may be a concern when dealing with someone you don't know. Both administrators we interviewed mentioned the need to keep group members safe. "I encourage users to meet in public places within the boundaries of the city unless they are personally familiar with a buyer or seller," Krantz says. "I also encourage users to 'vet' one another by finding mutual friends." This practice may let users feel more comfortable buying, selling and interacting with other group members than they would with contacts from Craigslist. Coho says she stresses that members should discuss pick-up days, meeting places, and other details through private messages on Facebook rather than posting publicly on the group page.  
Garage Sales and Buy/Sell/Trade Groups
Buy/sell/trade groups can and do replace the need to hold a garage sale. For starters, the customer base is much larger. Posting an item on Coho's group page is visible by 2,000 members, all of whom live close by, which sure beats the number of people who wander into a garage sale. Moreover, if something doesn't sell right away, just leave the post and wait for the right buyer to come along. No need to display all the wares and pack up the remains at day's end.
I've listed and sold many things in the past few months. Having just moved from another state I accumulated quite a garage-sale pile as we unpacked our boxes. I listed about 80 items — curtains, kids gear, clothes/shoes, small pieces of furniture, and the like —on various buy/sell/trade group pages in my area. Most sold and I'm $280 richer — far more than I would have netted from a garage sale. And my inventory hasn't been cleaned out yet. Just the other day someone messaged me about a set of coasters and another $3 dropped into my piggy bank.
More from Cheapism.com:
How to use price alerts to grab bargains
Costco vs. Sam's Club: the ultimate warehouse giants showdown