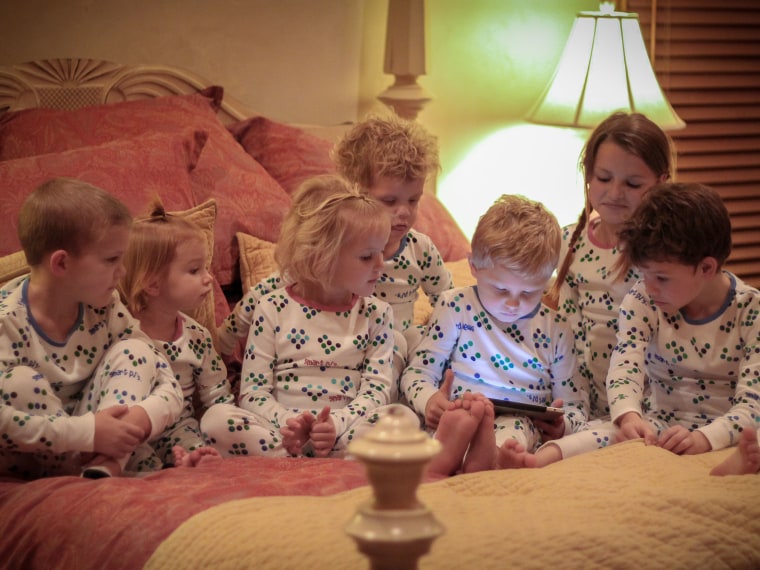 As a dad who loves to read to his kids at bedtime, I was a little skeptical about Smart PJs. They're certainly clever: Each of the jammies' 47 unique dot patterns triggers a story or an animal lesson when the kid scans it with a smartphone or tablet. But I am wary of products that may outsource crucial parental tasks to machines. So I spoke with the inventor.
Juan Murdoch, an Idaho Falls, Id., realtor who came up with the idea for Smart PJs during a briefing on QR codes, has six kids, ranging from 6 to 18. I don't know how many kids you have, but I can barely read a book to two children at once — I can't imagine keeping the attention of six. It just makes sense that he'd invent something that provides a little extra bedtime help.
Once Murdoch enlisted a developer, the pair first tried scanning QR codes — those square bricks of black and white that can direct your smartphone to a website — on the pajamas, but they don't show up well on fabric. So the team "started from scratch," creating a dot pattern system reminiscent of Braille, that could be scanned much more easily.
When the first samples arrived, his kids were thrilled, Murdoch told me. "And when I saw that they actually worked, I was as blown away as they were." The kids were instant stars during show-and-tell, and "pajama day at school was a fun day," he said.
Since both the $25 Smart PJs (available here) and the free apps were designed for kids to use themselves, the scanning process also had to be quick, said Murdoch. "Kids have a patience level of about 10 seconds. If something doesn't happen on an iPad or phone within a few seconds, they're on to something else." He added, "The nice thing about these is they're instant."
(Note: We haven't tested Smart PJs ourselves, and they don't have enough online ratings to get a sense of customer satisfaction, so buyer beware.)
There are currently two apps, available for iOS and Android. Each app has 47 different entries, coinciding with the unique dot patterns on the pajamas. In the Smart PJ Stories app, this means brief readings of Mother Goose, the Brothers Grimm and Hans Christian Andersen classics. There's text, too, so you or your child can mute the narrator and read along.
The original Smart PJ app has 47 different animals. Select one, and you can view five images of each animal, with narration about it. Murdoch hopes to have six different apps out by Christmas, including one with holiday themes, and others with songs or games. "The pajamas stay the same, the content changes," he said.
By design, there are no tables of contents in these apps. As they play, the kids don't know which story or animal will pop up. "It's the element of surprise there that makes it fun," Murdoch told me.
Wilson Rothman is the Technology & Science editor at NBC News Digital. Catch up with him on Twitter at @wjrothman, and join our conversation on Facebook.