You probably have some gift cards on your holiday shopping list. Once again, this year they're the most-requested present. Here are seven simple ways to get more for your gift-card dollars.
1. Buy discounted cards
You shop the sales for your holiday gifts, right? So, why pay full price for those gift cards?
Costco and Sam's Club sell a variety of gift cards for less than face value. Or check out an online gift card exchange, such as CardHub, CardCash, Gift Card Granny, Cardpool and GiftCards.com.
"You'll pay less than face value, so you're actually getting free money on each purchase," said Marc Ackerman, co-founder of CardCash.com. 
Right now, the discounts offered by CardCash range from 1 percent to 35 percent, based on supply and demand. For example, a Wal-Mart gift card is only discounted 2 percent, while a card for Patagonia is 20 percent off. Ackerman said the average savings is about 12 percent.
2. Shop with reward points
Reward points can be used to buy all sorts of things, including gift cards. And right now, some credit card issuers are selling them at a sizeable discount.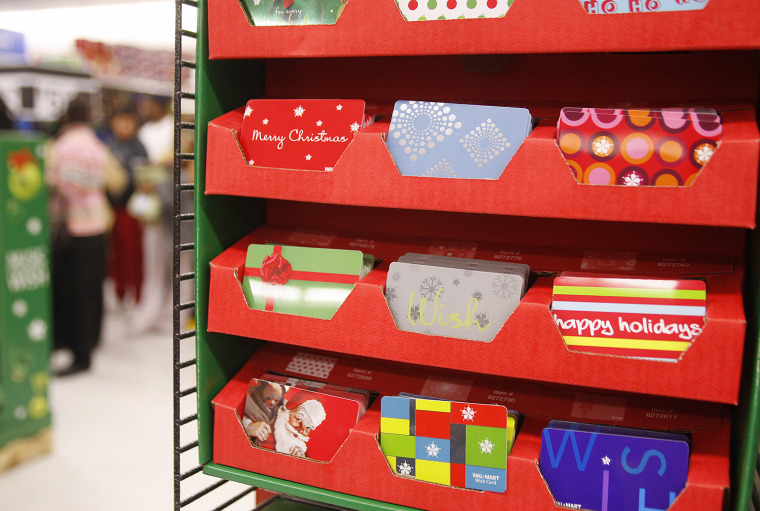 For example, Chase Ultimate Rewards members can buy certain gift cards for 10 percent to 20 percent fewer points than typically required. And these are cards from well-known stores, such as Bloomingdale's, Kohl's, Lands' End, Macy's, Neiman Marcus and Old Navy.
"This is a great untapped resource for savings," said Janna Herron, credit card analyst at Bankrate.com. "It's an easy way to stretch your rewards and your holiday budget, and maybe use up points or miles that are about to expire."
3. Look for special discounts from local retailers
Gift cards are good for business. They boost sales and create loyal customers. That's why many merchants, especially restaurants, run holiday gift card promotions.
For example, buy a $100 gift card at Salty's Waterfront Seafood Grills in Seattle right now and they'll give you a $20 promotional gift card. The cards are sent to the gift recipient in special packaging and there's no shipping charge.
You'd be smart to go online and see if any of your favorite restaurants or stores have holiday specials on their gift cards.

4. Watch out for fees
There are two types of gift cards: Store-specific cards can only be used at one merchant — you can only use a Staples gift card at Staples. General purpose gift cards, sold by banks and credit card companies, can be used at any retailer that accepts that credit card.
Surveys show most people prefer to get the general purpose cards because they're so convenient, but they're more expensive for the person who buys them.
"While store-specific cards almost never have a fee, general purpose gift cards always charge an upfront purchase fee, which averages $3.95," said Ben Woolsey, director of marketing and consumer research at CreditCards.com. "General use gift cards can also charge dormancy fees on the back end for the recipient in case they are not used for a year or longer."
5. Don't pay for shipping
Order a gift card via the Web and you could get dinged for shipping. A survey by CardHub found that a third of the cards sold online have a shipping charge.
"The average shipping charge is $4.44," said CardHub CEO Odysseas Papadimitriou. "Don't waste your money on that."
See if you can find a store that your recipient will like that doesn't have a shipping charge. Or send an electronic gift card, if the company offers it. There's no shipping charge for that. A lot of young people actually prefer a digital gift card because it's so easy to use it to shop online.
6. Regift your unwanted cards
Chances are you have a few unused gift cards in your purse or wallet or sitting in a drawer just collecting dust. Why not regift them? You might be able to do it without getting caught.
Don't be discouraged if the plastic is dirty or looks old. Just use the money loaded on that card to buy a new one from that same merchant. Do this online and they may gift wrap the card and send it in a nice box.
If there's an odd amount of money left on the card, add a little bit more. You can also take a big card and have it divided into several smaller ones to give to different people.

7. Sell unwanted cards
It's easy to turn that plastic into cash. The sites that resell gift cards also buy them.
"If you have a gift card that you don't plan to use, and you can turn that into cash, why not? It's a no-brainer," said Kendal Perez, marketing manager with Gift Card Granny.
The average payout is about 75 percent of the card's value. It's higher (about 92 percent) on popular cards, like Target and Amazon, and lower (about 40 percent) on cards for boutique shops or restaurants with just a few locations.
The sites that buy gift cards typically offer several ways to get your money, such as check and PayPal. There's often a bonus if you take payment in the form of an Amazon gift card. At Gift Card Granny, you get an extra 4.5 percent to 5 percent.
Scam alert
There's been a lot of fraud associated with gift cards. A stolen card can be used like cash, no ID required. ID thieves create bogus websites that offer huge discounts on preowned cards. They hope to use that lure to steal your personal information. My advice: Be safe and stick to well-known reputable sites.
To reduce your risk of fraud, don't buy gift cards from online classified websites, such as craigslist. There's no way for you to know if that card is a counterfeit or has been stolen. And there's no way to know for sure how much money is really stored on that card. If you get burned, there may be no recourse.
The big resale sites, like CardHub, CardCash and Gift Card Granny, all offer a money-back guarantee should there be a problem after the sale. Stick with them.
If you get a gift card, treat it like cash. Only 69 percent of the companies surveyed by Bankrate.com for its 2013 Gift Card study will replace the money on a lost or stolen card. And typically, you must have registered the card ahead of time or have certain information on hand, such as the PIN or sales receipt.
—By CNBC contributor Herb Weisbaum. Follow him on Facebook and Twitter @TheConsumerman or visit The ConsumerMan website.
Related stories:
10 tips for shipping holiday gifts
Holiday tips: 20% is the new 15%