It's not just the government that might be keeping tabs on you. Many retailers are tracking you, too — or at least your merchandise returns.
The companies say it's all in the name of security and fighting fraud. They want to be able to identify chronic returners or gangs of thieves trying to make off with high-end products that are returned later for store credit.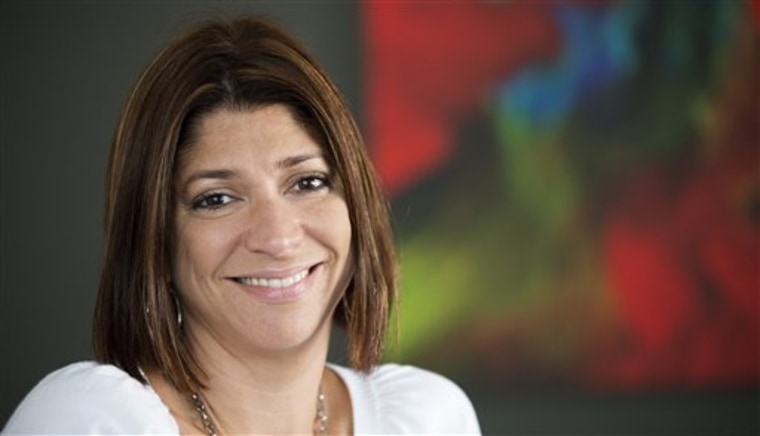 Consumer advocates are raising transparency issues about the practice of having companies collect information on consumers and create "return profiles" of customers at big-name stores such as Best Buy, J.C. Penney, Victoria's Secret, Home Depot and Nike.
The practice led to a privacy lawsuit against Best Buy that eventually was tossed out.
Each year, consumers return about $264 billion worth of merchandise, or almost 9 percent of total sales, according to industry estimates.
Many buyers aren't aware that some returns, with and without receipts, are being monitored at stores that outsource that information to a third-party company, which creates a "return profile" that catalogs and analyzes the customer's returns at the store.
"I had absolutely no idea they were doing that," said Mari Torres of Springfield, Va., during a shopping trip with her daughter at the Pentagon City Mall in Arlington, Va. "I honestly think it's an invasion of privacy."
Torres, 39, says she's a responsible shopper and she'd like to know what kind of information retailers keep on her, with whom they may be sharing it, and how long they keep it.
One company that offers return tracking services, The Retail Equation in Irvine, Calif., says it doesn't share information in the profiles it creates with outside parties or with other stores.
For example, if TRE logs and analyzes returns from a Victoria's Secret customer, The Retail Equation only reports back to Victoria's Secret about the return activity. It does not then also share that information with J.C. Penney or other retailers that use TRE.
Even so, consumer advocates don't like it.
"There should be no secret databases. That's a basic rule of privacy practices," says Ed Mierzwinski, consumer program director at the U.S. Public Interest Research Group. "Consumers should know that information is being collected about them."
The retail industry says it's not about monitoring the majority of its shoppers, but fighting theft.
Lisa LaBruno, senior vice president of retail operations at the Retail Industry Leaders Association, says organized retail crime is costing retailers tens of billions of dollars each year.
LaBruno says the problem goes beyond the small-time shoplifter and involves organized groups of criminals who make a living from the large-scale theft of merchandise. For example, they might switch the UPC code on a $600 faucet with a lower-cost code that rings up at $50. They buy the faucet, then replace the fake UPC tag with the original, higher-priced code, and return the faucet to the store without the receipt for a $600 store credit, which can later be sold online.
"It's not to invade the privacy of legitimate customers at all," LaBruno said in an interview. "It's one of many, many, creative solutions out there to help combat a really big problem that affects retailers, honest customers, the entire industry and the public at-large."
The problem, says government privacy experts, is disclosure, or lack of it in many cases.
People need to be aware when they make a purchase that if they return it, some information from the transaction may be stored, according to the experts.
"Most people think when they hand over a driver's license that it's just to confirm identity and not to be kept to be used for future transactions," says the Federal Trade Commission's Bob Schoshinski, assistant director at the agency's division of privacy and identity protection. "It shouldn't be that a third party is keeping a profile on someone without them being informed what's going to happen when they hand over their driver's license or some other information to a retailer."
In some cases, the disclosure by retailers is conspicuous. In others, not so much.
At Best Buy, a sign at each cash register states the return policy, and it's also on the back of the receipt, telling consumers that returns are tracked and an ID is required. The disclosure adds: "Based on return/exchange patterns, some customers will be warned that subsequent returns and exchanges will not be eligible for returns or exchanges for 90 days. Customers who are warned or have been denied an exchange/return may request a copy of their 'Return Activity Report'" from The Retail Equation by contacting the company.
At Victoria's Secret and Bath and Body Works, disclosures at the cash register said nothing about The Retail Equation's tracking returns.
Home Depot spokesman Stephen Holmes says the return tracking isn't just about money.
"This isn't only about protecting our bottom line," Holmes said in an interview. "It's about protecting our communities, too. We know from working with law enforcement at the state and federal levels that organized retail crime is feeding other crimes, such as drug trafficking and even terrorism, in some cases."
The Retail Equation says more than 27,000 stores use its services. Best Buy, Home Depot, J.C. Penney, Victoria's Secret, Bath and Body Works, and Nike are among its clients. TRE would not say how long the profiles on consumers are kept in its database; it varies from retailer to retailer. But a recent "return activity report" obtained by one consumer turned up returns to The Sports Authority dating to 2004.
Here's how the tracking works.
—A consumer buys an item at Best Buy and later returns it. Even if the shopper has the original receipt and is within the time frame when returns are permitted, store policy requires that Smith provide a photo ID, such as a driver's license. Other stores, such as Home Depot, only require the ID if there's no receipt or if the item was purchased with a store credit.
—The ID is swiped and then some information from the transaction is sent by the store to The Retail Equation. The company says the information captured from the ID typically includes the identification number, name, address, date of birth and expiration date.
—The Retail Equation catalogs return activity by the shopper and creates a "return activity report" on him with his returns at the store. If The Retail Equation determines that there's a pattern of questionable returns that suggests potential fraud, it would notify Best Buy, which could then deny returns by that shopper at the store for a period of time.
The threshold for too many returns is determined by each retailer. The Retail Equation says the vast majority of returns — about 99 percent — are accepted.
In a 2011 lawsuit in Florida against Best Buy, Steven Siegler complained after the magnetic strip on his driver's license was swiped for a return. He wanted the manager to delete the information. His suit said Best Buy refused. He alleged that Best Buy violated privacy law when it swiped the license. But a federal appeals court agreed with a lower court ruling that the Driver's Privacy Protection Act didn't apply in the case.
More from TODAY Money: