With everyone from President Barack Obama to busloads of tourists wielding selfie sticks, people across the country — and globe — are either enamored of, or fed up with, what one some are calling "selfish sticks." (And, more recently, Cinnamon Toast Crunch introduced a "selfie spoon" for those interested in capturing, yes, breakfast selfies.)
On a national parks road trip, Stacey Servo of Louisville, Kentucky, and her husband, Amadore Delatorre, joined the crowds at Yellowstone's Old Faithful to watch the geyser erupt. "All these people get there early to get a view," Servo told TODAY, "then people from the back come through and push their selfie sticks in front of them, blocking the view."
The extendable rods used to get a smartphone or camera far enough away for a selfie are rampant in popular tourist destinations. At least half the visitors to Paris have them, photographer Krystal Kenney told TODAY. "Paris is the mecca of selfie sticks because anywhere there's a tourist attraction there's a guy standing around selling them," she said. "It's normal now; it's like having an iPhone."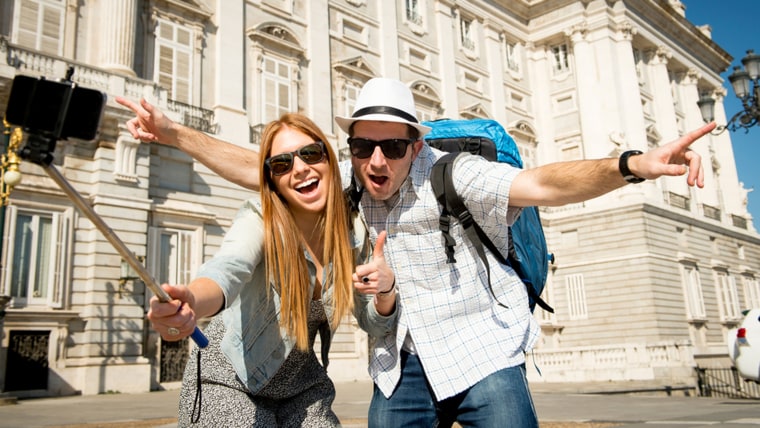 Kenney, who takes photojournalistic style shots of travelers through vacation photography company Flytographer, has watched the selfie-stick phenomenon explode in the last year.
RELATED: Makeup for selfies? CoverGirl, Avon and more are on it
"I've seen people almost take someone's head off at a museum," she said. "I've even seen people answer their phone with the selfie stick still attached." As a result of this poor selfie-stick etiquette, a number of museums are declaring them verboten.
The sites banning the sticks, including the Musée d'Orsay in Paris, join ranks swelling around the world; places ranging from Carnival parades in Rio de Janeiro to Disney parks have said no to the stick-enabled selfie.
But maybe it's time to ease up on the selfie-stick bashing. "There's an overall hatred of the idea of taking pictures of yourself," said photographer and TODAY social media manager Anthony Quintano. "The second you hear the word selfie stick everyone is turned off."
But they have uses beyond the maligned selfie. Quintano uses his monopods (as they're technically called) to get unusual or difficult perspectives, such as shots over a ledge, or far above a crowd.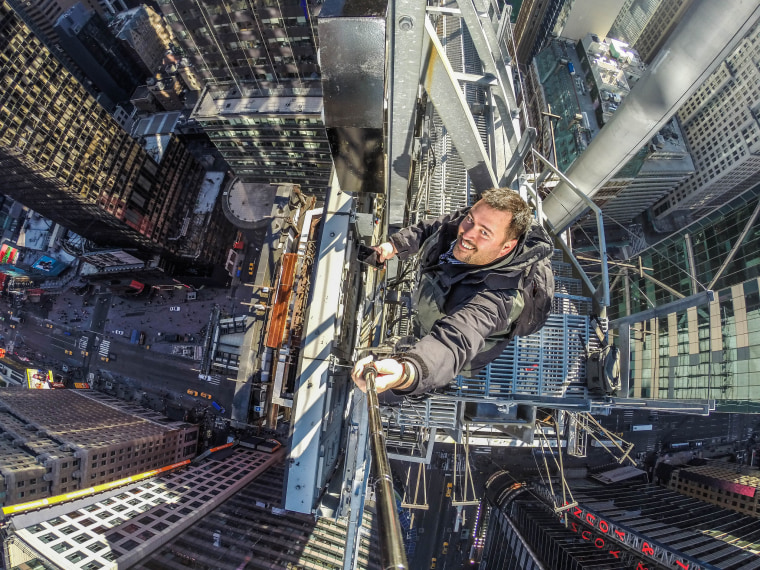 It's not the tool that's the problem, he said, but people. "A lot of people don't have respect for each other," he said. "Tourists, they just want the photo."
RELATED: 'Selfie Arm' gives your Instagram pics a creepy helping hand
Kenney agrees. "A lot of people get to the monuments and are just excited and immediately pull out the stick," she said. "They see the landmark and have to get that photo. Nothing else matters."
The real trouble comes, Quintano said, when too many people whip out their sticks. "When you have a hundred people it gets a little crazy," he said. Selfie sticks aren't going anywhere though, he promised, so we'd better learn to play nicely. In fact, we need to get ready for the next big thing, which could be even more dangerous. Watch out for selfie drones, aka "dronies," coming soon to airspace near you.
Selfie Stick 101
Follow these tips from photographers Kenney and Quintano to use your selfie stick safely and to better effect:
Ask yourself if it's worth it — if you even need to use the stick — and whether it's allowed!
Be aware of your surroundings. Use common courtesy and don't block other people's view.
In a crowd, get to the edge, or to a less crowded space. That can lead to a better photo anyway. For an Eiffel Tower shot, for instance, take the Metro to Trocadero, but instead of standing on the platform and snapping with everyone else, go down the steps.
Think about what that photo should look like. Take a sample shot and review it to see if it's what you wanted.
Turn the camera around; selfie sticks aren't just for selfies. Find a cool angle and (carefully!) use the stick to reach it.
Don't get too absorbed in your photo. Distracted photo-snappers may see their stick — and phone or camera — disappear before their eyes.