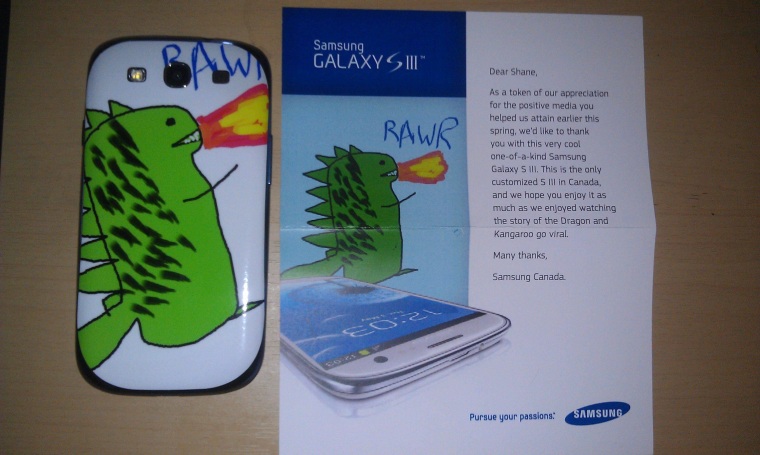 "I was bored and I love the phone," Shane Bennett explained when asked why he sent a message to one of Samsung's official Facebook accounts in May. He'd asked the company for a free Galaxy S III smartphone and included a drawing of a dragon as a bribe of sorts. Three months later, he received a package containing a one-of-a-kind Galaxy S III, customized with that very dragon drawing.
"Hello, I have bought many Samsung products. I currently have a Samsung LCD TV, Samsung Galaxy S, Samsung laptop. I was just wondering if I could get a free Galaxy S3," the 26-year-old wrote in his initial message to Samsung. "I have attached a picture of a dragon I just drew for you."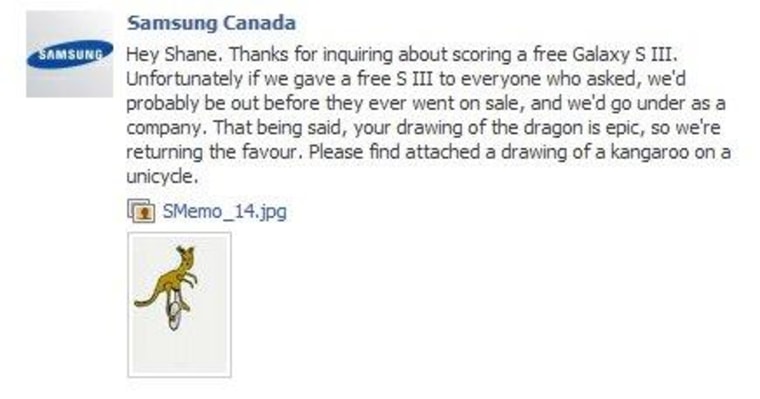 "Thanks for inquiring about scoring a free Galaxy S III. Unfortunately if we gave a free S III to everyone who asked, we'd probably be out before they ever went on sale, and we'd go under as a company," someone from the Samsung Canada team replied. "That being said, your drawing of the dragon is epic, so we're returning the favor. Please find attached a drawing of a kangaroo on a unicycle."
Amused by the reply, Bennett posted a screenshot of it on social sharing site Reddit. "Well, Samsung Canada has won me over," he captioned the image. The screenshot was quickly voted onto Reddit's front page and reshared on various social media networks. It even led to a story in the Globe and Mail in Canada.
Bennett kept in touch with folks from Samsung Canada in the meantime. "They invited me to a launch party [for the Galaxy S III] in Toronto," he told TODAY.com. "It was good times."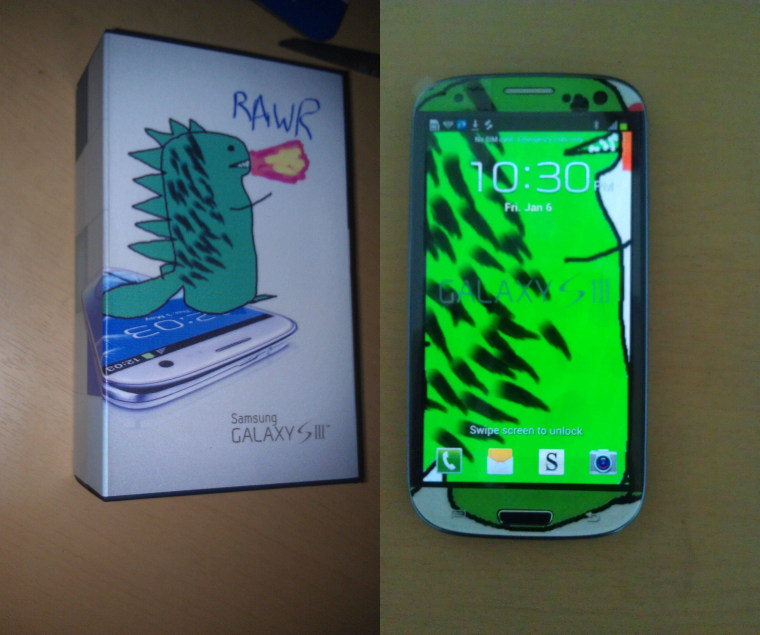 Months passed and then one of the individuals with whom Bennet maintained contact told him to expect a phone. As a long-time Android user, Bennett was giddy (though he admits that he didn't exactly know what was coming).
When the package from Samsung Canada finally arrived earlier this week, Bennet discovered a Galaxy S III made specifically for him. The device was decorated with his dragon drawing and its background was customized the same way (and lined up perfectly with the embellishment on the device's body). Even the packaging was custom printed.
"This is the only customized S III in Canada, and we hope you enjoy it as much as we enjoyed watching the story of the Dragon and Kangaroo go viral," the Samsung Canada team said in the included note.
Bennett was delighted. He finally had a replacement for his original Galaxy S and it was awesome.
"People are actually making offers to buy it, but I don't think I'll ever sell it," he told TODAY.com. "It's not just the look of it, but the whole meaning behind it."
He has posted on Reddit again though. A photo of his new phone is accompanied by the caption "Well, Samsung Canada has won me over again."
Meanwhile, the Samsung Canada team has been happily retweeting mentions of Bennett's story. As one Reddit user suggests, someone in Samsung's marketing department deserves a raise.
Related stories:
Want more tech news or interesting links? You'll get plenty of both if you keep up with Rosa Golijan, the writer of this post, by following her on Twitter, subscribing to her Facebook posts, or circling her on Google+.