Editor's note: This story has been updated and now includes a new statement from Samsung.
Last November, Samsung announced it was recalling nearly 3 million defective washing machines. But now some consumers say the washers are still dangerous even after the company vowed to fix them.
Those washing machines are in millions of homes right now. Some have shaken so violently that they explode. At least nine homeowners have reported injuries, including one report of a broken jaw.
Now some consumers are saying that Samsung is botching the recall, leaving them with potentially dangerous machines and no way out.
"I've called numerous times, but I never get any calls back," the owner of one washing machine affected by the recall told TODAY national investigative correspondent Jeff Rossen.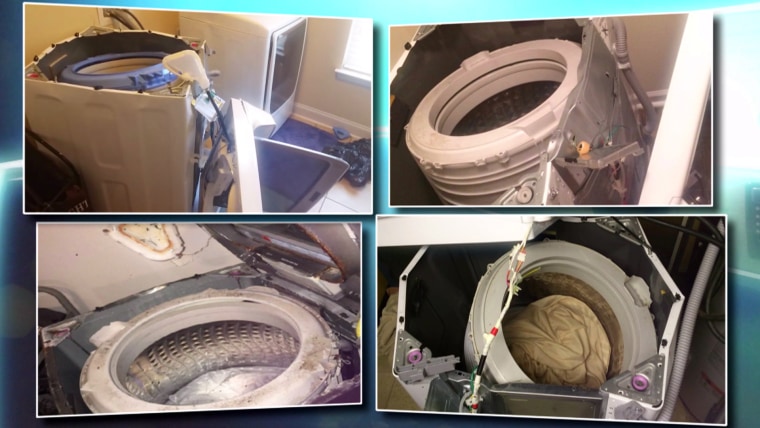 Another washer owner, Britney Quimby, a mother of three, said, "I'm afraid to do laundry because it could hurt my kids."
Lori Andrus, an attorney advising on a proposed class action suit against Samsung, called the affected washing machines "ticking time bombs in people's homes. It might not have gone off yet; it might go off on the very next load."
In a statement to NBC News, Samsung said:
"Our in-home repair has been tested and validated by an independent engineering firm, and approved by the Consumer Product Safety Commission. We have successfully completed hundreds of thousands of in-home repairs. Consumers who choose the in-home repair are provided an additional one year warranty regardless of the age of their washer.
We have directly contacted more than two million consumers and have multiple ways for them to reach us. Wait time for callers is an average of 20 seconds. Repairs on average are completed in 7 business days. We encourage anyone who has an affected washer to contact us at 1-866-264-5636 or at samsung.com/us/tlw."
The following model numbers are included in the recall depending on the serial number:
WA40J3000AW/A2
WA45H7000AP/A2
WA45H7000AW/A2
WA45H7200AW/A2
WA45K7600AW/A2
WA45K7100AW/A2
WA48H7400AW/A2
WA48J7700AW/A2
WA48J7770AP/A2
WA48J7770AW/A2
WA50K8600AV/A2
WA50K8600AW/A2
WA52J8700AP/A2
WA52J8700AW/A2
WA400PJHDWR/AA
WA422PRHDWR/AA
WA456DRHDSU/AA
WA456DRHDWR/AA
WA476DSHASU/A1
WA476DSHAWR/A1
WA484DSHASU/A1
WA484DSHAWR/A1
WA48H7400AP/A2
WA50F9A6DSW/A2
WA50F9A7DSP/A2
WA50F9A7DSW/A2
WA50F9A8DSP/A2
WA50F9A8DSW/A2
WA52J8060AW/A2
WA5451ANW/XAA
WA5471ABP/XAA
WA5471ABW/XAA
WA56H9000AP/A2
WA56H9000AW/A2
To suggest a topic for an upcoming investigation, visit the Rossen Reports Facebook page.