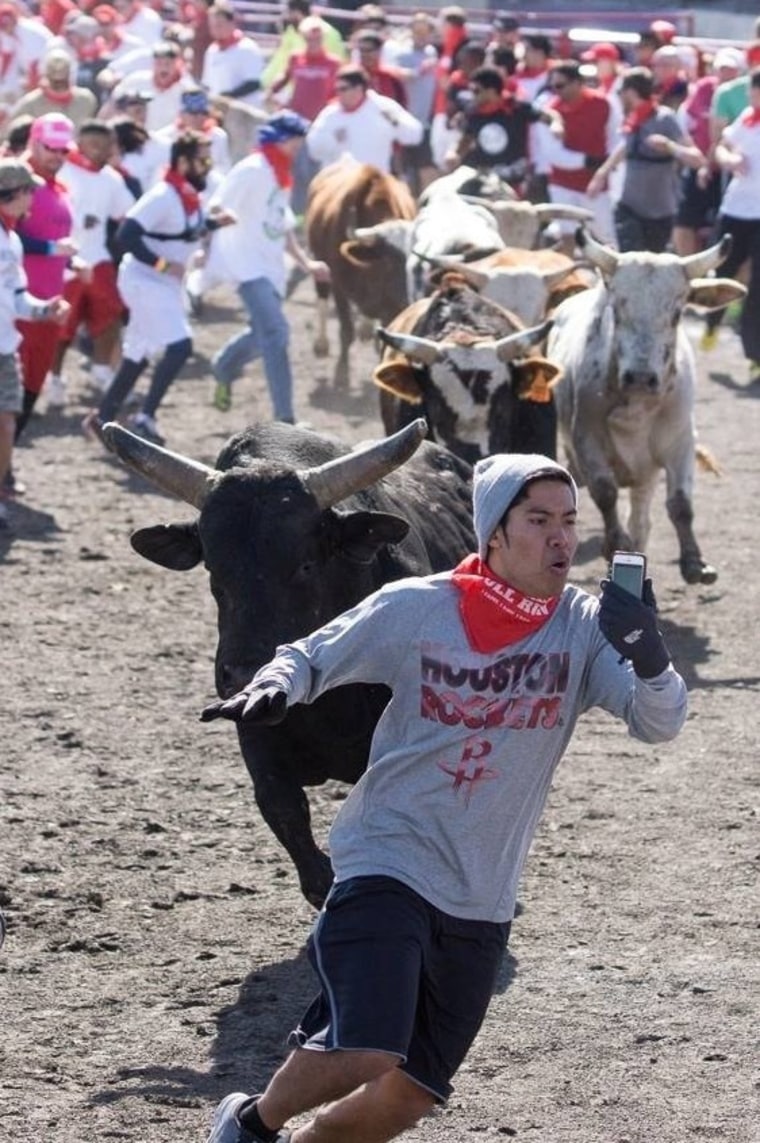 Using your smartphone to record yourself while being chased by 1,500-pound bulls may not be very smart in some people's eyes, but Christian Plaing certainly has a keepsake to remember.

A photo of the 20-year-old student taking part in The Great Bull Run near Houston on Jan. 25 while clutching a cellphone camera and with a huge bull not far behind has gone viral after being published by the Houston Press and posted on Reddit over the weekend.
Some are calling it "the most extreme selfie of all time," though Plaing is quick to point out he wasn't actually taking a photo of himself, but rather recording a video of the event.
"I had my phone out the entire time because I wanted to basically capture the moment and just keep it like a souvenir, something I could remember the race by," Plaing told NBC News.

"I wasn't too concerned about (safety) because the only difference was just me holding one hand in the air. I was able to run efficiently."
Plaing, who lives in the Houston area and attends Alvin Community College, said he wanted to take part in the event because he enjoys activities that give him an adrenaline rush and didn't think he would be able to make it to the original running of the bulls in Pamplona, Spain, anytime soon.
While recording the video, he would both watch the cell phone screen and look over his shoulder to see where the bulls were at any given time, though he didn't realize how close the animals got until he saw the Houston Press photo, Plaing said.
"Not much was going through my mind other than just trying to get out of the way whenever I felt they were too close," he recalled.
"Oh yeah, I was terrified… It was definitely an experience I won't forget. I probably might consider doing it again."
The shaky cell phone video Plaing shot of the event shows him yelling with excitement and running fast, with the bulls passing him at one point. While he doesn't regret recording the run, his friends and family had a unanimous reaction to the footage.
"They all just think I'm crazy. None of them really wanted me to do it because they thought I'd get hurt or something but I came out fine, in one piece," Plaing said.
The Great Bull Run hosts such events in 10 cities across the U.S., promising that thrill-seekers who are unable to travel to Pamplona can "finally cross this adrenaline-filled experience off your bucket list without breaking the bank."
Participants accept the risk that they might be trampled, gored, rammed or tossed in the air by a bull, or tripped or trampled by their fellow runners, organizers warn. One participant was briefly hospitalized after the event, the Houston Chronicle reported.