Guessing what the newly announced royal baby's name or hair color might be isn't just a fun diversion. In Britain, it's a way to make money.
The Brits bet on everything. Soccer matches. The weather. And a popular fundraising game for schools and charities called "Ferret Bingo."
Last year, more than $24 million in bets were placed on baby George and the gamblers were quick to get in on the action with Will and Kate's latest scion.

"If there's one thing that baby George taught us it's that the British public love a punt on a Royal offspring and we're bracing ourselves for another baby betting bonanza," British betmaker Paddy Power said in a statement. "Money is already pouring in by the 'pram load' and we expect this to be the biggest novelty betting market of the year."
For Derek Hornby, the inspiration to bet on the new royal baby came in a dream. But it wasn't his.
"Me daughter, she had a dream three months ago," said the 63-year-old flower deliverer from Wigan, about 20 miles west of Manchester.
"'I think there's going to be a royal baby," he recalled her saying.
After the official announcement Monday, he started to pay attention to another dream she'd been having. It was of the name, "Alice." So he went down to the local William Hill bookmaking office, past all the other "punters" betting on soccer matches, and placed a bet. 
The odds are currently 25-1 on "Alice." If his daughter is again right, he'll make back 50 pounds, about $80, on his original bet of 2 pounds, about $3.25.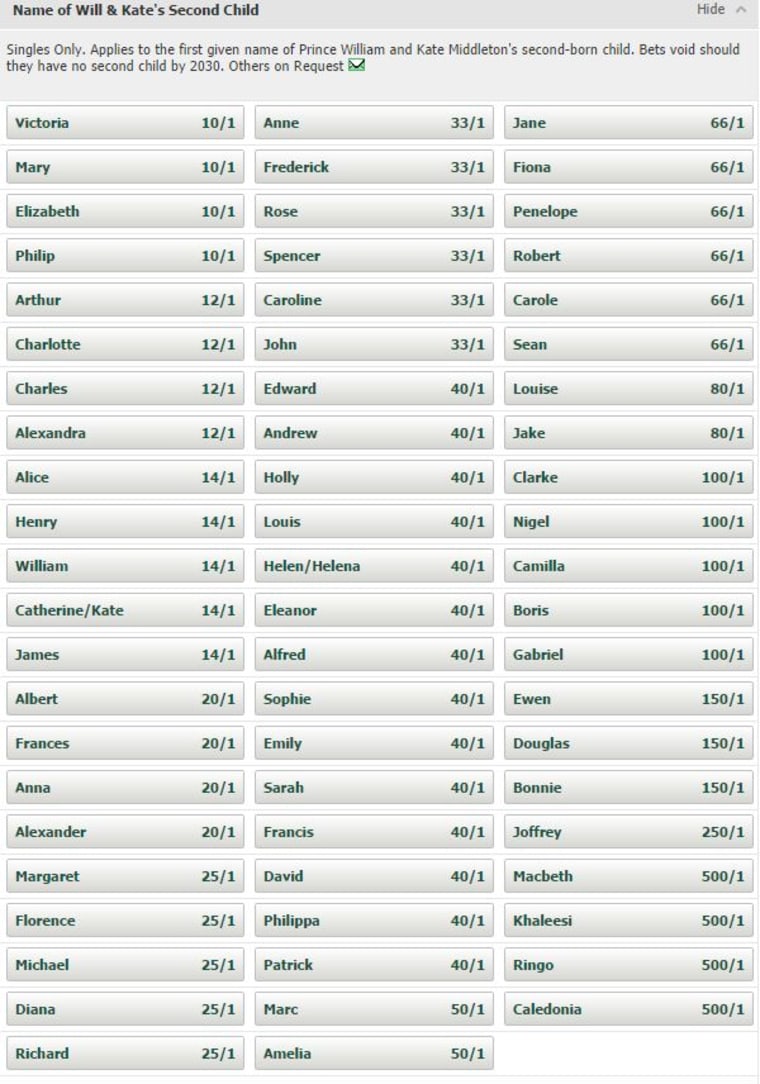 But others have different names in mind.
PaddyPower is offering 10-1 odds on "Elizabeth" being the new royal baby name. "Victoria" is another strong contender and Charles has 12-1 odds. Bookmakers also offer longshot markets for the sporting, as well as those who simply want a laugh. 
Currently "Macbeth" has 500-1 odds. It's slightly better chances for "Joffrey," a cheeky Game of Thrones reference, with 250-1 odds.
In America, laws regarding gambling have been reserved for the states and only Nevada has made it legal. 
"Americans used to do a lot more on things, like betting on presidential elections," said David Schwartz, director of the Center for Gaming Research at the University of Nevada in Las Vegas. Then a series of laws signed by President John F. Kennedy in 1961 designed to thwart racketeering made certain kinds of betting illegal. Nowadays betting is much more limited.
"There's always possibility of some kind of federal action; [Nevada bookies] always figure, 'Let's keep this as clean as possible' and only allow betting on sporting events where no one knows the outcome," said Schwartz.
But bookmaking in all its forms is a legal and thriving business in Britain. Some of the largest bookmaking companies are listed on the stock exchanges, making a business out of taking bets on everything from sports games to when the world might end, and oh, yes, even "Ferret Bingo." In that game, a ferret is set loose inside a cage with seven numbered exits and you place bets on which tube the furry little guy will pop his head out of.

Hornby says he says he's not much of a betting man himself, having lost the few times he placed bets on soccer matches. But he's feeling good about the new royal baby. After placing the bet Monday, he went in again Tuesday, "just to charm it up," he said, and placed another.