It's not a good week for Lady Gaga. First the singer's YouTube account was temporarily suspended — it has been reinstated again though — and now she's lost her title as "most popular woman on Facebook." The new queen of that particular social network? Rihanna.
Mashable called attention to this shift in Internet power after noticing a tweet by Facebook's marketing director Randi Zuckerberg. At that point there was about a 20,000 fan difference between the two singers' Facebook accounts. But right now? Rihanna's got 40,591,626 fans while Lady Gaga has 40,560,781. 
Yes, that's not a huge change, but the gap is slowly widening.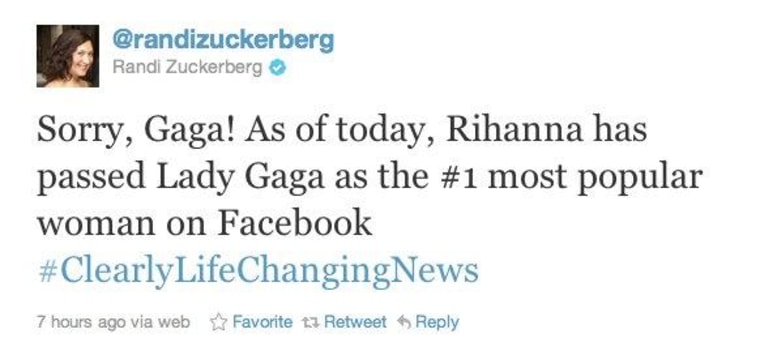 For whatever it's worth though, while Gaga is no longer the most popular lady on Facebook, she will always be the first living person to have gathered 10 million likes on the site. Not only that, but she will also always be able to claim that she was the first to reach one billion views on YouTube as well as the first to collect 10 million Twitter followers.
And if that's not enough? Well, then she can try to hang on to her top spot on Twitter — or give Google+ a shot.
Related stories:
Rosa Golijan writes about tech here and there. She's obsessed with Twitter and loves to be liked on Facebook. Oh, and she can be found on Google+, too.