Imagine a moving 10-minute date. There are no cocktails or bar stools. Instead, you're in a car with a stranger, flirting as it makes its way to multiple stops in the city.
That is how some singles view UberPool and Lyft Line. Like with the apps that spawned them, Uber and Lyft, drivers pick passengers who hail them with a smartphone. But these services split the costs between multiple people who happen to be going in the same direction, sometimes reducing the fare by half.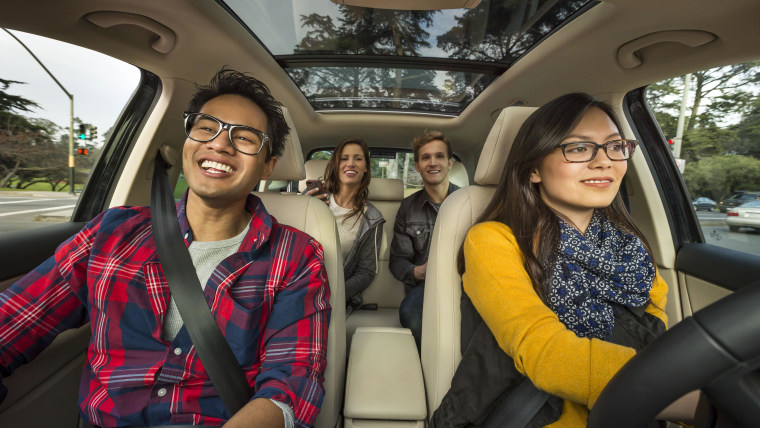 Not only do these services save passengers money, they sometimes open the door to romance.
"I do take UberPool hoping there will be a cute guy who will share a ride with me," Lisa Kiendra, 32, a speech therapist who lives in San Francisco, told TODAY. "It's like a blind date."
She isn't the only one who sees it that way. In cities like New York, San Francisco and Los Angeles, people are looking to meet up while taking a ride. The phenomenon has even found its way onto the "Missed Connections" section of Craigslist.

Like the subway, UberPool and Lyft Line create a space where flirty glances and awkward exchanges are possible (if not always welcome). The difference is the passengers share much tighter quarters with someone who is likely to share some of the same attributes: young and tech-savvy.
In San Francisco, 30 percent of all Lyft rides are now taken with Lyft Line, according to the company, and the service is most popular in hip neighborhoods like the Mission, Williamsburg in Brooklyn, and West Hollywood in Los Angeles. UberPool says "many thousands" take the service five days a week to commute to work.
These are people who might be tired of swiping left on Tinder, but also aren't used to hitting on people in line at Whole Foods.
"Our generation is really bad at meeting people organically," Whitney Hu, 24, told TODAY.
She takes UberPool at least once a week from the start-up she works at in Soho to her apartment in Bushwick, Brooklyn. While she uses dating apps like OKCupid, Tinder and Coffee Meets Bagel, she likes the fun and romantic potential of sharing a ride with a stranger, even if she hasn't found the man of her dreams yet.
"I have had a few guys who have been really awkward and handed me their business card," she said.
So far, she hasn't had any strong connections, despite several cards, a LinkedIn invite and one "really creepy" guy who asked for her number. Not that it can't work. Uber says that at least one couple, who they identify only as Oliver and Jennifer, are now engaged after they found themselves riding together to the same restaurant in San Francisco.
Kiendra, also from San Francisco, is hoping for a similar outcome. She was hoping that a cute guy would ask her out after they shared a ride from the 21st Amendment Brewery. Sadly, it was not to be.
"I had the feeling he was going home to his girlfriend or something," she said, sounding disappointed.
So why didn't she ask him out?
"I like to be pursued," she said. "As a woman, I'm attracted by a man who sees something he wants and goes for it."
Jonathan Lally, 30, who works in the tech industry in San Francisco, never knows when to go for it while taking Lyft Line. He is also hopeful he might meet someone, but feels uncomfortable asking a woman for her number.
That doesn't stop him from crossing his fingers every time he hails a car. When you use Lyft Line, users see what Lally describes as a "slot machine" of potential passengers until it settles on the one that makes logistical sense for the ride.
"Every time, I'm always like, 'Oh, I hope it's a cute girl,'" he told TODAY.
He gets frustrated with dating apps like Tinder because they are "set on giving people lots of options and not a lot of face-to-face time." Lyft Line solves that problem. Unfortunately, it presents another: it's not clear if you're bothering someone who is taken and just wants a quiet ride.
Lally, like any good techie, spitballed a few solutions. He wondered if Lyft Line should let passengers check a box if they're single or tell them if they have mutual interests. The company could also hold a promotion, maybe on Valentine's Day, where people sign up to share rides with the explicit purpose of finding a date.
For now, he will have to trust his own intuition. It also helps that the service takes him where he needs to go.
"I'm certainly not using Lyft Line just to meet women," he told TODAY. "But I'll definitely keep taking it with the hope that I might meet someone."
Keith Wagstaff writes about technology for NBC News. He previously covered technology for TIME's Techland and wrote about politics as a staff writer at TheWeek.com. You can follow him on Twitter at @kwagstaff and reach him by email at: Keith.Wagstaff@nbcuni.com