With 635 five-star reviews on its Amazon product page (out of more than 1,200 reviews ... and growing), it seems obvious that the Hutzler 571 Banana Slicer is the one gift you can buy yourself that will make up for all that thoughtless junk you've already re-gifted to friends and loved ones. Those who apparently did receive this "revolutionary" product over the holiday season are burning up the Amazon reviews as 2012 draws to a close.
Just read what these satisfied reviewers have to say over this demarcated banana shape that is "dishwasher safe" and "faster, safer than using a knife."
"No more winning for you, Mr. Banana!" declares the review voted "most helpful" by other Amazon's users. "For decades I have been trying to come up with an ideal way to slice a banana," writes Amazon reviewer SW3K. "'Use a knife!' they say. Well ... my parole officer won't allow me to be around knives. 'Shoot it with a gun!' Background check ... HELLO! I had to resort to carefully attempt to slice those bananas with my bare hands. 99.9 percent of the time, I would get so frustrated that I just ended up squishing the fruit in my hands and throwing it against the wall in anger. Then, after a fit of banana-induced rage, my parole officer introduced me to this kitchen marvel and my life was changed."
RELATED: Top Internet memes of 2012
But it's not just felons who find the Hutzler 571 indispensable.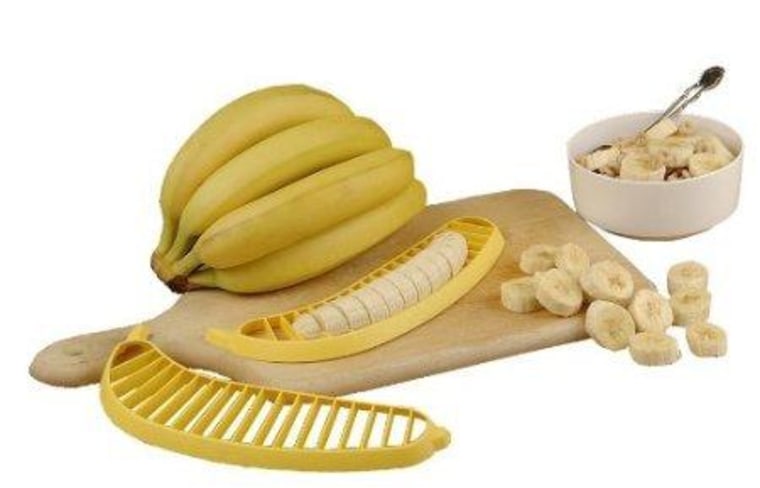 "Saved my marriage," raves Mrs. Toledo. "What can I say about the 571B Banana Slicer that hasn't already been said about the wheel, penicillin or the iPhone..."
In "a military endorsement," Happy Hubby writes, "I have served in the U.S. Army for over 12 years. I can say that there is technology being used by the military that is rarely seen in the civilian sector." He does, however, caution, "this is a CIVILIAN model and not designed for field use!"
There are those who do not agree with the raves, however.
"Angle is wrong," writes J. Anderson in one of the 91 two-star reviews. "As shown in the picture, the slicer is curved from left to right. All of my bananas are bent the other way."
Another reviewer points out that taking one's country of residence into account is important before making this purchase. "I live in Australia and need a Region 4 slicer," writes Paul Anthony F. Brown. "I now have a whole bunch of bananas sitting on my kitchen counter that I can't slice and a life slightly more woeful and abject than it was before I received the slicer."
Still not sure? Check out the informative Customer Questions to find answers as to whether buying the warranty for the Hutzler 571 Banana Slicer is a wise move, if the product comes in metric and how well it might work on hot dogs.
With its first glowing review posted in 2007, it seems the Hutzler 571 Banana Slicer is enjoying a fresh surge of popularity in December, with new reviews piling up daily. This must be one seriously useful product — either that or Internet culture blogger types have just (re)discovered yet another example of satirical Amazon reviews in the proud vein of Three Wolf Moon and the BIC's for Her Ballpoint Pen.
But at the bargain price of $2.51 & free two-day shipping for Prime members when buying this "add-on" Item (a low-priced item that would be cost-prohibitive to ship on its own), can you really afford not to have the Hutzler 571 Banana Slicer in your kitchen drawer ... and in your life?
— h/t Mark Preston, this guy I know from Facebook, who also notes "Patriot Products CSV-3100B 10 HP Briggs & Stratton Gas-Powered Wood Chipper/Leaf Shredder."
Helen A.S. Popkin goes blah blah blah about the Internet. Tell her to get a real job on Twitter and/or Facebook. Also, Google+
WATCH: 81-year-old skydiver, dancing twins, among the top viral video stars of 2012
More Digital Life: