The Nikon 1 line is a bit of a mystery — are the compact interchangeable lens cameras for pros or amateurs? Photographers or filmmakers? The trouble is, very little sets them apart from fancier, better-performing cameras. That changed this fall when Nikon introduced the AW1, "the world's first waterproof and shockproof interchangeable lens camera." Now there's a compelling option for people who want something they can take to places that neither their smartphones nor any pricey DSLR can go.

Yes, the AW1 is an interchangeable lens camera that can be taken 49 feet below the surface of the ocean, not to mention endure being dropped, frozen or covered with sand. In my tests, the camera performed as expected: The larger lens means you can capture more shots than you can with a standard point-and-shoot, but the small sensor and lack of vibration reduction (as Nikon dubs its image stabilizer) still means the low-light performance isn't great.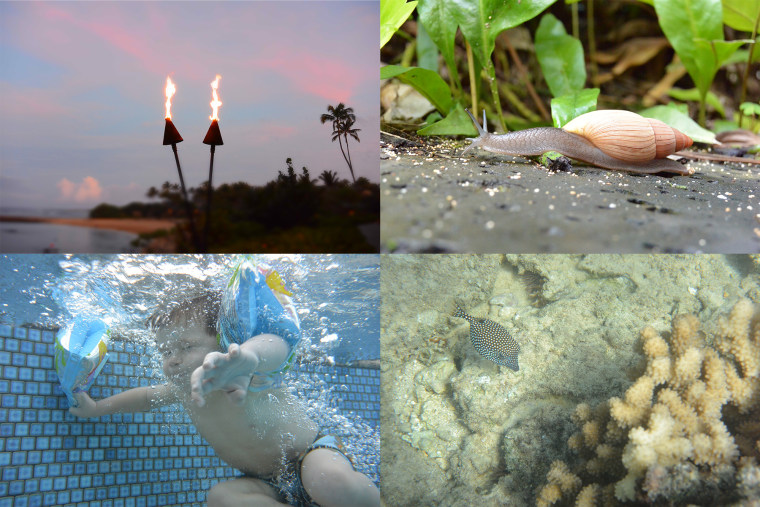 I tested the camera in its ideal setting: a family vacation at the beach. We were in and out of the waves, playing in the sand, doing some snorkeling, and of course, cannon-balling into the pool pretty much constantly for five days, and the camera was there with us the whole time. Because it's so rugged, I didn't mind when other family members walked off with it, or even when the kids ran around taking pictures, too. The camera's chief asset? Peace of mind.
Nikon introduced some small user-interface improvements since the previous Nikon 1 camera that I tested, too. The best is a quick-select button that lets you easily shift between shooting modes (auto, manual, creative, etc.) even if you're under water: Just press the button and tilt the virtual pendulum to the option you want.
The location of the video button so close to the shutter button is both convenient and confusing. I really liked being able to shoot video whenever the moment struck me, but I noticed that others who borrowed the camera would take video when they meant to take pictures.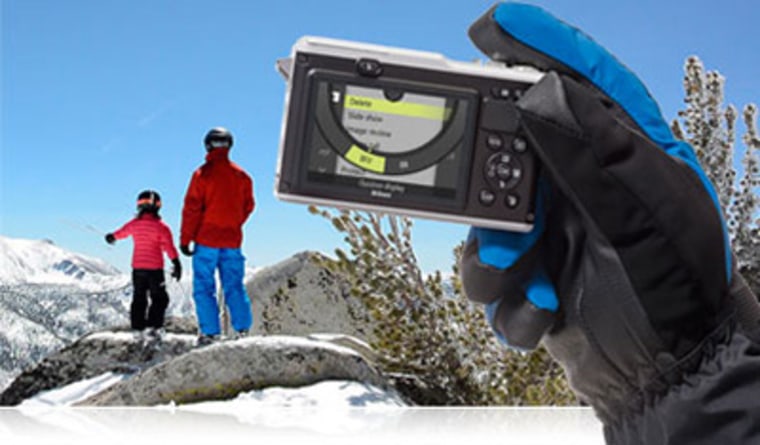 The creative shooting was cool but sometimes gimmicky. I got a lot of mileage out of the "miniature" (fake tilt-shift) effect — which not only blurs the top and bottom of the shot but also oversaturates the picture — but I realize that it could get cheesy pretty quickly (and probably did). The panorama shooting is nice, in part because you can "play" it back on the screen like a video after you take it. I also wish the manual shooting controls were a bit easier to access, beyond just setting aperture and shutter speed.
Regardless of my small gripes, the AW1 is definitely an improvement over the original Nikon 1 cameras, even before you get to its reason for being, that indestructible body — and lens.
In the $800 single-lens kit,you get a decent starter lens, though with a range of 11mm to 27.5mm, you find yourself wishing for a bit more zoom, and at f/3.5-5.6, it's also not very fast or great for portraits. This quickly becomes the AW1's core dilemma: Why spend so much on a waterproof interchangeable lens camera when there's only one lens that's as durable as the camera's body? In fact, you'd be foolish not to skip straight to the $1,000 two-lens kit, which throws in a much faster f/2.8 10mm prime lens that's also rugged and waterproof. (Well, maybe wait till it comes down a little in price, but seriously, keep your eye on that.)
It would be nice if Nikon got aggressive in this waterproof rugged direction, and perhaps converted some of its other lenses to be "AW." I would certainly like to see a zoom lens, and perhaps the integration of Nikon's vibration reduction technology as well. Still, it's hard to say how much Nikon will invest in this stuff, because at the end of the day, there are better cameras out there, whose lenses better justify your hard-earned money. That's why my fantasy would be to see Nikon's DSLR line — and the cameras of Nikon's chief competitors — get waterproof and rugged, too.
Wilson Rothman is the Technology & Science editor at NBC News Digital. Catch up with him on Twitter at @wjrothman, and join our conversation on Facebook.