Mary Taloff, a 29-year-old consultant based in Davis, California, had to miss a friend's wedding because she had no choice but to rent a car in order to get to there. This wouldn't be an issue for most travelers, but Mary Taloff is in a wheelchair and needs a wheelchair-accessible vehicle. And they don't come cheap.
"I looked into renting a car because [the wedding] was in the middle of nowhere," Taloff told TODAY.com. "It would have been around $200 a day to rent this car, and I wasn't able to go to the wedding because I don't have that kind of money."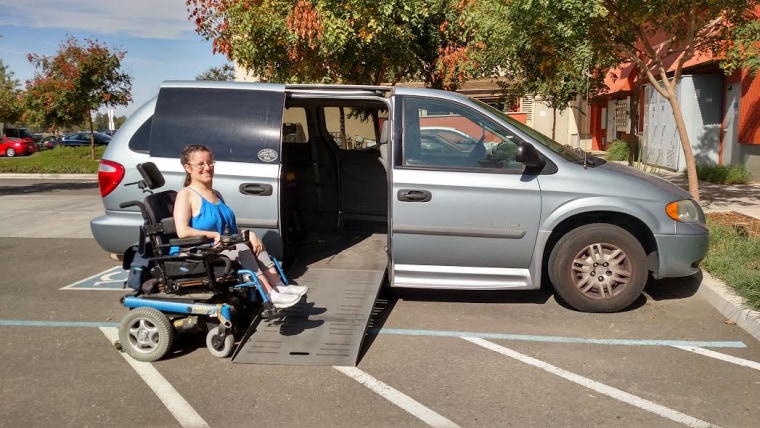 Taloff, who has cerebral palsy, doesn't drive, but still requires a wheelchair-accessible vehicle because her power chair weighs roughly 250 pounds and can only be loaded into vehicles that have a ramp or a lift.
Most rental car companies don't keep wheelchair-accessible vehicles on hand. Instead, they work with organizations like Wheelers Accessible Van Rentals, a wheelchair- and scooter-accessible van rental company.
RELATED: Review site Brettapproved makes travel easier for people with disabilities
Renting a van from Wheelers costs about $130 a day, and there's also $34 for full insurance. As with most rental car companies, Wheelers offers deals where the longer you rent the car, the cheaper your daily cost.
"A month could be [priced at] $80 per day," Tammy Smith, president of Wheelers, told TODAY.com, adding that on average, customers pay $100/day for their rental per day.
Wheelers, which Smith says has 58 locations across the country and in most major cities, carries vans that are built for passengers in wheelchairs, as well as vans for wheelchair users who drive.
There's no difference in cost between the two types of vehicles, but there are fewer of the latter kind available.
But why are they are so expensive in the first place? Smith says that it has to do with the price of the vehicle.
"These cars cost about $50,000, whereas a basic car at a [regular] rental car company is probably worth around $20,000," said Smith.
RELATED: Mom in wheelchair can take baby for walks with specially designed stroller
A car rental company like Budget or Enterprise operates along a similar logic: the cheaper the car, the lower the rental fee. This doesn't help people in wheelchairs much, as all wheelchair-accessible vans are in a higher price range.
"I paid roughly half the price of my [then-new] 2007 Dodge Caravan to make all the modifications [to it]," said Taloff. This was an alternative that was actually cheaper than buying a ready-made wheelchair accessible van.
A more wallet-friendly option could be on its way. In Paris, an Uber-like startup called Wheeliz is making rentals for people in wheelchairs more personal and far less pricey.
The car-sharing service, launched earlier this year by Charlotte de Vilmorin, is the first car-rental company that specializes solely in vehicles adapted for disabled people.
De Vilmorin, who didn't respond to multiple requests for comment, reportedly created Wheeliz after having a dispiriting experience trying to find an affordable, adapted rental car. The company connects people who need an adapted vehicle to those who own one and are willing to rent it out — kind of like Airbnb does with housing.
RELATED: 6-year-old girls in wheelchairs Whip and Nae Nae like no one is watching
Car owners can list their vehicles on Wheeliz at a recommended daily price of $55 to $65. Not only does the service bring a more affordable option to disabled drivers and passengers, it helps them earn back some of the money they spent adapting their cars.
"There are a lot of days where I'm not going to go anywhere or can take public transit," said Taloff. "It would be awesome to rent out my car when I'm not using it,"
Currently, Wheeliz has a presence in just a few cities in France, but the need for such a service in the U.S is evident.
"There's no doubt that Wheeliz is fulfilling a need and it's great to see," Brett Heising, founder of Brettapproved.com, a travel website devoted to travelers with disabilities told TODAY.com.
"[Its] existence is further proof that the 21st century global economy is specialized and service-based," he said. "People in chairs — just like everyone else — have places to go and things to accomplish."