/ Source: TODAY contributor
With the Apple iPhone and Microsoft's Surface, we are now officially in the "touch technology" era. Virtually all the major manufacturers — and even some smaller ones — are introducing touch screens to their gear that replace conventional keyboards. In fact, during my interview with Bill Gates this past weekend, one of the things he said was most notable about this year's Consumer Electronics Show was the prevalence of touch technology. He was of course proud of Surface, but he noted that the trend had "taken hold throughout the industry, partly as part of a bigger trend, which is to simplify the relationship people have with their technology." And it truly is simpler — most of the gear below is part of a revolution that will affect all American consumers in the new year … by changing those sometimes-frustrating operating systems into something as simple as human touch. Here are some of the most notable.
LG VoyagerWithout as much marketing hype as the iPhone (but almost), the just-released LG Voyager has made a very impressive debut in the cell phone market, partly because it replaced its predecessor with a huge, 2.3-inch touch-sensitive screen on the front. And partly because when I show it to LG employees here at the CES, they groan with envy and say even they can't get one. Basically, the Voyager has become the phone version of the hard-to-get Nintendo Wii.
One of the coolest features on the phone is the so-called "tactile feedback" function, which — unlike the iPhone — lets you know you've typed a number or letter by vibrating the touch screen every time you successfully type in information. With the iPhone, which is still the gold standard for multi-use phones, you may or may not know you've tapped a letter or number until you see the result on screen. There's no feedback through your fingers, since you're basically pressing on glass. And since the Voyager's screen has been engineered to respond only to focused touch, it won't mistakenly react when the phone is simply held in the hand or pressed against your cheek during calls. And finally, for traditionalists who absolutely positively have to push buttons, the Voyager swings open to a full QWERTY keypad inside, letting you text traditionally to your heart's content. It's the only viable competitor for the iPhone, in my opinion. $299 with a 2-year Verizon Wireless account, http://us.lge.com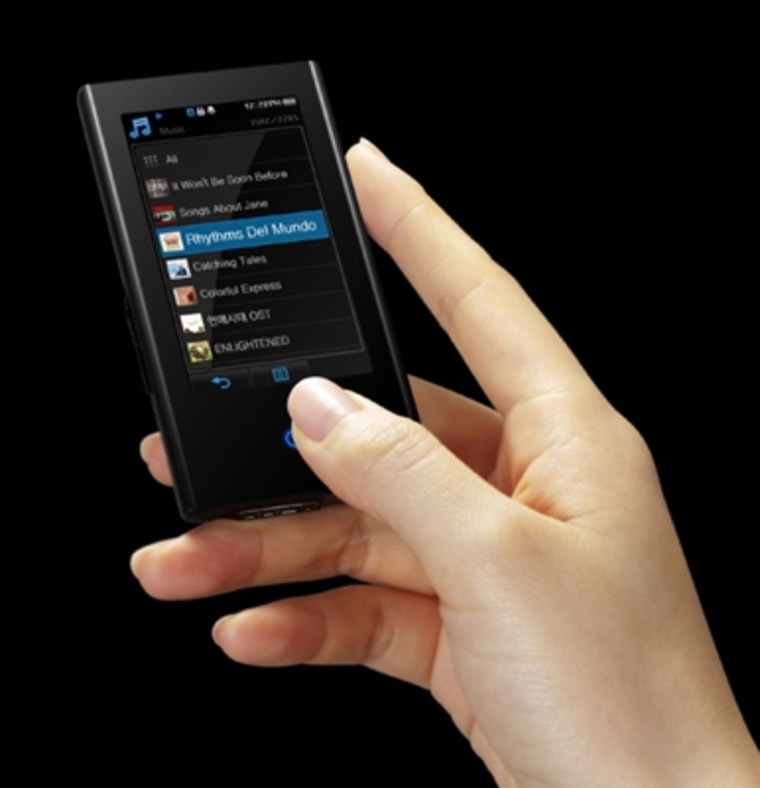 Samsung P2 The Samsung folks have responded to the iPod juggernaut with their own MP3 player, which is also touch-sensitive. The P2 is thin (less than half an inch from front to back) and uses a touch screen to let you get to your photos, videos, pictures and, of course, your music. One very nice thing about the P2 is its plan (as of this month) to let you record FM radio broadcasts on it. The included sound equalizer also lets you customize the sound of your songs, meaning you can add bass or treble just by sliding the controls on screen. About $240 www.samsung.com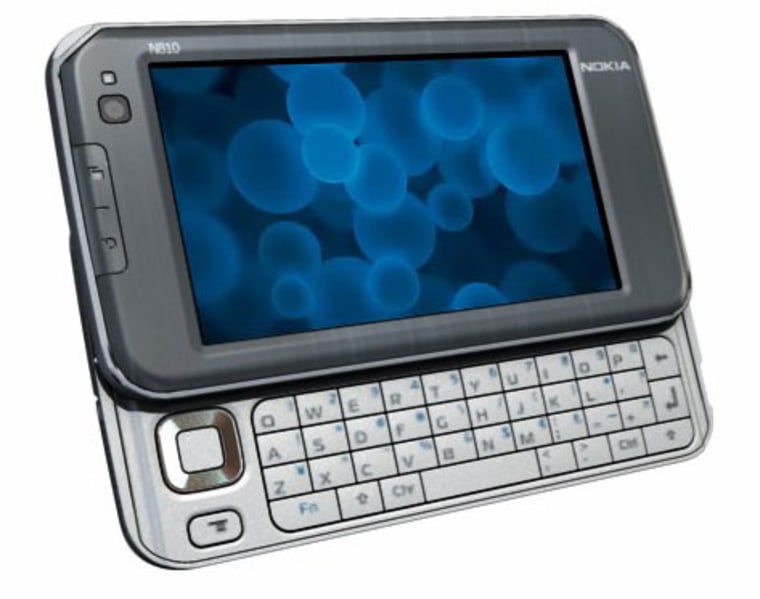 Nokia N810 Internet Tablet We're getting a first-ever look at this marvel from Finnish telecom giant Nokia — the amazing N810 is called an "Internet tablet," and its intent is to allow people to access the Internet using touch, in the same way other manufacturers have tried, but with this difference: An attached keyboard makes the note-taking and note-writing simple, and the power and speed of the unit is greater than anything else on the market. So far. This won't see U.S. shores until November. The tablet has a battery life aimed at 4 hours of "typical use." $479, www.nokia.com
GE DECT 6.0 phone with one-touch free directory assistance button OK, so it's not a touch screen. But I love that this latest GE-branded, Thomson-made home phone will have a dedicated "411" information button that gives you free access to what phone companies have traditionally made us pay $2 for — directory assistance. Instead, just press the blue button above the dial pad on the phone, and you're connected to Google's lightning-fast information universe. And did we mention the "free" part? (Note that GE is the parent company of NBC.) The phone should be available in April of this year.
Shogo touch-screen digital picture frameDigital picture frames were one of the big must-have gifts of the season this year, so it was only a matter of time (in this case about four months) until somebody made a touch-screen version. The winner for first-ever Wi-Fi-integrated touch-screen digital picture frame is Shogo, which will introduce this technical marvel early in 2008. The benefit: You can literally touch the screen to change what you're looking at. Estimated cost, $299; shogo.com
Samsung Reactrix The big finale in today's segment is the next thing in touch — NO-touch. In other words, Samsung's Reactrix TV and game system responds to human movement rather than actual touch, and it represents the future of touch technology. Here's why: Without actually having to make contact with your computer or TV, you'll be able to manipulate it by moving your hands or arms. Multiple cameras set up over the Samsung's TV screen track your actions and translate your movements into on-screen movements. It's like a Nintendo Wii, but instead of holding controllers, you're the controller.
Paul Hochman is the gear and technology editor for the TODAY Show and a "Fast Company" magazine contributor. He covered the Olympic Games in Salt Lake City, Athens and Torino, Italy, for TODAY. He was also a three-year letter winner on the Dartmouth ski team and has a black belt in karate. Paul's blog can be found at: