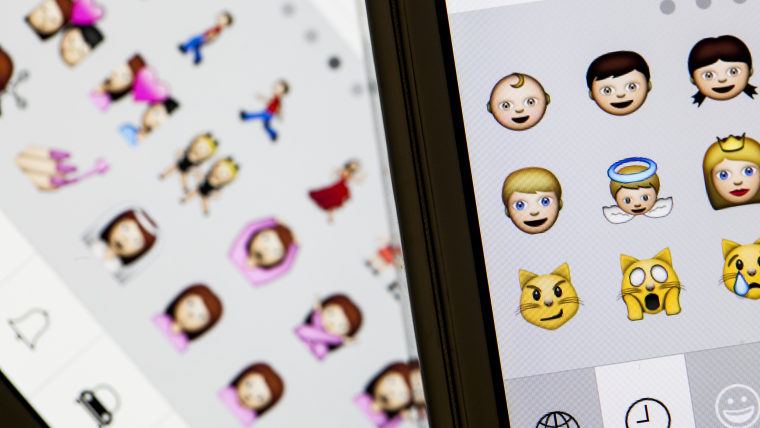 Texting with emoji, the colorful symbols like smiley faces and other cutesy graphics, can make messages lots of fun. But the current slate of people-based emoji is decidedly light-skinned -- and finally, that's about to change.

Racially diverse emoji are coming in June 2015, according to Unicode, the group that oversees emoji. Five different skin tones are slated to be available when the next version of Unicode's software rolls out next summer.
"People all over the world want to have emoji that reflect more human diversity, especially for skin tone," Unicode wrote in a report on Monday. 
The report is only a draft of Unicode's forthcoming plans, so it could change before next July. But it's unlikely Unicode will drop these plans altogether, as the group devoted an entire section of its report to diversity -- and it's long been under pressure from the public and from Apple to create emoji that look like the people who use them.
So the next version of Unicode will let emoji lovers modify skin tones. A gesture -- perhaps a long press of a smartphone button, the developers suggested -- will pull up a palette of five skin tones (based on a scale used by dermatologists). With one tap, the light-skinned angel emoji becomes dark-skinned.
Some of the more classic emoji -- including smiley faces and other expressions -- are bright yellow in color, which was meant to give them "a more generic (inhuman) appearance," Unicode wrote. But other emoji, like a family, a bride and a dancer, look Caucasian.

Things get a little more complicated with emoji like a three-person family, but Unicode is planning to create a way to change the skin tone of each person in such characters. 
But people's appearances differ based on more than skin tone, of course. So don't expect an emoji for every person on Earth.
"Of course, there are many other types of diversity in human appearance besides different skin tones: Different hair styles and color, use of eyeglasses, various kinds of facial hair, different body shapes, different headwear, and so on," the group wrote. "It is beyond the scope of Unicode to provide an encoding-based mechanism for representing every aspect of human appearance diversity that emoji users might want to indicate."