Actor/comedian Aziz Ansari — the guy who plays "Tom" on "Parks and Recreation" — knows from social media. If you've ever seen his standup bit about harassing his little cousin Harris on Facebook — you'd remember because it would be that 15 minutes of your life where you couldn't breathe because you were laughing so hard — you know what I'm talking about.
That didn't stop President Barack Obama from issuing a Twitter smackdown on Ansari at a fundraiser last week in New York City, where the comedian was present. Easing into the executive snap, the president mentioned that his daughter, Malia, is a "big 'Parks and Recreation' fan," and that "having Aziz here is the only thing that she thinks is worth me doing." And then, this:
 "I just want to remind him: I've got more Twitter followers than you, man," Obama said ... "I just want to keep him humble and hungry. We all need someone who does that; fortunately, I have Michelle.
Those Twitter follower numbers, in case you're wondering, are Obama, around 13M, Ansari, around 1.2M.
It was all good by Ansari, who tweeted a link to the video on YouTube, with this comment: 

Ansari's followers had his back, with supportive tweets such as these: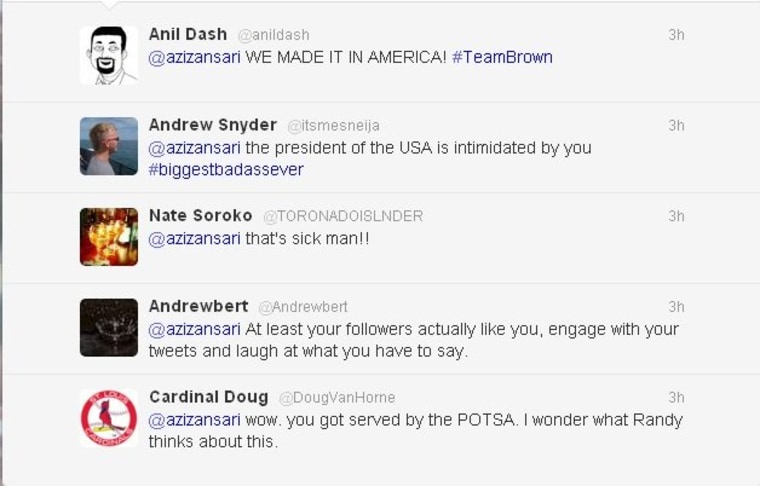 And the president's official Twitter account, which also tweeted the video, had something to say about it, too:  

More on the annoying way we live now:
Helen A.S. Popkin goes blah blah blah about the Internet. Tell her to get a real job on Twitterand/or Facebook. Also, Google+. Because that's how she rolls.