DENVER — In the first month of legal recreational marijuana sales in Colorado, retailers who shared their proprietary data with NBC News say they have collected $1.24 million in tax revenue.
Half of the state's 35 licensed recreational retailers participated in the NBC News survey. The 18 retailers shared the first 27 days of their tax data because they say they believe it will help their image.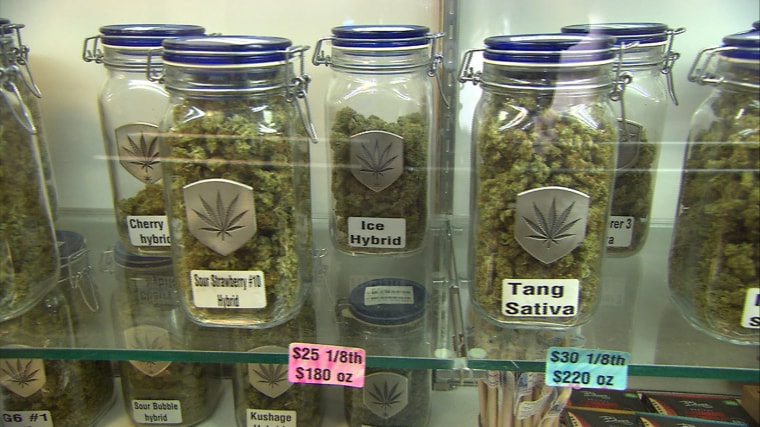 In several cases, some of those sharing data had only sold recreational pot for four days due to complications with obtaining their state and local licenses.
In a back-of-the-napkin calculation, those who shared the data say they figure February's tax collections in Colorado likely will exceed a quarter of a million dollars a day, putting it on pace to near $100 million annually.
When Colorado first considered legalizing recreational marijuana, it was estimated the first year's tax take would be $67 million.
By comparison, Colorado took in about $39.9 million in sales, use and excise taxes from alcoholic beverages in fiscal 2013, according to the state Department of Revenue. Cigarettes generated $165.5 million in taxes, and tobacco products $31.6 million in the same fiscal year, July 1, 2012-June 30, 2013.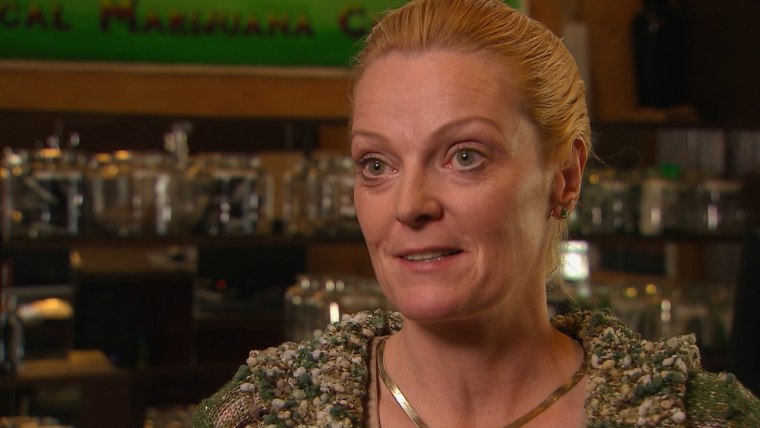 "Elected officials around the country are watching what's happening in Colorado and they're recognizing that there's a better way to handle marijuana," said Mason Tvert, director of communications for Marijuana Policy Project, which advocates for legally regulated marijuana. "And by regulating its sale and having taxes paid on it, it's a much more sensible approach."
Tvert believes the so-called "Colorado experiment" will be even more impressive in the coming months because, "obviously this is just the first month of sales and only a fraction of the businesses that are expected to be open are currently operating."
Taxes paid for pot transactions in Colorado vary depending on the municipality where it's sold.
All sales are assessed the standard state sales tax of 2.9 percent, plus there's a special state sales and excise tax, and there's also an extra local sales and excise tax in many cities.
In Denver, those taxes add up to nearly 29 percent.
But that's not stopping customers.
At 3D Cannabis recently, Toni Fox had to close because she had run out of product. Despite a big "closed" sandwich board on the steps to her storefront, there was a steady stream of would-be customers knocking on the door.
Fox says when she's open, she's averaging about $20,000 a day in sales.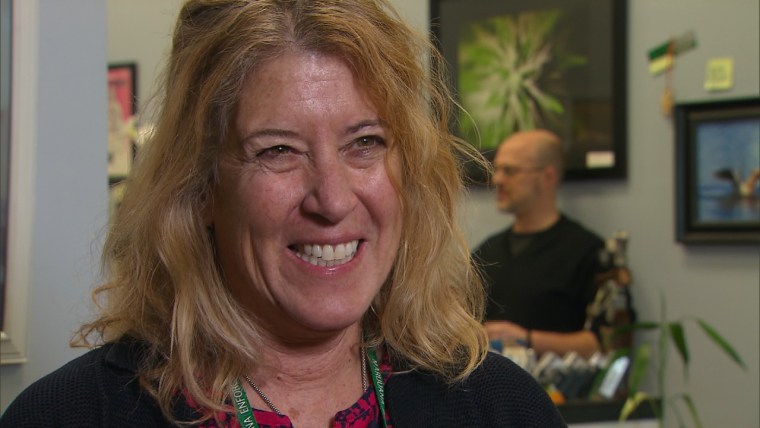 "We could double that if we had enough inventory, but currently there's an inventory shortage so we're capping our sales."
In Colorado, voters approved recreational marijuana sales with the promise that the first $40 million in tax revenue would go toward building schools.
After hearing about the early tax revenue figures gathered by NBC News, one shop owner in Edgewater sounded impressed.
"Wow, we're going to have really nice schools, really nice roads and really nice bridges," said Eva Honingford-Woolheiser, co-owner of Northern Lights Cannabis just outside Denver.
It's those municipal projects made possible with marijuana tax money that has legislators in various states watching closely.
In Rhode Island, where there is a $100 million state budget deficit, state Sen. Joshua Miller has proposed legislation to change marijuana laws similar to what Colorado voters did.
"The kind of money that could be generated through this is an amount that could take care of more than 20 percent of the deficit that we're running every year," he said. "So it's a very important revenue source potentially."
Miller believes legal pot sales could generate $20 million or more a year. And he says it would also cut back on the government costs of running jails and prisons because legal sales would reduce arrests and incarcerations.
Critics of the legalization movement say the tax revenues appear seductive until the costs of pot addiction are calculated.