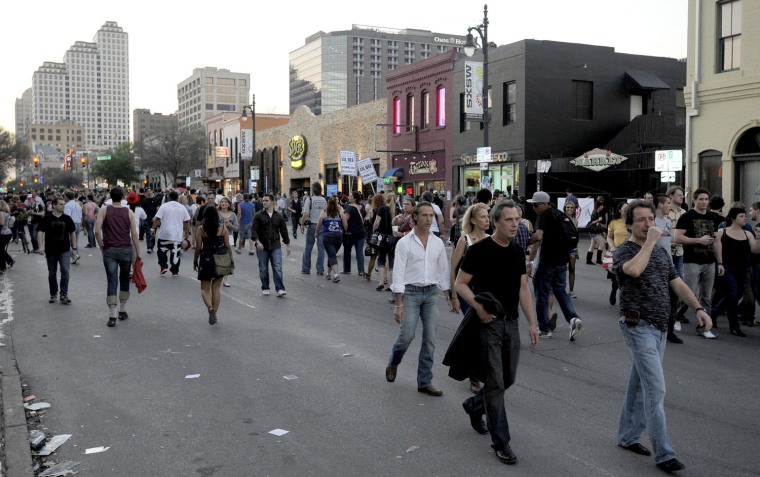 Terrible things happen to bacon at South by Southwest. 
Mind you, when I arrived in Austin, Texas on Thursday — 24 hours before the tech nerd portion of the interactive-film-music-tradeshow-palooza began — the food trucks hadn't yet pulled up. No evidence of porcine travesty was yet available. 
But you know it's coming.
I'm still digesting nightmares from last year's Bacone food truck, which, as this YouTube video describes, "combines the deliciousness of an ice cream cone with savory elements of lunch." And there's the return of both the Bacon Takedown and the Pork Experiment — two annual flat-fee food fests at SXSW — contributing to the ongoing inappropriate fetishization of bacon by the tech nerd community. 
We'll leave it to TODAY.com Bites blog editor Vidya Rao to expound on the unofficial gastronomic portion of the two week event. You'll also find her with the TODAY Munchie Mobiles, serving all manner of breakfast to the hungover and the hungry.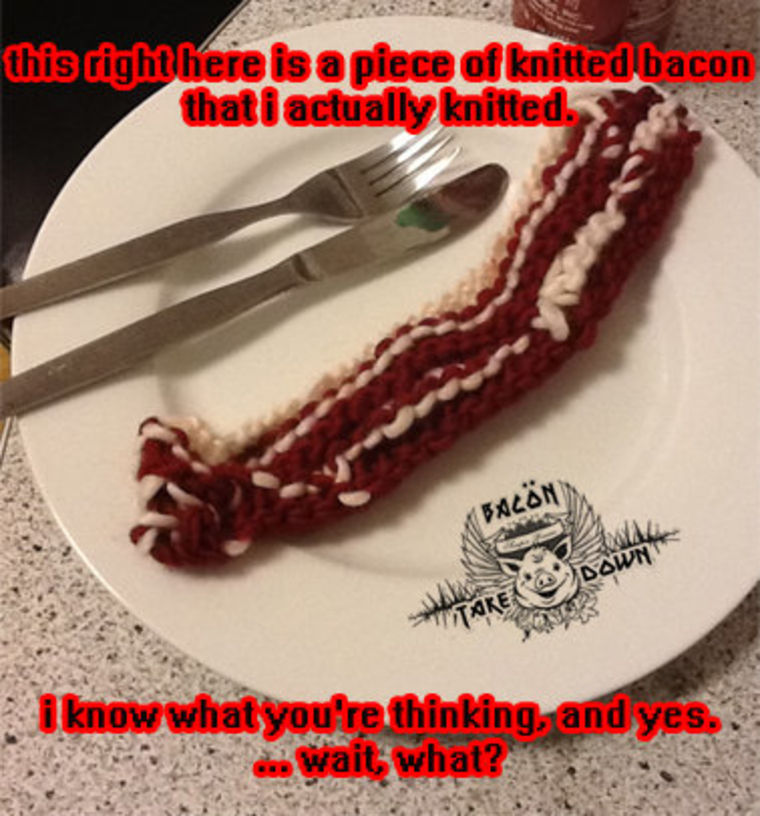 Me, I'll be powering through SXSW Interactive panels on the Internet of things, and reporting back to you about the tech trends and emerging technologies showcased here.
There's a discussion of how, in a heated election year, comedians and cartoonists can effect real-world change thanks to the Internet. Speaking of politics, I'll be covering a panel about sex, dating and online privacy following the Anthony Weiner scandal. We'll discuss tech overdoses, and Internet-based suicide prevention, and even check in with celebrity technophiles Joss Whedon and Rainn Wilson.
So yes, there are good things that come from this conference, and we'll bring them to you this week. But while I'm out here in the field, I will do my best to avoid bacon bastardization, and I'll be on the lookout for some of the other dreaded mainstays of the all-too-popular nerd fest:
Music conference whiners
Years before Twitter busted its way into mainstream consciousness here in 2007, before tech journalist Sarah Lacy famously borked the keynote interview with Mark Zuckerberg in front of a hostile audience in 2008, and Foursquare became the breakout app in 2009, SXSW was about the music — and the people who still mostly care about the music won't let you forget it.
Launched in 1992 as Austin's answer to the New Music Seminar in New York City, SXSW eventually added the lucrative film and tech conferences which start the week before the music portion begins, and both now overshadow the band showcases in both attendance and hipster cred. Give any long-time attendees a chance, and they'll happily whine on and on about how cool it used to be before film and tech showed up. 
Remind them that yes, SXSW is in fact where James Blunt got signed, and they shut their cake holes quick enough. 
Startups claiming to be "the new Foursquare"
"I think it's safe to say that Foursquare was not the must-have app of SXSW the way Twitter was two years ago," TechCrunch's Jason Kincaid wrote in 2009, "but it had a strong showing, and once I actually figured out which of my friends were using the service (which is more difficult than it sounds), I found Foursquare to be an indispensable app during my time here."
Now that you can tell your friends what you're doing and where you're doing it, it's hard to imagine anything that's going to rock this joint like the two aforementioned apps — now smartphone necessities for many. But then again, it was hard to imagine why anyone would ever care about Twitter. But it happened.
Now, the new breed of tech publicists relentlessly hector both investors and media into believing their client is it –or at least interview the CEO. 
True, somebody's got to win the lottery, but odds are, it isn't you.
That new breed of tech publicists
Listen, bloggers! Listen and understand. The tech publicists are out there. They can't be bargained with. They can't be reasoned with. They don't feel pity, or remorse, or fear. And they absolutely will not stop, ever, until you agree to interview I Can Haz Cheezburger's Ben Huh. 
"I attended SXSW before it was mainstream" whiners
Noting this year's rhetoric that SXSW has "sold out," and is in "danger of being overrun by marketers," Inc. reports: 
With brand logos lining the convention center halls, sponsored freebies on every corner, and large-company-hosted parties stacked 20 deep each evening, the saturation of marketing indeed can be overwhelming. The concern is widespread enough that a panel this year begs: "Help Save SXSW From Marketer Douchebaggery," and a Twitter hashtag is dedicated to the issue: #saveSXSW.
Yup. Here you have thousands of people who fly corporate airlines, to stay in corporate hotels, to attend what a corporate-sponsored event which hosts a bunch of start-ups to become corporate sponsors of this event, whining about the corporatization of this event. 
Yeah, this place sure would be charming, quirky, independent and edgy … if only I wasn't here.
Helen A.S. Popkin goes blah blah blah about privacy and then asks you to join her on Twitter and/or Facebook. Also, Google+. Because that's how she rolls.