Technology is not Maxine Lotter's favorite interest; she prefers mahjong. For her and her husband, Irving, it's more of a means to an end: a secure and smoothly running home.
Maxine and Irving retired to a stunning house in Del Ray Beach, Florida, but that doesn't mean they stay there. "We travel a lot," Maxine explains. "Our children and grandchildren are all over the world. My daughter in Rome is calling me right now… I'll call her back."
Travel is wonderful, but it can also be stressful. "We had the dropcam installed so we can be a million miles away and look all through our house," Irving says.
"Unbelievable!" Maxine adds.
Irv and Maxine remember the early days of what was a groundbreaking innovation: television. Controlling their garage door with a smartphone app was almost unimaginable back then. "Forget it!" Irv says. "The changes are mind-boggling."
The Wink Smart Home app has made the Lotters' lives immeasurably easier. They can watch TV, while turning off the lights in the kitchen, without leaving the couch. They just use their smartphones.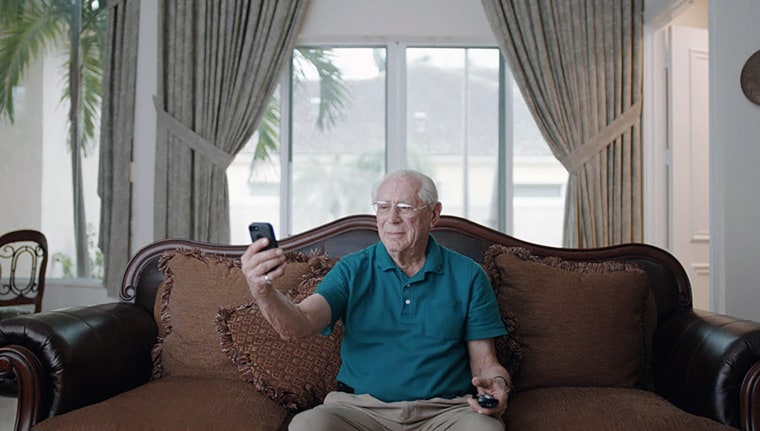 Another big draw for the Lotters is the efficiency of Wink. "Of course you don't have to run things — lights and air conditioning — when you're not home, because it's all scheduled for when you need it," Irving says. "But we also switched to the GE bulbs — we went from using a 60-watt bulb to a 12-watt bulb and we don't lose any light. That's saved us a good deal of money."

Maxine loves is the ability to control things from a distance. "We were somewhere — where were we, Irv?"
"Europe, I think." Irv says, taking up the tale. "Yes, we were in Europe and we looked at Wink, and there was a package left by the postman at our front door. I was able to tell a neighbor, who came over, and then I could open the garage for her with the app so she could leave it inside. And then lock the garage after she left."
Without Wink, Irving adds, their package "might have been out there for two weeks or gotten ruined or taken or something."
The Lotters are spreading the word among their friends. "We shared our story with Wink and now all our friends," Irving says. "All of our friends like to watch it and ask questions about it. And we tell them it really is that simple.
Watch their story on Wink.com, where you can learn more about building out a smart home more affordably than ever.