After seven years, Greg McCown had a strike of luck (and lightning).
The photography enthusiast has been chasing storms for almost nine years, and two years into it he caught a glimpse of what would inspire his mission: to capture a very rare image of a rainbow and a lightning bolt — in the same shot.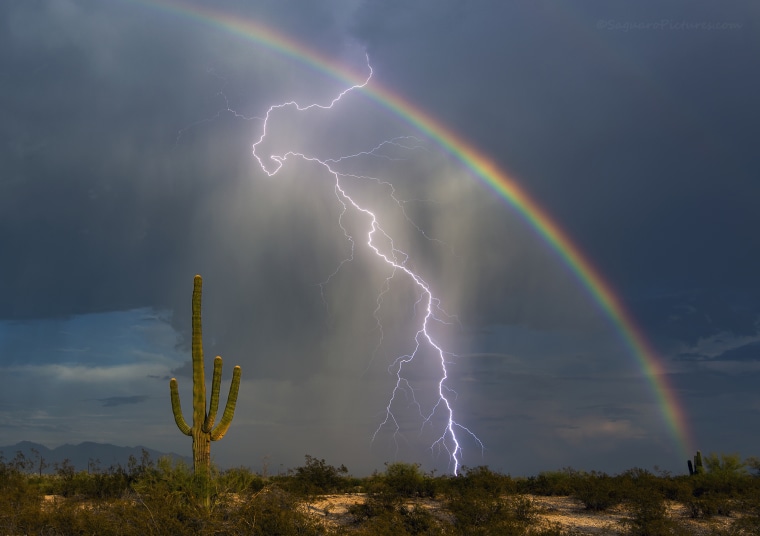 "It's such a rare thing," the Tucson, Arizona, native told TODAY. "Each time there is lightning during the day, it's usually very faint. Capturing lightning that bright during the day is rare and then to have it at the same time as a rainbow that's bright enough was so exciting. To have it all come together so perfectly just blew me away. It has been a once-in-a-lifetime event."
RELATED: Photographer captures moment when couple meet adopted baby
McCown, who is a real estate agent by day, said he was driving around when he saw a rainbow off in the distance. He also saw some lightning, so he went off to find a place that didn't have any telephone poles or other obscuring structures. He got everything perfectly lined up and then it struck.
"I wasn't even looking when it happened, he said. "I just caught the flash out the corner of my eye and I thought, maybe I caught that, and then I looked at my camera and could make it out on the back of my little LCD screen. I was alone, but I did a little happy dance in the middle of the dessert."
But that wasn't even the best part for McCown.
RELATED: Photographer teaches daughters: 'Strong is the New Pretty'
"The real excitement was when I was able to blow it up on my computer and see every little detail," he said. "That lightning bolt was just so big and bold. It was a seriously powerful bolt to be able to jump out like that in day time."
He added that the attention he has received was unexpected, but nonetheless amazing.
"It really hit when several other photographers that I really respect and admire were commenting and sharing this photo," he said. "It was surreal and very humbling to hear these other photographers saying how good it was."
So what's left after capturing the unicorn of lightning photography?
"I would love to capture lightning over the Grand Canyon, and breaching whales," McCown said. "I've got a list of more goals."