With as many as 80 million pet dogs and 96 million domesticated cats in the United States, owners who need a vacation may have a ruff choice to make when it comes to their furbabies: Should they stay or should they go?
TODAY's experts help you decide with these tips.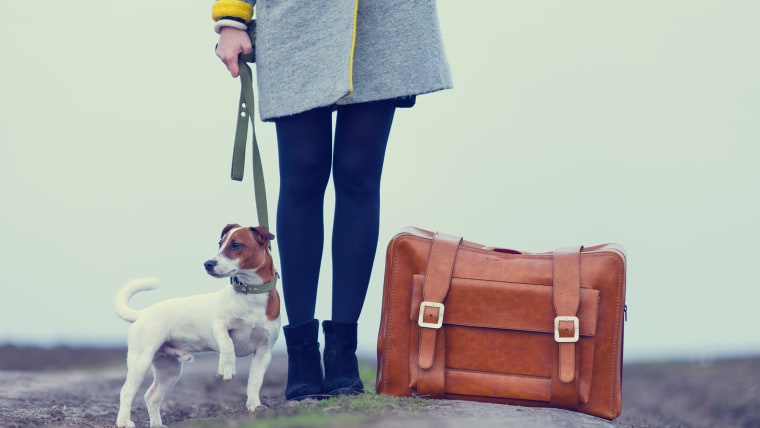 1. Determine if you need to take your pet.
"If you don't absolutely have to travel with your pet, don't do it," Vicki Stevens, senior marketing communications manager for the Humane Society of the United States (HSUS), told TODAY. "Hire a pet sitter or put your pet in boarding. You know your pet and you know what will be least stressful for them."
RELATED: Should you let your dog lick your face?
Experienced pet parents and humane advocates agree that before you hire a sitter, you should ask about basic qualifications, training and references and whether they're bonded and insured. Clearly articulate what services you need since extras like medications or injections cost more. During your initial pretrip visit, review detailed instructions about care and emergency protocol that you leave with the sitter.
Start with the National Association of Professional Pet Sitters or Pet Sitters International — or ask a friend for a referral.
2. Research airline requirements in advance.
The biggest travel problems occur when pet parents don't have comprehensive information in advance, Stevens said, especially when it comes to air travel.
"If you're flying, know the particular airline's regulations because every carrier is different," she said. "Don't wait until the last minute and show up with your pet in a carrier expecting to board the airplane."
When making your reservation online, choose a nonstop flight. You'll see your carrier has a web page devoted to pet travel, like these from Southwest, American and Alaska airlines. Call to speak to a pet travel expert. In general, you'll need to meet vaccination and other medical specifications, along with ventilated pet carrier requirements, and yes, you will pay for your pet's travel as you do yours, and prices vary.
RELATED: How TODAY Show's puppy Charlie spends his mornings — starting at 4 a.m.
Some airlines like Southwest don't accept pets in cargo. Those that do sometimes have restrictions when it's too hot or cold to fly safely, and during peak holiday periods. The earlier you know what's required, the less hassled you and your pet will be.
3. Test your pet's carrier.
What about sedating your pet before air travel? The American Veterinary Medical Association (AVMA) doesn't recommend tranquilizing your pet because it can increase the risk of heart and respiratory problems. A sedated animal may also find it harder to brace in its carrier and prevent injury.
Testing pet carrier stability can also help avoid dreaded "pet on the loose" syndrome en route. Otherwise, you could have something in common with cat guardian Kitty Felde.
RELATED: Get ready to POUNCE! See portraits of rescue cats and kittens being incredibly purrrrrr....fect.
"When bringing our gray tabby, Cricket, out east to Washington, D.C., from Los Angeles, she managed to unzip her cat carrier and take a stroll up the aisle," Felde told TODAY. "She was ready to tell the captain a few things about the way he was piloting the plane."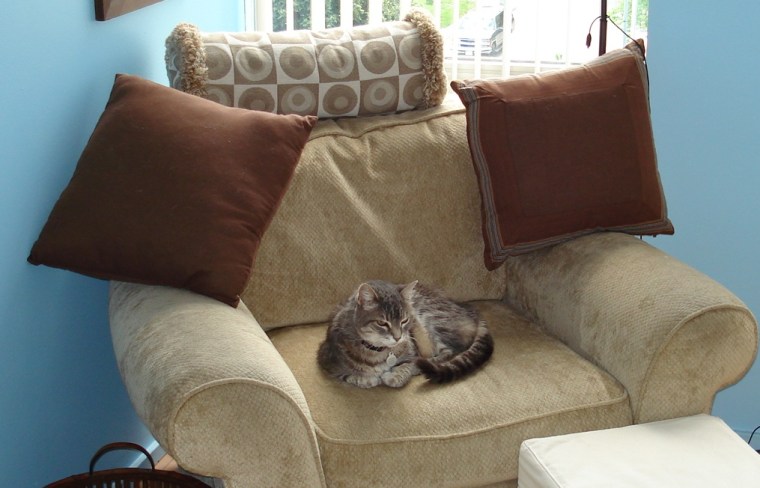 Tucked snugly under the seat in front of Felde, Cricket had wedged her deft little paw out of the soft, strappy carrier and pushed the zipper open while her "mom" napped. "She then apparently wandered up the aisle as if to say, 'Yes, you may all adore me.' The flight attendant did not appreciate it," Felde said.
In hindsight, Felde would have given Cricket as much stimulation as possible before the flight, she said, to make relaxing onboard much easier.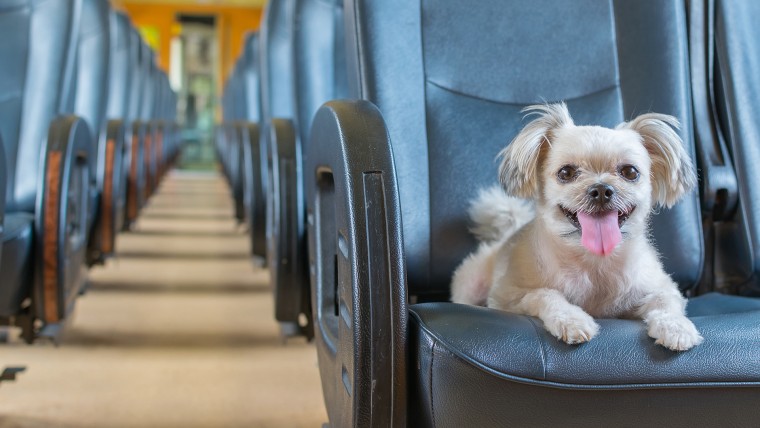 4. Create pawsitive experiences with the pet carrier.
"Cats especially associate that carrier with a trip to the veterinarian," said Kim Salerno, president and founder of TripsWithPets.com. "It's best to desensitize them by leaving the carrier in the living room, put treats in it, and let them go in and out at will — which could take a month or two. Don't just put them in it and drive away."
RELATED: This rapper sings about his love of cats — and it's mew-sic to our ears
Veterinarians usually credit travel stress and anxiety as causes for motion sickness in cats. A memory with "good experiences" while in the carrier goes miles toward reducing drama when you drive or fly with your kitty.
5. Keep your pet secure — even in the car.
According to the 2015 American Pet Products Association (APPA) survey, 37 percent of pet owners are taking their dogs and cats on the road with them (up from 19 percent a decade ago).
Salerno told TODAY that because so many owners consider pets to be family, they don't want to leave their furry friends at home. Most of her site's visitors travel with their pets — usually dogs — by motor vehicle versus airline.
RELATED: Your pup's sure to go crazy for these bacon dog treats
Both dogs and cats are safest in a crate or carrier anchored with a seat belt or other secure device in the back seat, HSUS advises. Free-roaming animals meandering around human feet and hands in a car can be hazardous to both pet and parent. Never allow pets to protrude out a vehicle window, and don't transport them in the back of a pickup truck.
6. Give your pet a workout.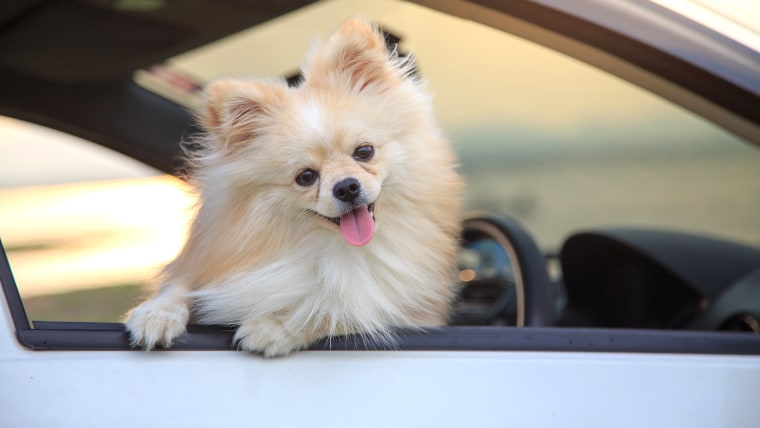 Veteran dog trainer Amy Robinson of Vero Beach, Florida, urges dog owners to consider pre-road trip exercise. "Don't pretend your hyper hound will snooze the day away in the car if he has not been walked first. A reasonable walk for a big dog is 30 minutes if you want peace in the car."
She recalled moving from Chicago to Florida with her long-haired shepherd mix, Bella.
"This was 15 years ago, but I still have ringing in my ears from her shrill barking out the window, one bark every five seconds, until we hit Indianapolis," she said. "Her fluffy fur flew around the car in tufts and landed on our faces."
To acclimate your pup to the carrier, take him for a short ride to a shopping area or park and then walk on the leash for a bit, she suggested. "Go to a pet superstore for attention and treats and then home for a rest."
RELATED: Once suicidal, Marine veteran finds peace thanks to service dog: 'She saved me'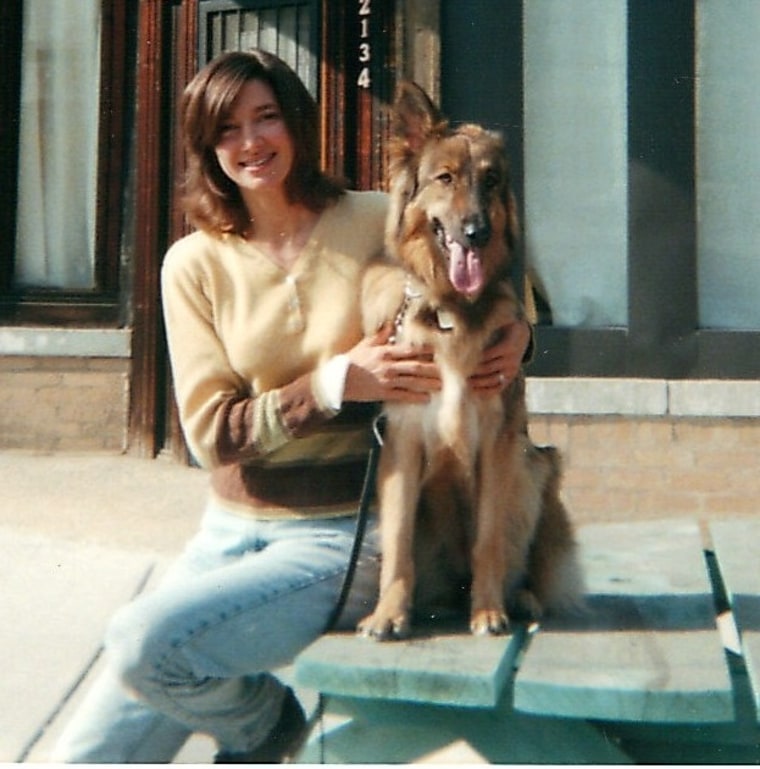 To keep car sickness at bay, skip breakfast, Robinson said. "Opt for a small biscuit treat instead, and limited water. Feed the dog a full meal at night when you'll be stationary for at least six hours. Allowing the dog to see out the window helps, too."
7. Pack with purpose.
Remember to plan plenty of rest stops for exercise and "potty breaks," too, and always make sure your pet has a collar, ID tag and leash or harness when disembarking (hopefully, your pet is already microchipped, which recommended for all pets).
"Pack a pet travel kit that includes food, a bowl, leash, plastic bags, grooming supplies and a pet first-aid kit. And of course, bring along a favorite toy or cozy pillow," Liz Watson, chief marketing officer of Hartville Pet Insurance Group, told TODAY in an email.
Taking it a step further, pet owner Judah Ross of Austin, Texas, said it's also OK to get personal. "Put some of your clothing like a worn sock, seriously, in the carrier with them. They find it very comforting."