Google Ads target people based in part on their search history, and Jimmy Fallon recently pondered the implication of that on "The Tonight Show."
After all, we might not be too proud of our results.
"I know a lot of people would prefer that what they search for stays private," he said.
But where's the fun in that? So Fallon sent show writer Arthur Meyer out on the street to find out just what we're searching for.
The results were interesting to say the least: "fish sticks," "mooseburger," "cat puke cleanup."
"Ah, jeez, I've got a cat named Wilma who pukes every morning," the man behind that last search string admitted. "So we're always trying to figure out the best way to clean up the puke on our white carpet."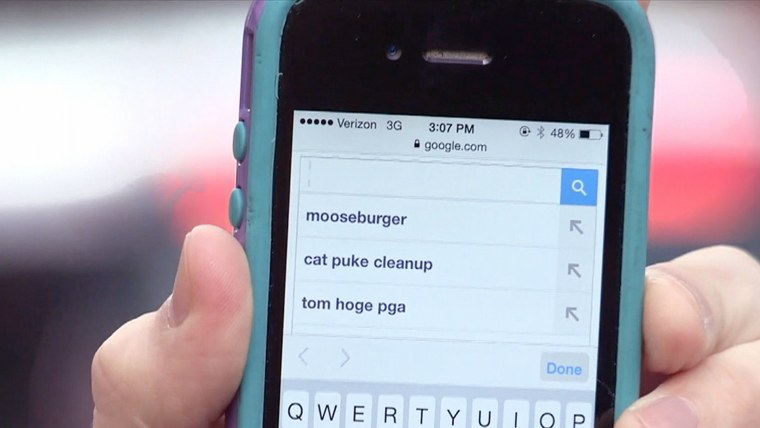 Well, that's makes sense — at least a bit more sense than the folks who used Google to search for "Google."
"[It takes you] back to Google again, usually," one of those searchers noted.
But the real standout Googler was the man whose search history revealed a quest to learn more about pigeons, such as: "Is it legal to eat pigeons in NYC," "is it legal to catch pigeons in NYC," "pigeon recipes" and "pigeon stew recipes."
"We were just so hungry and we saw all these pigeons, so I started wondering if people ate them around here," the bird-obsessed searcher explained. "So I started looking this stuff up. It got kind of interesting until I realized I really didn't have anywhere to cook 'em."
What? No search for a "makeshift pigeon grill"?
On Thursday morning, the TODAY gang shared a laugh at the results, which Savannah Guthrie called a "window into the soul."
Watch the clip to see the anchors offer up their own recent searches — and explain them!