There have been stories of people getting kicked off planes for drunken antics and violent behavior. But for wearing short shorts? That might be a first.
That's what happened to one burlesque dancer on a JetBlue flight recently when she was told she couldn't board her plane because her shorts were too revealing.
Maggie McMuffin (her stage name) told TODAY she'd already been on a JetBlue flight from New York to Boston and was catching a connecting flight to Seattle when her shorts became an issue.
"On my first flight I had no problem," McMuffin, who opted not to give her real name, said of the May 18 incident. "A few minutes before boarding my connecting flight someone approached me and said I would need to cover up if I wanted to take that flight."
The dancer revealed she didn't have anything in her carry-on, but she said she was willing to tie her jacket around her waist or cover up with a blanket. But that wasn't enough.
"I was told that was insufficient because I would be walking up and down the aisles," she added.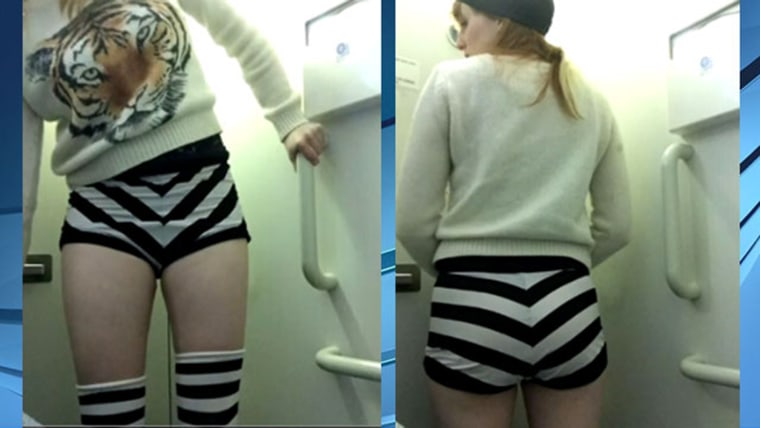 Apparently, the pilot had decided her outfit was offensive, McMuffin said.
"I was told it was a family airline and my shorts would offend people on the flight," she said. "But, there's been no evidence that a passenger complained about me."
RELATED STORY: Oklahoma teen fights back after being sent home from school for wearing leggings
TODAY reached out to JetBlue for a comment on their dress code policy, but didn't receive a response.
There is no explicit attire policy on their website, but an incident like this could be covered on the "Refusal to Transport" section of the company's contract of carriage.
She was eventually allowed to board the plane, but was clearly not happy about the incident.
RELATED: Are these for a giant? Company ridiculed for sending absurdly long jeans
"I tweeted at JetBlue as soon as I had Wi-Fi to complain about what happened," she said.
McMuffin shared a photo of her original outfit as well as the baggy pajama pants she purchased to wear aboard.
Her social media comments caught the attention of the airline, who quickly apologized and offered her a $162 flight credit.
McMuffin said she was also hoping for an apology from the pilot.
In a statement to NBC Seattle, JetBlue said, "The gate and on-board crew discussed the customer's clothing and determined the Burlesque shorts may offend other families on the flight...JetBlue supports the crew members' discretion to make these difficult decisions."
Along with the attention from the airline, McMuffin's incident caught the attention of the public causing an outrage both for and against the outfit.
"I'm glad my story going viral is causing people to have conversations about people's bodies and how it's subjective," she concluded.
"I would like JetBlue and other airlines to be more clear about the expectations of their consumers. A dress code should absolutely not be a subjective thing."