As the U.S. economy continues to recover from the financial crisis, many Americans have had to make cutbacks when it comes to spending. After taking care of necessary bills and expenses, there tends to be little left to spend on bonus things like a family vacation. With that in mind, personal finance website WalletHub did extensive research to find out where some of the best places are to take a staycation by analyzing the 100 most populated U.S. cities and looking at three key dimensions: recreation activities, food and entertainment, and rest and relaxation.
"Hopefully, our findings can help frugal-minded consumers who are on the fence about staying home or taking a trip make the best decisions for their wallets and enjoy a bit of fun this summer," WalletHub reports.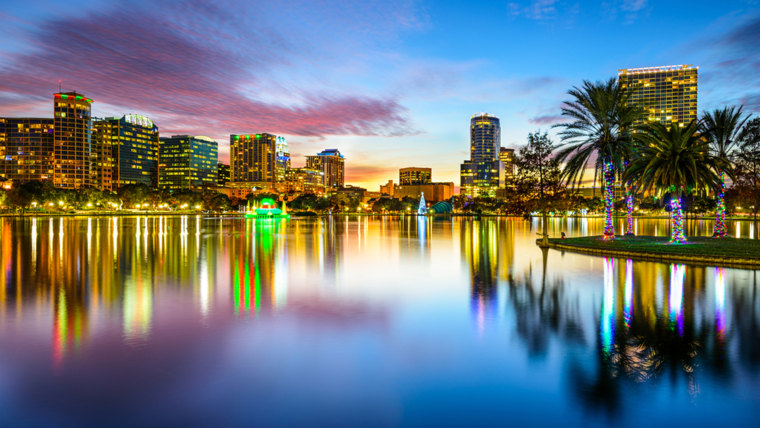 The city to top the list, Orlando, Florida, should come as no surprise considering it's also the setting of "the happiest place on earth." More than Mickey and Minnie Mouse giving you a hug though, the southern spot also scored well with having the most golf courses, spas, zoos and aquariums. And that wasn't the only Florida city to rank high on the list; Tampa came in at No. 8, St. Petersburg at No. 12, and Miami at No. 24.
RELATED: A darker Disneyland for adults? Welcome to Dismaland
But, if you're looking for a bit more culture than relaxation, then head to New Orleans, Louisiana, Washington, D.C., or St. Louis, Missouri, where they have the most museums per 100,000 residents. "There are many wonderful things which a family can do at little to no cost depending on where you live," said Howard Adler, professor of hospitality and tourism at Purdue University. "A family can check their local city or close by to check out which day museum might be half price or even free."
With activities still costing money even if you're not traveling far, you should still take a budget into consideration. "One easy way to weight the cost benefit is to ask yourself, 'What could I do with the approximately $200 per day that I would be spending on a hotel,'" said Susan Williams, associate professor of recreation and tourism management at Concord University. "While the local water slide might not be Typhoon Lagoon, you will still get wet, hang out with family and friends, and climb a bajillion steps at a fraction of the cost of traveling to Orlando (unless you live there, of course).
RELATED: London's transparent 'Sky Pool' lets swimmers see 10 stories straight down
And not only are staycations a great, cost-effective way to explore your hometown or a city close by, but they also have some positive psychological effects as well. "Attitude is everything," said Williams. "The biggest psychological pitfall is trying to combine the daily routine with the vacation routine. Let the daily grind go. Refuse the ordinary. So the cliché "stop and smell the roses" becomes a critical element in truly escaping the mundane and discovering something fun and exciting right in your back yard."
Other locations that topped the list included Atlanta, Georgia, Cincinnati, Ohio, Scottsdale, Arizona and Boise, Idaho, while surprisingly spots like New York and Las Vegas ranked much lower.
Here's the full list:
Orlando, Florida
Atlanta, Georgia
Cincinnati, Ohio
Scottsdale, Arizona
Boise, Idaho
St. Louis, Missouri
Pittsburgh, Pennsylvania
Tampa, Florida
Portland, Oregon
Las Vegas, Nevada
Tucson, Arizona
St. Petersburg, Florida
New Orleans, Louisiana
Omaha, Nebraska
Minneapolis, Minnesota
Austin, Texas
Reno, Nevada
Denver, Colorado
Honolulu, Hawaii
Winston-Salem, North Carolina
Seattle, Washington
Kansas City, Missouri
Albuquerque, New Mexico
Miami, Florida
Raleigh, North Carolina
Buffalo, New York
Sacramento, California
Baton Rouge, Louisiana
Tulsa, Oklahoma
Washington, D.C.
Lexington, Kentucky
San Francisco, California
Madison, Wisconsin
Lincoln, Nebraska
Greensboro, North Carolina
Baltimore, Maryland
Cleveland, Ohio
Toledo, Ohio
Birmingham, Alabama
Lubbock, Texas
Milwaukee, Wisconsin
Boston, Massachusetts
Nashville, Tennessee
St. Paul, Minnesota
Philadelphia, Pennsylvania
Henderson, Nevada
Chicago, Illinois
Fort Wayne, Indiana
San Diego, California
Colorado Springs, Colorado
Mesa, Arizona
Corpus Christi, Texas
Chandler, Arizona
Durham, North Carolina
Louisville, Kentucky
Virginia Beach, Virginia
Memphis, Tennessee
Oklahoma City, Oklahoma
Columbus, Ohio
Indianapolis, Indiana
Glendale, Arizona
Long Beach, California
El Paso, Texas
Wichita, Kansas
Phoenix, Arizona
Plano, Texas
New York, New York
Jacksonville, Florida
San Antonio, Texas
Norfolk, Virginia
Anchorage, Alaska
Dallas, Texas
Garland, Texas
Charlotte, North Carolina
Aurora, Colorado
Detroit, Michigan
Houston, Texas
Fort Worth, Texas
Arlington, Texas
Los Angeles, California
Stockton, California
Irvine, California
Chesapeake, Virginia
Irving, Texas
San Jose, California
Oakland, California
Gilbert, Arizona
Riverside, California
Bakersfield, California
Fresno, California
Laredo, Texas
Newark, New Jersey
9North Las Vegas, Nevada
Hialeah, Florida
San Bernardino, California
Jersey City, New Jersey
Fremont, California
Anaheim, California
Santa Ana, California
Chula Vista, California