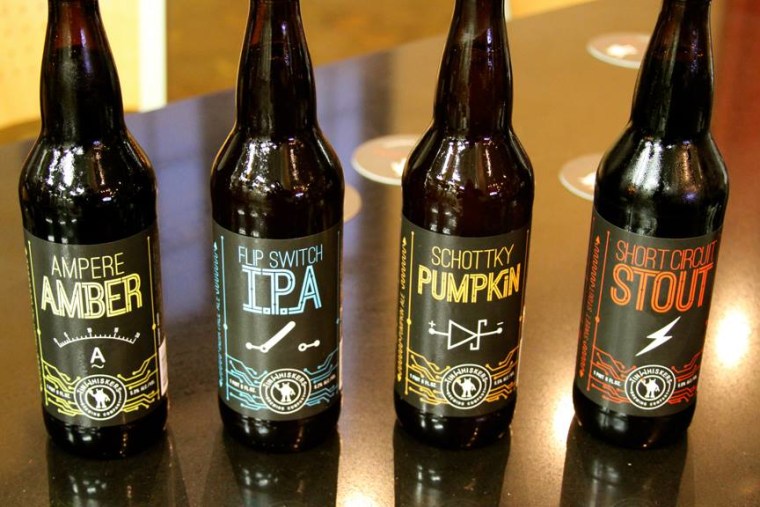 For a craft brewery, a good beer recipe can be the key to success. So why would one give it away?
In St. Paul, Minnesota, the Tin Whiskers brewery only started hand-bottling its beers a couple of weeks ago, but it has already shared the recipes online. That means if you want to learn how to make its Flip Switch IPA, you can just visit its website and get a detailed list of ingredients and brewing instructions. 
The idea is to maintain an "open-source brewery." Instead of sharing computer code, the brewers are sharing the recipes for their beers. It makes sense that the Tin Whiskers' three founders — Jeff Moriarty, Jake Johnson and George Kellerman —all have degrees in electrical engineering. 
"It allows us to have a deeper relationship with our most loyal customers," Kellerman told TODAY. "They can brew some of the beers that we have made and we can taste what they have done. If you don't have that open mentality, you can't really have that relationship."
That business philosophy also leads to an exchange of ideas — customers get the benefit of the trio's expertise, while the brewers get to taste the fruit of unconventional ingredients and brewing methods without spending too much time and money experimenting for themselves. 
Plus, they have a special affinity for home brewers, since that is how they started out in 2006. In fact, through the end of December, they are encouraging people to bring in their own homemade creations in exchange for free beers from Tin Whiskers. 
From those who choose to share their recipe with the public, Tin Whiskers will select their favorite and — with the help of the person who made it — brew, name and sell the beer. 
Ultimately, Kellerman isn't too worried about some competitor putting out their own version of something like Tin Whiskers' Short Circuit Stout. 

"That's not really in keeping with the spirit of the craft beer world," he said. "Most brewers are trying to make their own mark instead of capitalizing on someone else's success."