Nearly three-quarters of adult smartphone owners report that they are within five feet of the mobile gadgets a majority of the time. Knowing that detail, it's almost not even surprising that 9 percent of those folks admit to using their phones during sex.
Among smartphone owners ages 18 to 34, that statistic jumps a whoppin' 20 percent.
The information comes to us via a survey conducted by Harris Interactive on behalf of payment and identity verification startup Jumio. The survey included 2012 U.S.-based adults over the age of 18. 1102 of those surveyed individuals reported that they own smartphones.
Since the survey didn't specify what qualifies as smartphone use, we don't actually know whether a number of smartphone owners were getting naughty while answering calls, sending text messages, taking pictures, playing Words With Friends, or turning up the music on their phones.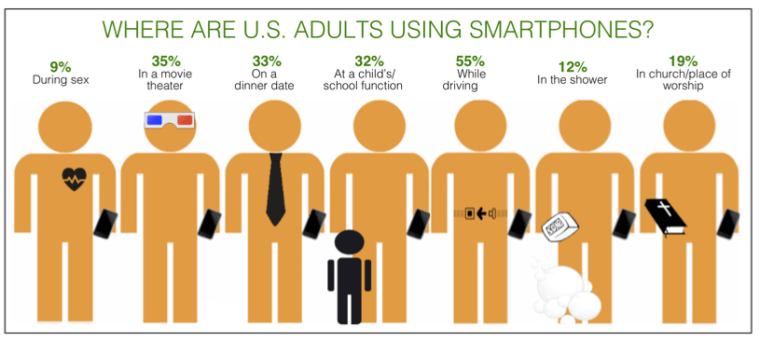 In the same vein, we don't know what the 12 percent of smartphone owners who used their devices in the shower did. Or the 19 percent who used their phones in a place of worship. Or the 33 percent who've used their phones during dinner dates. Or the 35 percent who dare whip out their gadgets in movie theaters.
It's probably no coincidence that 12 percent of survey respondents who happen to be in relationships confessed that they believe smartphones have gotten in the way of romance.
Want more tech news or interesting links? You'll get plenty of both if you keep up with Rosa Golijan, the writer of this post, by following her on Twitter, subscribing to her Facebook posts, or circling her on Google+.