The man who ate 115 meals at Olive Garden during the chain's 2014 Never Ending Pasta Pass is back for more — and this time Alan Martin is bringing the whole family.
Last fall the Burlington, N.C., pastor made headlines after winning one of a thousand Pasta Pass cards the company sold online for $100 when he racked up some $1,800 worth of meals in seven weeks.
When the promotional period ended, "I missed it," he told NBC.
"I missed eating there every day."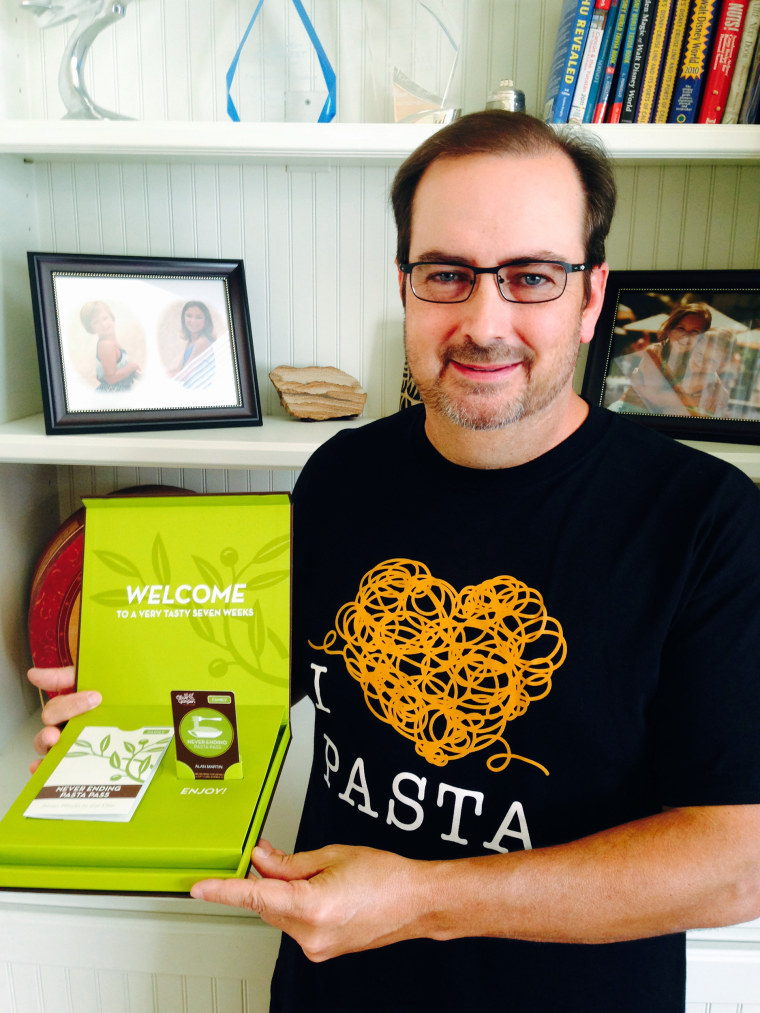 Martin planned to try for a pass again this year, but didn't have to join the pasta-hungry hordes that descended on the Olive Garden website on Sept. 17.
Passes sold out in a single second — but, the day before, Martin received a special delivery.
RELATED: Olive Garden brings back unlimited 7-week 'Pasta Pass'
"I get home and there's this box," he said. "It is fancy, when you open it, it springs open and presents you with this card. I couldn't believe it.
"I was so happy, and then I noticed it had my family on the card and thought 'that's probably going to be good,'" he said.
The company, which has showered Martin with gifts including the "I 'HEART' PASTA" shirts they wore in their Christmas card photos last year, sent Martin the new Family Edition of the Pasta Pass.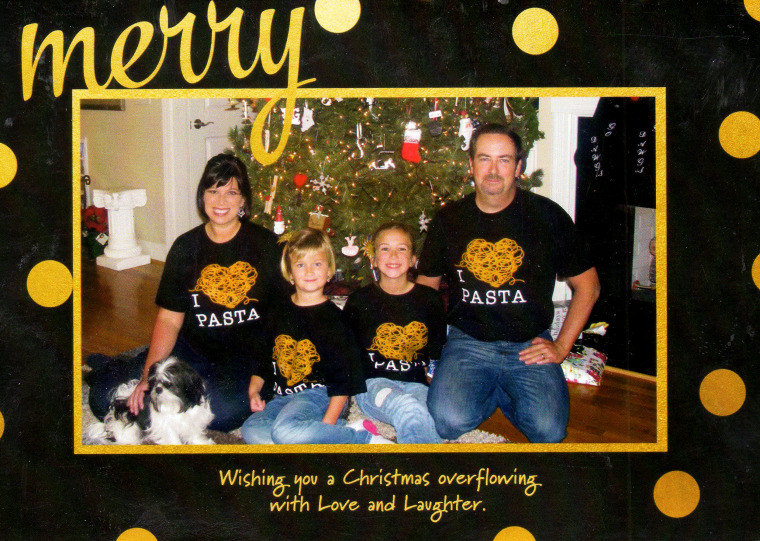 This version allows the cardholder share the benefits with three additional people.
For seven weeks, from Oct. 5 through Nov. 22, Pasta Pass holders can tuck into "never-ending" pasta, sauces and toppings, soup or salad, breadsticks and Coca-Cola soft drinks as many times as they would like.
"I thought, 'Man this is too good to be true,'" Martin said.
Martin's daughters, who are eight and 10, are ready to follow in their father's footsteps.
"This is their favorite restaurant," he said. "They could eat there every day."
Martin's wife, on the other hand, is "not happy she is going to eat pasta for free. She's on a no-carb diet right now."
The all-pasta diet seemed to work for Martin, though.
Last year he lost four pounds over the seven weeks, and said his cholesterol dropped by 40 percent.
His approach: half the pasta and no breadsticks.
"I loved the bread and I wanted the bread but I told myself no."
But the pasta superfan doesn't aim to repeat last year's goal of squeezing more grub out of the card than any other pass holder.
"This is going to be a victory celebration lap," said Martin, who added that he plans to share the pass friends and church members.
"I might keep up with the receipts just to see if I can tag Olive Garden for $5,000, but I'm not trying, I don't care if I'm number one this time. It's just too hard," he said.
"It takes discipline to plan your entire day seven days a week for seven weeks around eating at the Olive Garden."