There's actually good news to report on the annoying-phone-etiquette front: Cellphone users who are loud and irritating in public are getting better about that obnoxious behavior, which is "less common" than it used to be.
So says Pew Research Center, which happily shares that 74 percent of adults say they see this annoying activity "frequently" or "occasionally," while 25 percent say they "rarely" or "never" encounter it.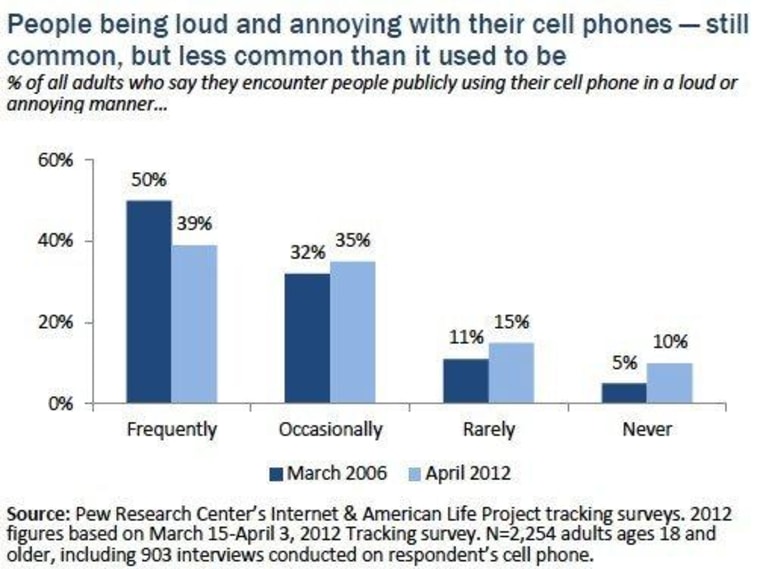 And it's been getting better in the last six to seven years. In March 2006, Pew said, 50 percent of adults said they "frequently" experienced cellphone users from Hades, compared with 39 percent who said so last year. Perhaps the cause is the rise of texting, a much quieter activity. Or perhaps we just notice this kind of behavior less, because it's so common.
While most of us are only too happy to complain about others' cellphone etiquette, few of us admit to those times when we're not exactly sterling examples for Miss Manners.
"Just 6 percent of cell owners say that they themselves have drawn criticism or dirty looks from someone else because of the way they were using their phone in public," Pew said. "This is largely unchanged from the 8 percent of cell owners who had experienced this the first time the question was asked in early 2006."
More from Digital Life:
Check out Technology, GadgetBox, Digital Life and InGame on Facebook, and on Twitter, follow Suzanne Choney.